A few years ago, I became aware of the history of education in America and how the McGuffey Reader played an important role in providing teaching. Since I base our entire homeschool education off of a biblical foundation, and strive to offer my children a solid language arts beginning, I was very happy to get a chance to review the
Eclectic Foundations Language Arts Level C
from
Eclectic Foundations
.
You have the choice of purchasing either the digital or the pre-printed format. Other members of the Homeschool Review Crew had the opportunity to review:
Eclectic Foundations Language Arts Level A
Eclectic Foundations Language Arts Level B
For those of you who may not be aware of what eclectic means, I looked it up for you:
When it comes to eclectic in terms of the McGuffey Readers - it means:
READERS THAT COMBINED LESSONS IN READING WITH MORALISTIC MESSAGES!


And, to bring this curriculum even closer to home, we recently visited the actual school where McGuffey taught, so this was pretty exciting to me!
What is the Eclectic Foundations Language Arts Level C?
Eclectic Foundations has made teaching language arts from a biblical worldview easier. Based on the McGuffey Reader that students from early schoolhouse days used, the program sets out lessons that correspond with the McGuffey Second Reader, word lists based on Mastery by Florence Akin, and grammar lessons based on Speaking and Writing Book One by William H. Maxwell. Level C used word card that the students color and file away in a box to learn nouns, verbs, adjectives, adverbs, and other parts of speech, each assigned their own color. Phonics focuses on word lists which the child learns and then writes from memory on the laminated Phonics list during a phonics word list dictation that familiarizes your child with phonics and word lists. Every day the student practices handwriting of scripture and/or trustworthy sayings and quotes.
Lessons are presented in the teacher guide in an easy-to-follow format and include coloring the word cards, memorization, dictation of word lists, handwriting, reading and reading comprehension discussions, as well as grammar.
Level C is intended for advanced 2nd or 3rd graders.
I received a very nice packet of information that included a pre-printed paperback plastic spiral bound student work text and teacher guide as well as a packet of word cards. Also included in my packet was a laminated phonics sheet where the student writes dictated spelling words. For the purpose of the review, Eclectic Foundations sent me a pre-printed copy of the McGuffey Eclectic Second Reader which the company does not sell on their site. They do, however, have links to where you can purchase and/or print your own.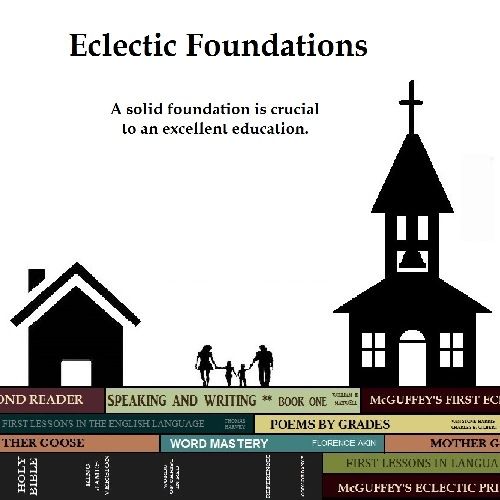 The curriculum is intended to be used 4 days a week, and that is how we used it. Though, my daughter loved the lessons so much that we could have easily done more in one sitting, but we stuck to the recommended schedule. I began using the program with my 4th grader. She is slightly older than the intended grade level, but it was still a perfect fit for us. I feel like it never hurts to get a strong, solid foundation before moving ahead, and this scovers the basis on a well-rounded language arts program. On top of that, she is EXTREMELY HANDS-ON and needs to have something to keep her hands busy to learn.
One of the lessons discussed two breeds of dogs and as an activity had us find coloring sheets of the breeds to print and color. Anytime my daughter gets to color, she is a happy student.
What Did We Think?
This program is a PERFECT FIT for us! We love the coloring, the handwriting, the wipe-off laminated phonics list board and the lessons that have a solid foundation and are rooted in a biblical worldview. I will say that I had purchased a McGuffey reader years ago to use with my oldest child, but without a teacher guide, it was difficult for us to follow and we set it back on the shelf until now. The teacher guide and student work text that Eclectic Foundations has put together to go along with the McGuffey Reader make it easy to follow and learn. The word cards and phonics laminated sheet give it even more of a hands-on feel that my daughter thrives on when learning. I'm so happy that my youngest is able to receive this quality solid foundational teaching.
FIND Eclectic Foundations ON SOCIAL MEDIA @:
Read what other members of the Homeschool Review Crew thought by clicking on the picture below: