I received three e-books in exchange for my honest review from
Simplified Pantry
. I was very excited to receive these books, especially since one of them referred to gluten-free cooking.
...A few years ago, my husband had some digestive issues which put us up against a wall with going forward with medical treatment that seemed to be doing more harm than good or giving a candida-free/yeast-free diet a chance. The diet we followed, at the time, was very similar to popular gluten-free diets. We have since slacked on following his special diet to a tee, but I was excited to see what this Simplified Pantry book had to say about it all. And, I'll admit, I was curious to find new recipes....
Combine one or both of the Simplified Dinner books with the paperless organization book, and you've really got some clutter-free space to enjoy good eating at its best.
In each of these books, the author thought of everything, step-by-step to make it easy for the readers to follow.
*~*~*
The books required a pdf reader, and I easily downloaded them onto my Windows 7 laptop and also accessed them from my iPhone, for convenient reading and referencing.
Here's what I received for review:
Simplified Dinners Dairy Free/Gluten Free
, by Mystie Winckler - $12.99 - downloadable pdf book
Simplified Dinners
, by Mystie Winckler –$12.99 downloadable pdf book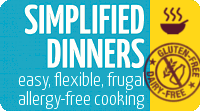 Paperless Home Organization
, by Mystie Winckler - $3.99 downloadable pdf book or Kindle e-book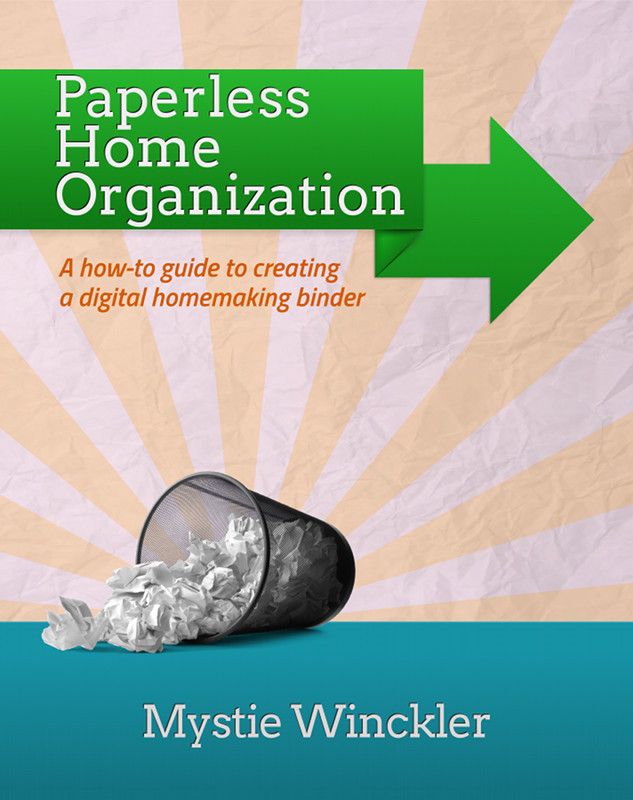 Special Savings for my readers: Enter: TOS2013 at checkout from May 20 through June 3, 2013 for a TOS Review Crew exclusive discount! You'll receive 30% off on any or all of the eBooks.
* ~ * ~ *
These books couldn't have come at a better time. But, then as far as I'm concerned there's always a good time to find help in the kitchen and with getting better organized. I was excited about these books because I hate to cook. If I had a personal chef, I would be one happy mama. I hate meal planning, and I hate cooking for a crew who can't seem to ever agree on one menu item they all like. I'm exhausted, and I'm tired of cooking four different meals every time I step into the kitchen. So, when I had the opportunity to review a book that looked to make my kitchen time friendlier, I jumped at the chance.
Here's what I thought:
Simplified Dinners book and the Simplified Dinners Dairy Free/Gluten Free book:
Both the
Simplified Dinners
and the
Simplified Dinners Dairy Free/Gluten Free
books are approximately 30 pages in length, with the dairy and gluten free book being a few pages longer. They are packed with helpful meal suggestions and recipes. They are very similar, with the exception, of course, that the dairy/gluten free version includes recipes and suggestions for foods to enjoy that avoid gluten and dairy products. I focused on the Dairy Free/Gluten Free version.
I love how the author approaches cooking from the perspective of a busy, realistic mom and wife. She clearly presents lists of ingredients to watch out for on labels, and provides a helpful list of foods and spices to keep on hand.
She presents the recipes in a way that is more like you may have cooked in the kitchen with your mom or grandma, with a pinch of this and a dash of that. Instead of creating a sink full of measuring spoon dishes and opened containers of spices you'll never use again, you create a meal and hopefully build relationship with your children while working in the kitchen.
The recipe pages each begin with the overall process of how to prepare the specific food, such as roast or chicken, whatever food is being presented on the page. She then breaks it down into suggested recipes, followed by serving suggestions.
I also love how she mentioned that when she tried an elimination diet to pinpoint a possible allergy in her husband years ago, it was difficult reading through all the labels. I couldn't agree more. It was about the same time frame when I was preparing yeast-free, low carb meals for my own hubby. Only, I was reading through all those tiny font printed lists of ingredients on boxes with two young children pulling at me and climbing on the specialty car kid carts the store offered, while I weeded through lists and lists of ingredients – usually to discover what I wanted to avoid was listed within there somewhere even if it was cleverly disguised as a code word.
She discloses these common "code" words that are listed on box and can labels that you may not recognize otherwise as containing gluten or dairy. For instance, did you know that roasted nuts are usually prepared using wheat? So, a healthy looking listing of "nut" on the label may not be all it's cracked up to be. She also provides a page listing items to keep on hand at all times, on her "Master Pantry List".
And…Drumroll, please! The best part for me – She provides a page of a sample meal plan as well as a blank meal plan form to fill in for future meal planning.
While I was very excited about the dairy and gluten-free recipes, I also love the non-restricted diet version of the book that included several recipes for home-made pizza. Every year, my family heads for the beach with cousins and extended family. Each family takes a designated night to cook, and I'm hoping to use one of these recipes on our night this year!
These books are written and intended for adults, but I'm sure high school students could put them to good use as well.
The Paperless Home Organization book: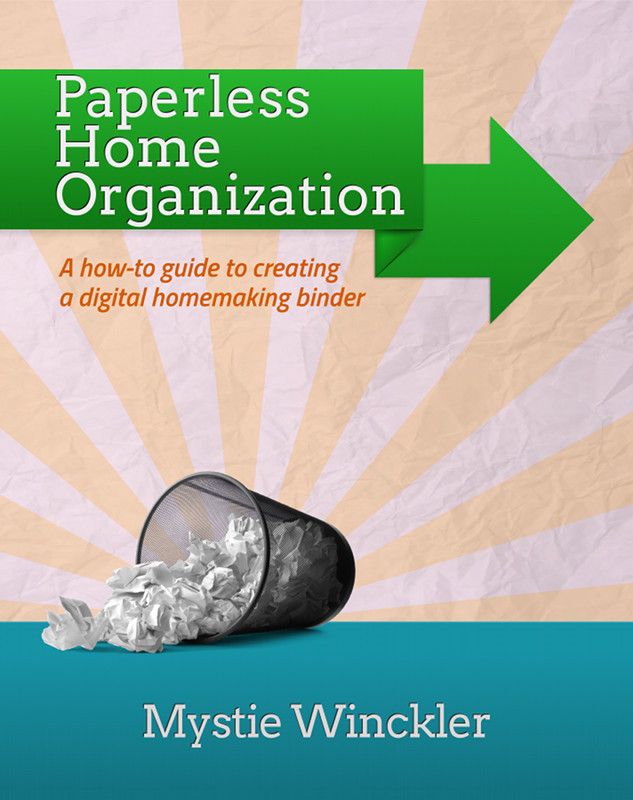 The
Paperless Home Organization
book walks you through the steps to create your own digital home management binder. The author, Mystie Winckler, is a home-maker, wife and mother of five young children. She also blogs at
Simply Convivial
.
In this full-length, 75-page e-book/pdf download, she walks the reader through steps to organizing, using digital devices and doesn't assume or gloss over anything. She provides clear instruction on helpful organizational apps, task lists, and the best email provider to use for syncing everything together.
The Evernote app. is among several suggested apps in the "Paperless Home Organization" book.
There are other free app suggestions in the book to make day-to-day life easier and to eliminate paper clutter, putting everything into one easy-to-access location. I love the author's concept of putting your gadgets to good use and cutting down on paper by using electronics to put everything at your fingertips. I love the idea that lists will always be in one place, including items like what the kids want for Christmas or birthdays, what bills need to be paid, or what e-mails need to be tended to immediately.
I thought I understood enough about gmail to get by, but I learned some things about it that I didn't know could be done. One thing I learned was that emails can be color coded in filters. I also had already known about Evernote, but didn't realize it could be synced with my PC or with an add-on to my Chrome browser.
Combine the Books for Clutter-Free Living and Happy Eating:
As I was reading, I couldn't help but think how easy it would be to sync my favorite recipes from the Simplified Pantry books with a couple of the suggested apps in the
Paperless Home Organization
book and really make good use of a clutter-free home and kitchen. Maybe then I'd have more time to focus on my three little particular eaters.
Please read more reviews on these e-books from the
Schoolhouse Review Crew here
, or click on the picture below: