My six-year-old daughter and I have been reviewing a product from
LiteracySoft
called
Phonics and Reading with McGuffey
.
This is an app intended for the iPad or iPhone.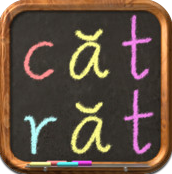 The company makes learning Apps that work on the PC, Mac, and Apple iOS portable devices.
We have been using it on an iPhone 4S.
I have always loved the time-tested McGuffey Primer book, so I was curious to see how the developers brought it to life in color on modern technology.
It presents 52 McGuffey Primer lessons in color, with a few fun black and white pictures and small short animations interwoven throughout. It includes: 44 English letter sounds with more than 60 letter sound animations Hundreds of practice vocabulary words Interactive word combinations that the child builds, with more than 9,000 nonsense word audio dictionary.
The App is available in the iTunes App Store for $19.99. Try out the first 10 lessons for free, on their lite version. When you discover how useful it is, you will have the option to upgrade to the full version.
This LiteracySoft App is intended for users of all ages, even adults who have difficulty with literacy, but it presents material that guarantees your emerging reader will be able to read at a 1st Grade level by the end of the last lesson.
My daughter enjoyed using it. In fact, she would ask if she could do a lesson each day. She whizzed through the first few lessons, and then began to slow down slightly as she approached letter sounds she was not familiar with before.
She managed to complete more than half of the 52 lessons, and I have already noted that she has learned from the App in ways that pop up. For instance, in general conversation, she mentioned a letter sound she knew how to spell because it was presented to her during the lessons.
I am extremely impressed at how they seemed to interweave colorful images and sounds with an occasional black and white picture, some of which appeared to be from the original McGuffey Primer. I also like how there is consistency from lesson to lesson with the way each lesson is presented on the Phonics and Reading with McGuffey App. We also have laughed and joked that the "Sh" sound is what mommy says often when she and her siblings are getting too loud and rowdy.
Even though my daughter doesn't appear to struggle with dyslexia, the McGuffey Reading and Phonics App offer the option to use a an open font specifically designed to be weighted differently. Apparently, it has been shown to help with letters that are typically flipped or confused in a dyslexic mind, while reading.
There are other options to choose in the settings, as well:
Each lesson introduces new letter sounds - that are properly pronounced phonetically by the voice on the App, has the user combine nonsense words to hear how the letter combinations sound, and has an interactive animation where the user places the proper letter sound into the truck or train.
I must say, it was a welcome relief to not have to worry about whether or not I'm pronouncing the phonetic sounds correctly or with a slight accent. The App does it all for you.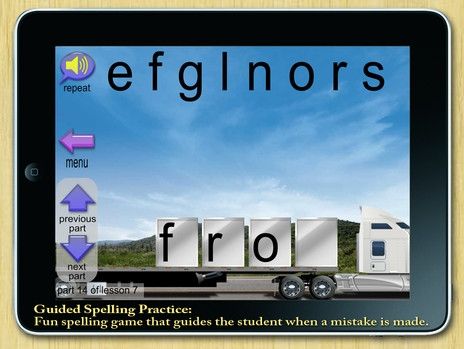 And, it was fun to find this poem, which I was also happy to see written out in cursive, in the App. This specific poem is one that my daughter recognizes, with a slight twist, from another Grammar book she is using:
At the end of each lesson, there is a test. At the end of the test, the voice announces whether or not you passed or failed, and congratulates and encourages you either way.
The App requires 116 MB of space to operate. It is also available in Chinese, Czech, Dutch, French, German, Italian, Japanese, Korean, Polish, Portuguese, Russian, Spanish, Swedish, and Turkish.
The LiteracySoft website refers to the latest version as iOS 1.4 that requires an iOS 6 compatibility update, while the App Store lists it as iOS 1.7 version, for the iPhone or the iPad, that requires the iOS 4.3 or later.
The App store lists it to be compatible with the iPhone 3GS, iPhone 4, iPhone 4S, iPhone 5, iPod touch (3rd generation), iPod touch (4th generation), iPod touch (5th generation) and iPad.
Please read more from the
Schoolhouse Review Crew, here
, or click on the picture below: