I was asked to review a new board book about street crossing safety for children. I received an adorable hard cover board book from
Greene Bark Press
, called
Look Left,Look Right, Look Left Again
, by Ginger Pate and illustrated by Rhett Ransom Pennell.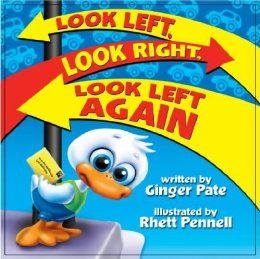 I was very excited to receive this book and review it with my daughter because she is a very active six year old whose hand I still insist on holding in parking lots because this child can literally get hurt while sitting in a chair – Don't ask, it has happened. We're never quite sure how she gets into her creative predicaments, but she does. That's why I was excited to receive the book to help her learn safety. I figure every chance I get to reinforce safety issues is good.
The book is thick, but easy for a child to hold. It is written for children between the ages of 3-8, is approximately 24 pages long and sells for $8.50.
The story is about a duck named Wally Waddlewater who wants to mail a card to his grandmother. In order to get to the post box, he needs to cross several streets. His mother goes with him to remind him of how to safely look before crossing a street.
I read the book and then gave it to my daughter, who is reading well enough to read this level of book. She loved it, and she was particularly thrilled when she came to a page that had an elephant on it. She lives, eats and breathes for elephants. Since I had already read the book, I knew the elephant page was coming and was excited to see her reaction.
I really like how the book didn't just say to look before crossing a street and leave it at that. It didn't even leave it at: "Look left, look right, look left again!" Mama duck is there to continuously pull Wally Waddlewater from danger as he learns to look left again, not to run out after a ball, look out for a school bus, look out for a loud and fast fire truck, how to walk on a crosswalk, how to look out for a railroad crossing, and yes – To make sure an elephant is not standing in your way.
I like how the book uses rhymes and catchy sayings throughout to reinforce lessons of safety, like: "Look left, look right, make sure the cars are out of sight!" Each time the rhyme is repeated, the word "cars" is replaced with additional obstacles of, "bus", "truck", "trains" and "elephant".
It reinforced the lesson by repeating:
"Remember then: Look Left Again."
And
"the traffic light, who is the boss of when to cross."
I love how the book covers several potential situations and doesn't just leave little Wally Waddlewater to fend for himself, but instead, had mama duck by his side to actually teach him how it's done till he is confident enough to do it himself safely.
Please read what other members of the Review Crew thought, by reading their reviews,
here
, or click on the picture below: