I received a board game called
The Presidential Game
, in exchange only for my honest review. The goal of the game, in a nutshell, is to be the first team to get to 270 electoral votes to win the office of president.
Right off the bat, the first thing I noticed that impressed me, was that the game was designed, printed and assembled in America.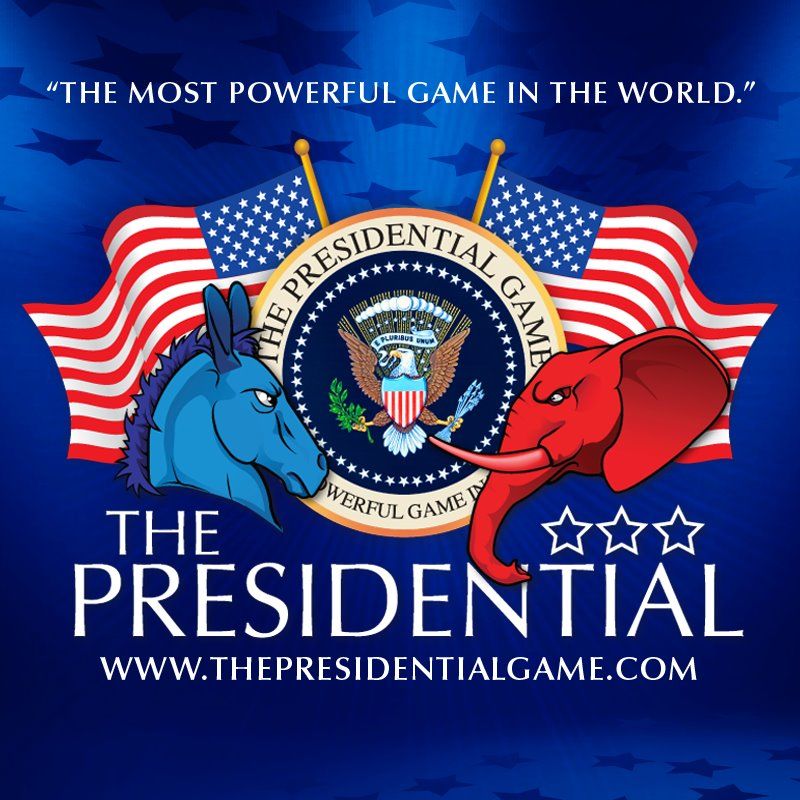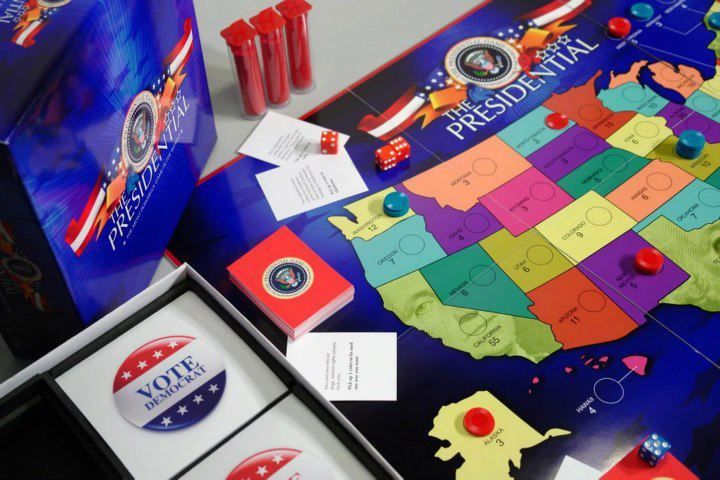 The game came in a cardboard box and included:
Playing board
One pack of red plastic checker-like discs
One pack of blue plastic checker-like discs
3 red die
3 blue die
Score card tablet
80 Presidential playing cards
40 Playing cards with blank lines to fill in your own special rules
2 "Voting cards" (One Republican/One Democrat)
Instructions
The only thing I had to add was a pencil.
It also comes with a special code that is located in the instructions as well as on the back of the game board. You are given the option to use this online code to use with an interactive Electoral WebMap to help keep score.
The game is recommended for children ages 11+, or adults and requires at least two players. But, I decided it would be fun to play it as an entire family, including my 6 year old daughter. Surprisingly, she did fine when she teamed up with my 11-year-old daughter who helped her with specifics.
We read the instructions carefully, but didn't fully understand all the rules until we got involved. This is typical for my family and not necessarily a reflection on how well or poorly instructions are written. We just have to always jump in and do it before we get into the flow of things. After we got into the flow of the game and understood the rules, which happened fairly quickly I might add, we really got into it.
Rules of the Game:
This game is a really fun way to learn about the entire presidential election process. The overall goal is to be the team to make it to 270 electoral votes with 30 weeks (30 turns for each player) to the election. The game instructions estimate that it will take about an hour to play 30 turns. It took us longer, but if you're fast learners and don't stop to think as much as we did, about strategy, then it may take you even less than an hour to complete a 30-turn round. What I discovered is that we all learned so much more about the entire presidential campaign and election process than we previously knew. My son even learned a bit of geography as I discovered how little he knew about the placement of the states.
How We Played and What We Learned:
My 11-year-old was a brutal opponent, knocking off the opposing team's tokens whenever she took a state's electoral votes in her favor. My son really impressed my husband and I as he got so much into the strategy of it all. He figured out how to not only hold onto the states with the most electoral votes, but how to gain the needed votes to win.
Another aspect of the game that I found interesting were the political cards. When you start your turn, your team decides if they will fundraise or campaign. If you choose fundraising, at the end of your turn, you draw a political card. These cards offer potentially real-life situations that could change the course of an election. One card, for instance, might read that the RNC has a successful third quarter (Republicans pick up 6 votes). Another may read that you only drive American cars while your oppoenent owns several foreign cars. Add 4 votes to Michigan. Or, Wisconsin teacher's union lays off 30% of their employees - your opponent adds 2 votes to WI. Depending on how the card reads, you either gain or loose chips, which give you more or less electoral votes. We usually seemed to lose electoral votes on the fundraising, but on one turn, our opponent gained five tokens (electoral votes) and took back California. Sad for us, happy for them. But, I still loved these potentially real-life situations to work around.
Having watched real-life election coverage of meaningful elections in my lifetime; I will admit that my heart sort of jumped a few times when I saw the opposing party in the lead.
We started out using the scorecards, but quickly discovered that the online Electoral Map was incredibly easy! I pulled up the map and entered my code into the computer, but since my iPhone is more mobile than my computer laptop is, I decided to see if the map would work on my phone. It did! I will warn, however, that I'm sure it's not intended to work in correlation with a mobile smartphone. So, I might have just been lucky. And, it did crash on my phone a few times leaving me to re-enter everything. In the end, we preferred using the laptop with the online map as opposed to trying to use the math to keep track of electoral votes won or lost, by using the scorecard tablet and a pencil.
Please
read what other members of the Schoolhouse Review Crew thought of this game, here
, or click on the picture below: