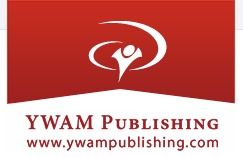 I received a pdf e-book and study guide, entitled
Jim Elliot: One Great Purpose
, and
Jim Elliot: One Great Purpose Unit Study Curriculum Guide
, from Youth With A Mission,
YWAM Publishing
.
The book and study guide are part of their Christian Heroes: Then & Now series.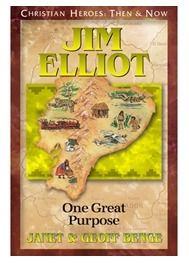 The 192-page book sells for $8.99, but YWAM's price is $6.99
The 62-page study guide sells for $9.99, but YWAM's price is $7.49
The book and study guide is recommended to be used with children ages 10+. I used it as a family read-aloud with all three of my children, ranging from 7 to 13 years of age.
I was already familiar with YWAM, from years ago, but never really was able to jump in and enjoy what they are all about. A few years ago, at a local homeschool convention, I saw a booth set up by YWAM. It intrigued me, and I always meant to check out their books. At the time, my children were far too young to fully appreciate them. So, I was more than thrilled when this opportunity came along for me to review one of their books hands-on. I received the e-book in pdf form along with the study guide, which was in a 2-part pdf download form. I easily downloaded it to my laptop which runs Windows 7.
I was not familiar with who Jim Elliot was, so I was curious to learn about his life and contribution to our Christian heritage as well. I was sad to learn that he lost his life because of his passion to share the gospel, but his zeal was inspirational to share with my children.
No parent wants to readily encourage their child to pursue a dream that ends in death; however, I did like how the book pointed out Jim Elliot's spiritual endeavor from a well-rounded perspective. These perspectives included the heart of his mother who would have rather he stayed in the United States, but watched him sail away. It also pointed out how friends he thought he would journey with ended up pursuing marriage instead of the mission field.
I also liked how the book explained the work that goes into spreading the gospel, from fund raising, to finding a partner to join the mission, to learning a new and foreign language, to being willing to lay down your life if necessary.
I asked my children their preference about reading the book by themselves or having me read it to them as a family, and all of them decided they liked it best when I read it aloud. So, we sat down with the e-book on my computer screen with my children tucked away on the couch and the living room floor, and I began to read. I quickly discovered that no more than one chapter at a time was their attention span limit.
I really liked how easy the book was to read. Even though my children chose for me to read it aloud to them, I'm sure the font, sentence styling, and words are written in a format that my older two children could have easily read alone.
It didn't stop with just the book, though you can buy the book alone if you prefer. I found the study guide to be a plethora of information. There is enough information in there to study this book for several weeks and to cover a wide spectrum of subjects in a variety of learning styles.
There are suggested activities that include Bible verses, study of Ecuador and maps, foreign language fun, and there is a long list of additional books and other resources to pursue.
The study guide introduction claims that it covers:
• Creative Writing
• Drama
• Movie Critiquing
• Reading Comprehension
• Essay Writing
• History and Geography Concepts
However, I was thrilled to discover that it also covered:
• Artistic Expression
• Scripture Memory
These are the two areas I was most excited about for my children. YWAM publishers suggest that you set up a display area for your projects to bring the biography and the historical along with the spiritual implications all together. Here's some of what we did with it:
She put on her Panama hat, and we went on an Amazon jungle, rain forest adventure to Ecuador. We took a mini imaginary trip to the country where Jim Elliot ventured forth to preach the Good News!
Fact Sheet and maps of Ecuador
Making a topographical map with "clay" (Playdough)
Sculpted animals of the rain forest out of Playdough clay
Study guide comprehension and review questions
Spanish (Jesus loves the little children)
Bible verse
Our attempt at clay pots
Bark rubbing
Please read what other
Schoolhouse Reviewers thought here
, or click on the picture below: