I was so excited to receive a one-year subscription to
Top Story
, which is
God's World News'
monthly news magazine publication for middle school kids. With this subscription, I also received a large Map-It world map. The subscription also includes access to their online learning site.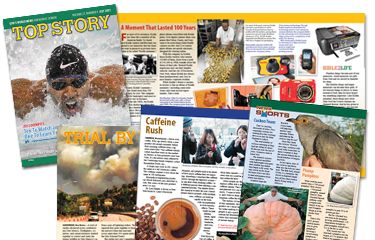 Let me first tell you that my first reaction to all of this was, "Wow! This is so cool!" I get to present my kids current event news from an uplifting and Christian perspective. How cool is that?
I was happy enough to just receive the monthly printed publications, but then I discovered the accompanying learning site that is jam-packed with additional teaching materials, and I was thrilled!
On top of that, a package arrived that included two back issues of the
Top Story
magazine, plus a large Map-It world map.
With all these materials right at my fingertips, I was excited to share them with my son. The
Top Story
editions are intended for middle school age children, Grades 7-8, so my son fit right in at age 13 and in the eighth grade.
A yearly subscription of
Top Story,
consisting of ten issues, sells for
$28 through GWN
for individual issues. They also offer discounts when ordering in bulk for a homeschool group. The yearly subscriptions includes one issue every month except for May and December.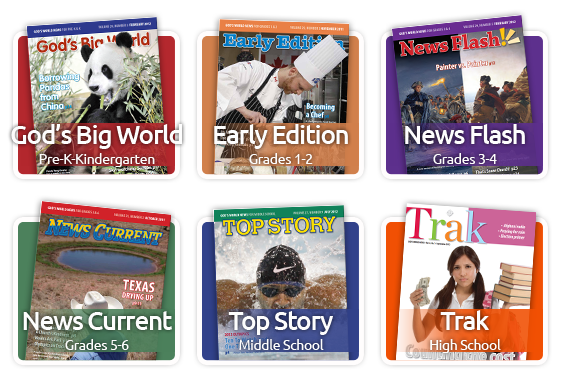 The magazine claims to emphasize "News, knowledge, and wisdom" while focusing on specific skill development for older students. It uses:
News graphics
Editorials
Lessons, both in the magazine and online
MAP-IT! Locator maps
DEFINE LINE that teaches word meanings in context
Quizzes
Age-appropriate website content
32 pages per issue
Weekly email newsletter
Biographies and topical lessons to download and print with quizzes and answer keys
I started off by presenting the magazine to my son and asking him if he wanted me to review individual stories with him or if he preferred reading it himself. He opted for the latter, and sat down to read. He found a couple stories that really captured his interest and discussed them with me.
I then found out about the plethora of additional information on the website. Online, they offer answers to quizzes, puzzles and activities from the printed magazine. Also online were extensions of news lessons in PDF format that provided a more in-depth look at the news of the day by adding information as to how the story relates to science, history, geography and other subjects along the way.
There is also a large collection of biographies. More than 120 biographies are available to weed through, read online or print out and learn. These biographies were really well done and also on my child's level.
The online site was especially nice because there are two sites available, one designed specifically for
younger kids
and then
one for the teens
. I checked out both sites, even though my son is a teen and in the eighth grade. I did find that within these sites, material is broken down by grade level. I really like that the online information is easy to access from my son's iPad as well as from my iPhone.
I also signed up for the free weekly email newsletter for parents and teachers.
In the meantime, I received another package in the mail that included a large Map-It world map. The map comes in the September issue every year and corresponds to points within some of the magazine articles where the student maps out the coordinates on the larger map.
I absolutely love Top Story from God's World News. My son enjoyed learning this way as well. The articles were right at his level, informative and from a biblical worldview. Since this is the worldview I prefer to use in teaching my children, I felt comfortable allowing him to read the magazine on his own without feeling like I had to first edit it to make it age appropriate. The cartoons were also right up his alley and a lot of fun.
Please read what other members of the Schoolhouse Review Crew thought of God's World News and the other publications,
here
, or click on the picture below: