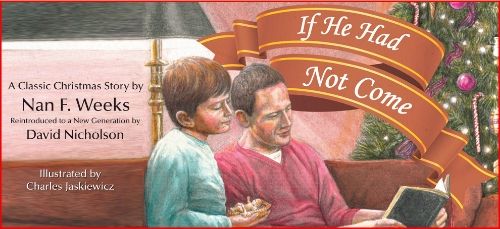 I was so happy to get the opportunity to review a new Christmas book from
David Nicholson
, called "
If He Had Not Come".
Get into your cozy, Christmas Eve pajamas, grab a cup of hot chocolate, and nuzzle in to hear a story that will become a family favorite for years to come.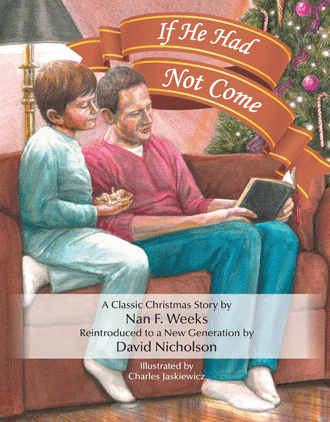 The book has an "It's a Wonderful Life" kind of feel to it, only it focuses on the birth of Christ. It is a re-introduction of a story that was originally written in the 1930's.
It is intended for children 6 years of age and older, and sells for $18.95 for the print version and $3.99 for the e-book.
...Let me just say! We've started a new Christmas Eve tradition at our house - Reading this book... It's even thought-provoking and enjoyable for my oldest, teen.
I sat down to read this book cover-to-cover before sharing it with my kiddos. I was delighted to discover that it was not just another cutesy Santa tale, but is a very inspirational story that can be used for light-hearted Christmas Eve storytelling, or for really heart-searing, in-depth discussion about what Christ's birth, life, death, and resurrection means to us as Christians, today.
The story is about a little boy who has a dream right before Christmas. In his dream, he finds himself inside a world where Jesus had never come. Very much like It's a Wonderful Life, or A Christmas Carole, the boy is horrified to discover all the things about life that he has come to take for granted no longer exist without the coming of Love/Christ. Without giving away each and every encounter, because believe me you will want to read it to discover these details yourself, I will say that some of the "a world without Christ in it" encounters surprised me and made me think how the love of Christ spirals into every aspect of our lives and becomes the threads that are woven throughout the fabric of our lives. Without this reason to love, there is no reason to have a church, an orphanage, or any place that helps people in the name of Love.
The words of the story are not the only thing that makes this book one that you will want to make part of your family's holiday traditions. The story is also illustrated so beautifully, with large full-page color pictures on the opposite page of each set of words. It makes it really easy to hold up and read for several kids to see, or to snuggle one little child in your lap and turn the pages, pointing out parts of the story inside each new illustration to re-iterate the words as you read along to a child, wide-eyed with wonder.
At the end of the book, there is a list of discussion questions, and then when you turn the page, there is a set of questions to help your kids dig even deeper. I found these to be an especially helpful option to use with my older, age 12 and 14 year-old, kids.
Find out more on
Facebook
, and by reading what other Crew Members thought of the book by clicking on the picture below: