*
I was thrilled to get a chance to review
Spelling You See: Modern Milestones
from
Spelling You See
.
The Spelling You See curriculum is part of the Demme Learning Publication products which believes parents play an important role in their child's learning success. The Demme family-owned and operated publishing company takes the following approach to learning:
hands-on
multi-sensory
student strength centered
parent/instructor guided
sequential
intended to build from lesson to lesson until the student has mastered the skills
What is Spelling You See: Modern Milestones?
It is their Level G spelling curriculum. I received a physical copy, glossy paperbacks, of the teacher's guide and the two student books as well as a pack of Crayola Erasable Colored Pencils set of 10.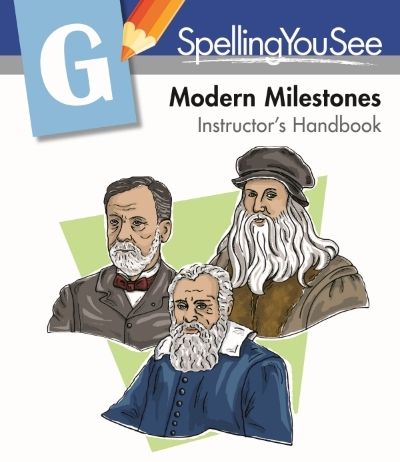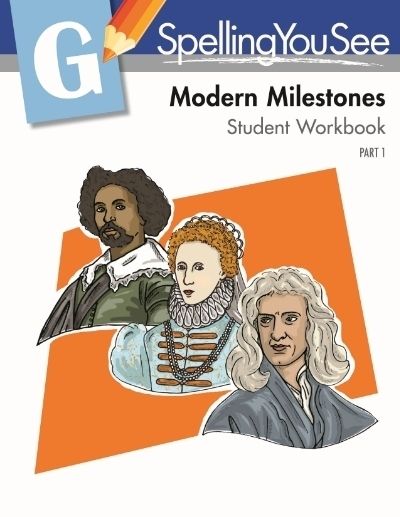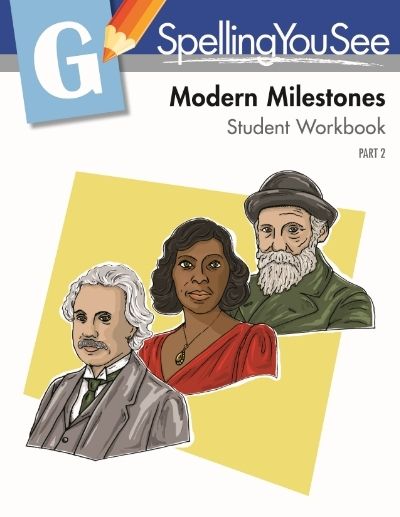 This curriculum is brilliantly designed, so to appreciate the fullness of what it is, it helps to know a little bit about the scientific studies that went into creating it:
The idea behind the curriculum is based upon scientific studies and observations of how children actually learn how to spell and developed by Dr. Karen Holinga who wanted to create a system that taught children how to spell at their own pace with the guidance of an instructor.
The Spelling You See books do not specify a certain level with a school grade or age, but rather by skills already mastered based upon the five stages of learning spelling.
The university studies behind the levels of learning spelling suggest that students learn to spell in five stages:
Preliterate
Phonetic
Skill Development
Word Extension
Derivational Constancy
The Modern Milestones, Level G book is for students who are ready to move into the Word Extension stage and are able to work a little more independently while able to follow written directions.
INSTEAD OF LEARNING VOCABULARY SPELLING LIST AFTER LIST - SPELLING YOU SEE INTERJECTS MINI BIOGRAPHIES OF HISTORICAL PEOPLE.
The student is learning about actual, factual historical figures that are presented within the paragraphs of text that the students are searching through to find words and parts of words which are to be colorfully underlined and then written.
So, while my child is learning spelling, she is secretly also learning about artists, musicians, scientists and other historical people whom have major contributions to shaping our modern day culture (Modern Milestones).
In other words - While my child is underlining words like: name, prefer, strum, play, write, usual, or carry - She is also learning about Andrea Amati and the first violin of the 1500s. And, this is just one example out of the 36-section, 180 lesson Level G Spelling You See Modern Milestones books.
The mini biography style paragraphs within each lesson includes:
Jan van Eyck
Gutenberg
Botticelli
Leonardo da Vinci
Copernicus
Michelangelo
Andrea Amati
Andreas Vesalius
Queen Elizabeth I
William Shakespeare
Miguel de Cervantes
Francis Bacon
Galileo
Rembrandt
Juan de Pareja
Johannes Kepler
Isaac Newton
Edmond Halley
George Handel
Johann Sebastian Bach
Franz Joseph Haydn
Joseph Priestley
Caroline Herschel
Mozart
Ludwig van Beethoven
Jacques and Joseph Montgolfier
Louis Pasteur
Claude Monet
Renior
Mary Cassatt
Vincent van Gogh
Marie Curie
Grandma Moses
Albert Einstein
Alexander Fleming
Marian Anderson
The student books are Part 1 and Part 2, and are a workbook style where the student writes directly in the book. Each book contains approximately 183 pages, with 18 weeks' worth of lessons a piece (to total 36 lessons between the two books).
Within each lesson, there are five sub-lessons (one for each day of a five-day school week). So, Lesson/Section 1, for instance, includes Section/Lesson 1A, 1B, 1C, 1D and 1E.
We chose to do one sub-lesson a day, though you could group them all together for faster learning, or spread them out to take longer - Keeping them at a pace that fits your student's learning pace. Though, it is recommended that the student not write for more than 10 minutes at each setting.
Each week, the student follows the same rhythm and flow of learning following along with exercises in reading aloud, Marking words in color, dictation writing, copy work, and Workshop exercises.
The lessons all follow the same format:
A - (Day 1) - Read Aloud, Follow instructions to underline words or parts of words specified in color, Copy work.
B - (Day 2) - Read Aloud, Follow instructions to underline words or parts of words specified in color, Copy work.
C - (Day 3) - Read Aloud, Follow instructions to underline words or parts of words specified in color, Instead of copy work this day has what is called Workshop activities, which include things like word matches, and fill-in-the-blanks.
D - (Day 4) - Student writes what you read in dictation
E - (Day 5) - Student writes what you read in dictation
The Instructor's Handbook is a 70-page hand-held/lap-size book that provides everything needed for the teacher to guide the student through the two student workbooks. It does not include script-style teaching, page after page (which I am thankful for, as I prefer more of a guide). The book includes descriptions of each stage of learning spelling and gives an explanation as to how the student books are laid out, followed by FAQ Frequently Asked Questions. It then, provides the sections of text needed to conduct the dictation exercises, along with answer sheets, summary of word patterns, list of prefixes and suffixes, a glossary and a bibliography.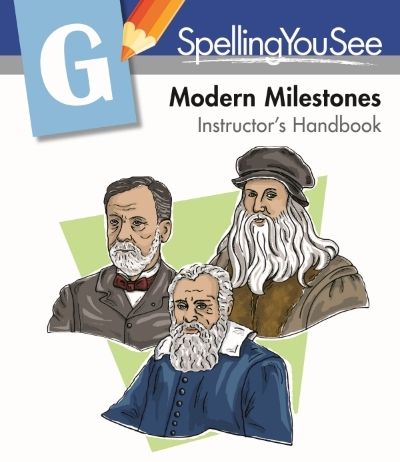 How Did We Use It?
I had every intention of using this curriculum with my oldest daughter, who had hearing issues as a young child that have made learning to spell correctly quite the challenge. When she had a kindergarten screening through our Parents as Teachers group, she flat-lined her hearing test. Apparently, it was due to ear infections she had that had left fluid buildup. Though, we had no idea she could not hear because she had also developed very efficient coping skills. Through treatment, she now hears perfectly again, but her spelling skills still suffer. I was curious to see how this curriculum would help her. But, when the curriculum arrived, it seemed more fitting for my younger daughter who is currently doing third grade work and spelling fairly well while reading at much a higher level.

I sat down with my youngest and began to oversee her work. Though, she surprisingly needed very little guidance from me.
What Did We Think?
We have absolutely fallen in love with this program. I love how each week follows the same rhythm of lessons, in a very sequential style. I really love how you literally SEE the SPELLING words along with their prefixes and suffixes, because the child is instructed to use colored pencils to mark specific portions of words. But, the student also SEES the SPELLING naturally, as part of a real historical passage of text. So, spelling becomes so much more than just a list of vocabulary words because they are able to see how the words are actually used in typical daily reading.
My children and I are more visual learners than I am willing to admit, and seeing color really makes it memorable. A huge perk is how the stories used to teach the spelling and grammatical tips are stories about artists, scientists, musicians, and other people who have made contributions to history. So, the whole time my child is learning how to build words properly, she is learning so much more.
The books include:
Level A - Listen and Write (Beginner readers, learning letter names and sounds)
Level B - Jack and Jill (Able to print lowercase easily and knows long and short vowel sounds)
Level C - Wild Tales (Starting to be comfortable with reading and spelling common words)
Level D - Americana (Proficient reader, spelling and learning to improve spelling)
Level E - American Spirit (Confident spellers of common words, but not quite ready to advance)
Level F - Ancient Achievements (Students nearing the end of the Skill Development stage)
Level G - Modern Milestones (Students ready to move into the Word Extension stage and able to work more independently while following written directions)
Discover a more descriptive explanation of each stage and level on the
Spelling You See website
. And, stay up to date on what they have to offer by following them on
Facebook
,
Google +
,
Pinterest
, or
Twitter
.
Read what other members of the TOS Review Crew thought of Level F and Level G Spelling You See curriculum by clicking on the picture below: