I was so happy to get a chance to review
Horizons 2nd Grade Math Set
from
Alpha Omega Publications
.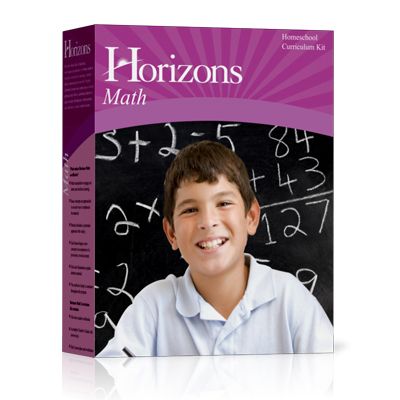 What is Horizons and Alpha Omega?
Alpha Omega is a Christian curriculum publisher. Horizons is one of the lines of curriculum they offer. Math is one of the subjects Alpha Omega Publications offers as part of the Horizons curriculum line.
The idea behind the Horizons curriculum is to help students and teachers stop struggling. The Math curriculum set presents full-color workbooks with easy-to-understand lessons. The idea is to:
Introduce

Review

Reinforce for Mastery
The 2nd Grade level of Math includes topics such as learning the Fahrenheit thermometer scale, English measurements, and ratios. It comes with a teacher guide that outlines the 160 lessons. All of the necessary materials to make your job easier as a teacher are included, such as suggested learning activities, comprehensive objectives, a homeschool lesson planner, a student readiness evaluation test, duplication masters, answer keys, teaching tips, and additional worksheets.
Take a look at the
Horizons full Scope and Sequence
to see exactly what is covered in each level.
I received a physical Math curriculum set to review. The set includes two student workbook texts with a total of 160 lessons (Book 1 includes Lessons 1-80, and Book 2 includes Lessons 81-160) and a Teacher's Guide. The student books are colorful and happy looking.
The Teacher's Guide includes a few pages of Scope and Sequence, which includes 21 Math skills, from counting 1-999 to decimals, money, measurement, temperature, calendars, time, fractions, sets, number order, addition/subtraction, correspondence of quantities, place value, sequence, multiplication, shapes, graphs, estimation, ratio, area, perimeter, and volume.
It also includes a front section on a list of Manipulatives that will be used throughout the lessons, a list of when to use the included worksheets, and a few pages of what lessons and pages the concepts appear throughout the texts, followed by a 2-page spread graph of how the concepts are developed throughout the lessons and throughout the school year.
The Teacher's Guide is laid out in the same main sections for each lesson:
Concepts
Objectives
Teaching Tips
Materials, Supplies, & Equipment
Activities
Worksheets (if applicable for that lesson)
The worksheets and Answer Key are provided in the back of the Teacher's Guide.
How Did We Use It?
I was asked to use it with one child for at least three days per week. So, I sat down with my youngest and got to work seeing what Horizons is all about.
The first step, after I looked over how the Teacher's Guide was laid out, was to start my daughter on the Readiness Evaluation test.
After the readiness test, it was time to experience the colorful lessons. Here's what some of the lesson pages look like in action:
What Did We Think?
I was so excited about being given the opportunity to do this. You see, my child has a late September birthday which means she has always fallen halfway between a lower-level school grade year where the public school birthday cut off would put her, and the next grade up, which she typically shows signs of being ready for. So, I had been hoping to spend some time with her this summer to get her up to full grade level for the fall. This fit perfectly into that plan.

I loved the colorful workbook style text, and I really like the concept of introducing a new concept, and then reviewing it in various places in the subsequent lessons to make sure the child learned the skill. The Teacher's Guide was laid out nicely, though I'm not a follow-a-guide style of homeschooler, I found it to be all inclusive yet did not demand that the teacher follow a pre-written script. There was wiggle room for my style to fit my child's specific learning needs.
Other members of the TOS Review Crew reviewed various Horizons curriculum products, ranging from Pre-School to Grade 2, covering topics of Three's Curriculum Set, Preschool Curriculum Set, Kindergarten Math, Phonics, Reading, Health, 1st Grade Spelling, Vocabulary, Math, Phonics, Reading, Penmanship, Health, and Grade 2 Spelling, Vocabulary, Math, Phonics, Reading, Penmanship, Health, and K-2nd Physical Education.
Find Alpha Omega and Horizons on
Facebook
,
Google+
,
Twitter
,
Pinterest
, and
Instagram
.
Read what other members of the TOS Review Crew thought of the curriculum by clicking on the picture below: