I was thrilled to get a chance to review an Illuminating Literature set from
Writing with Sharon Watson
. The set I received included: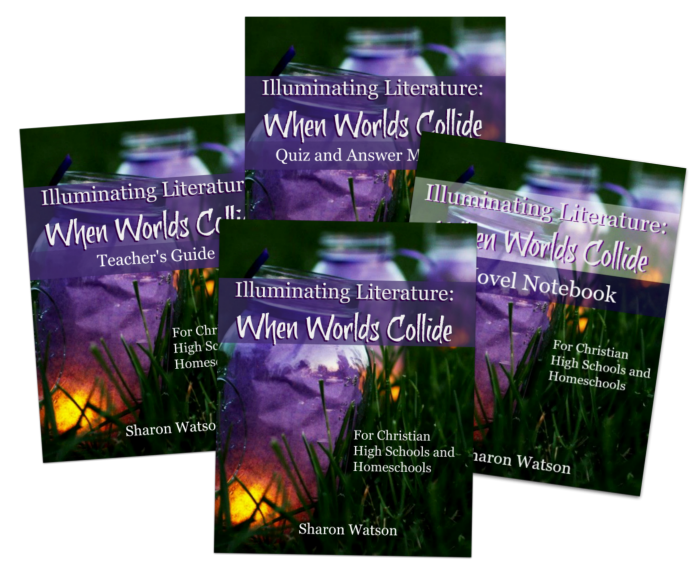 Illuminating Literature: When Worlds Collide (Student Book)
Illuminating Literature: When Worlds Collide Teacher's Guide
Illuminating Literature: When Worlds Collide Quiz and Answer Manual
Illuminating Literature: When Worlds Collide Novel Notebook (Free PDF Download)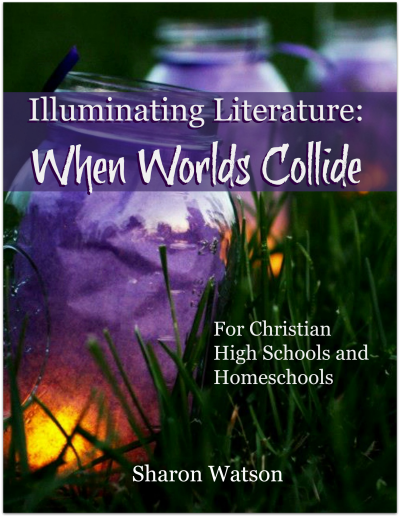 285-page Student book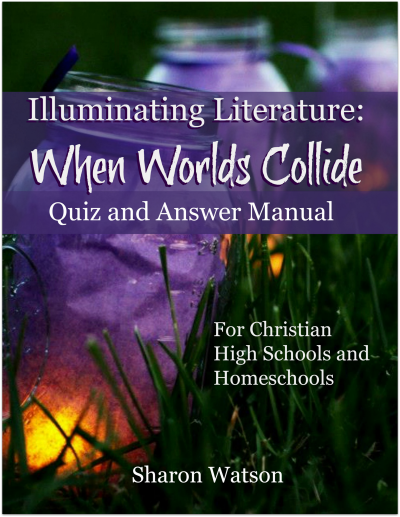 101-page Quiz and Answer Manual
182-page Teacher's Guide
I received these 3 physical books as glossy paperbacks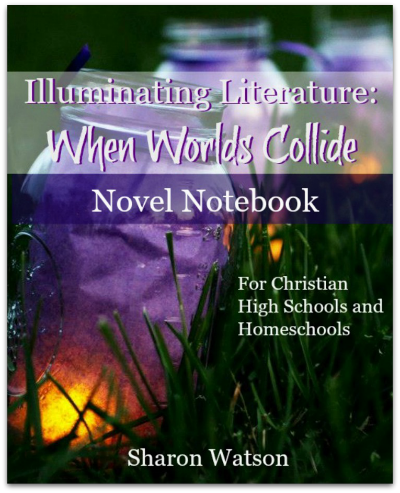 This Novel Notebook, I received as a 102-page PDF download
I also received the first two novels that go with the Illuminating Literature: When Worlds Collide program and plan on obtaining the additional 6 books on my own:
Pudd'nhead Wilson
by Mark Twain
and
The War of the Worlds
by H.G. Wells
The additional 6 books that are covered in this course include:
The Friendly Persuasion
by Jessamyn West
Peter Pan
by Sir James Barrie
Warriors Don't Cry
by Melba Pattillo Beals
A Tale of Two Cities
by Charles Dickens
Fahrenheit 451
by Ray Bradbury
The Screwtape Letters
by C.S. Lewis
What is Illuminating Literature: When Worlds Collide?
This year-long high-school-level literature course covers 8 classic novels. There is an introduction chapter, and then a chapter for each new classic literature book. Of course, with each new book, the reader is encouraged to look into what "worlds" are colliding with each story. In other words - What conflicts arise and of what nature are these individual conflicts? Also, with each book, the student learns characters, literary terms, famous classic authors, and writers' devices.
The student book begins with a 3-lesson chapter introducing literature. It explains what literature is and the philosophy in which Sharon Watson and
Illuminating Literature
approach the lessons. It includes thought-provoking questions and checklists for the student to complete.
Moving into the chapters that discuss the corresponding books, each chapter contains 7-9 lessons (for a total of 70 lessons throughout the book) separated to discuss topics such as an introduction overview to each book, meeting each author, discussions about the book, and vocabulary words or literary terms contained within each book.
QUIZ AND ANSWER MANUAL
Throughout the lessons, there are three main quizzes for each:
'Yes I read it' quiz (Which tests reader comprehension)
'Literary Terms Quiz'
'Opinion Survey'
TEACHER GUIDE
As the name implies, this is your guide to help walk alongside your student while he or she complete the course. This book contains a grading grid, answers to pop quizzes, activities, additional insights, discussion questions, learning objectives, and even Facebook question posts if you choose to start a Facebook group for students (This would be great for a co-op or school setting). As it turns out, my daughter and I were fortunate enough to also take part in a Facebook group which was started by another TOS Review Crew member.
NOVEL NOTEBOOK
This is a student journal which I received as a PDF download and printed the pages off to be used by my daughter as I needed them. You will need a 3-ring binder or some other folder system to store these sheets.
Everything I received for review were physical paperback books with the exception of the Novel Notebook, which was a digital PDF Download.
Find downloadable samples of the product along with more information here
.
I was asked to use this with one child, three times a week. The lucky child in my household to get to use this was my oldest daughter. The Illuminating Literature package is intended for high school level use, but my daughter will be an 8th grader in the fall and is an avid reader, so I knew she would welcome the opportunity.

I cannot express well enough just how over-the-top excited my child was to get started on this. She grabbed the books out of my hand and headed for her bedroom to start reading before I even had a chance to look over the program to see how to space out the reading. Once I looked it over, I sat with her and began to cover the lessons. I would normally just turn this particular child loose to learn on her own, but quite honestly, I was excited to plunge into these books right alongside her.
What Did We Think?
This course is amazing, and this is coming from a teacher/parent who has never enjoyed literature...Shh! Don't tell my children this.
While the focus of the lessons is on learning about literature, I really enjoyed the writing style of Sharon Watson, the creator of the course. She has a style that is extremely enjoyable to read and really helped me relax and get excited about learning classic literature.
I also appreciated how it is intended for Christian high schools and homeschools, so I was assured that the perspective would not make me cringe but would actually illuminate and enhance the foundation of our learning - Our faith. So far, I have not been disappointed. Of course, I suppose if you did have an issue with any of the selected books, the layout of the course would make it very easy to just leave that book out and choose to not cover it.
I really love the philosophy of the writer of the course that just because these books that we are studying are considered classic literature doesn't mean they are sacred. Sharon Watson really sets the student and teacher at ease to feel free to really dig in and not worry about picking apart a particular book if it wasn't to our liking. She explains that they are written by fallible humans and are to be used for reading enjoyment and learning, not to treat as a hands-off, pious sacred text.
The student book is easy to follow while at the same time in-depth. I enjoyed reading along with my daughter, because the text was far from dry, dull or boring. It was thought-provoking.
Find out more on
Facebook
and
Pinterest
.
Read what other members of the TOS Review Crew thought by clicking on the picture below: