Even though I am a professional writer and I managed to successfully teach the basics of grammar, I somehow have missed the opportunity of teaching my older two children the process of writing well, so I was excited to get a chance to review Writers in Residence from Apologia Educational Ministries to use with my youngest child.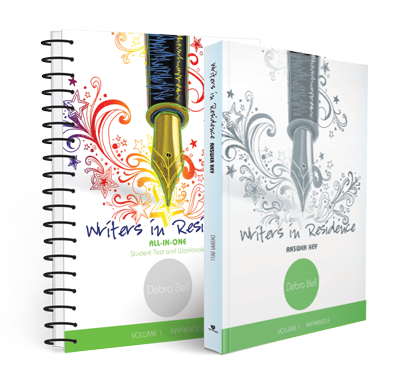 What is Writers in Residence from Apologia Educational Ministries?
This is an All-in-One language arts program that focuses on writing while teaching the basics of grammar and is intended for students in Fourth Grade and higher. It is written by Debra Bell and is biblical-based. I received a physical worktext designed to be used by one student and the Teacher Key, both a glossy paperback with the worktext bound with a large plastic spiral which made it easy to turn pages back while working. As the student works through the book, he or she creates a Writer's Portfolio which is a wonderful keepsake.
Each Module begins with an interview with a different Christian author, including:
Bill Myers McGee and Me
Amy Green Amarias Adventures
Irene Howat Lightkeepers series
Jason Lethcoe director, animator, and storyboard artist for The Little Mermaid, Cloudy with a Chance of Meatballs and others
Amy Parker Thank You, God, for Mommy and Thank You, God for Daddy and 19 other books
Phil Vischer of VeggieTales
The Volume 1 - Apprentice book uses repeating elements throughout, such as:
Unit Introduction
Rubric at the end of each module
Writer's questions
Sneak Peaks
Assignments
Expert Models
Student samples
Writer's toolbox
Graphic organizers
The Sandbox where students experiment with writing ideas, much like playing in a sandbox
Vocabulary
Word sleuth
The Writer's Workshop
Review your progress
Unit Review
Mastery Test
Final Review
Apprentice Log
And covers concepts of:
I Remember, I Imagine, I Investigate, I Think, I Remember, and I Imagine.
The book comes ready to use, out of the box, without a lot of teacher preparation time. The first several pages contain helpful information as to how to use the book, though. So, it does help to familiarize yourself with the teaching style concepts and schedules before sitting down with the student to do the work.
The writers in Residence worktext is set up in modules and includes schedules that include using the book 4 days per week and uses a rubric to make evaluating your child's work easy to offer feedback to your student.
How Did We Use It?
I sat down with my 9-year-old, and we got busy. The very first thing we encountered was a biography about the author who wrote McGee and Me. It was very interesting, and we were hooked. We then moved into the lessons which I walked her through. Everything in the student worktext is very easy to follow, but have never been accustomed to using a rubric, so this was new to me.
I love the big spiral binding on the student work text, because it makes it very easy to turn the page and work. I also appreciate that the Answer Key is just that - an Answer Key - and not a word-for-word instruction manual. I love that this is completely teachable by using the worktext alone with the Answer Key as reassurance that your student is on the right track.
What Did We Think?
First of all, I don't think there is a book yet that Apologia has published that hasn't completely blown us away with delight. This one was no exception. My daughter is very reluctant to write. Somehow, the thought terrifies her as she goes numb and sits silently afraid to pick up her pencil for fear of getting it wrong. This program has helped her feel more comfortable and natural about expressing her thoughts. I really love how it introduces the use of a thesaurus fairly early on and also has some activities that are action based. My daughter really thrives on learning when she's moving, so even though it was not in the majority of the lessons, it was a nice break from the writing to see some action included. We also really enjoyed the short biographies of Christian authors.
*~*
SOCIAL MEDIA LINKS - Find Apologia Educational Ministries online @:
*~*
Read what other members of the TOS Review Crew thought by clicking on the picture below: