Poetry seems to often be a lost art, yet if done well, it can be used as an amazing linguistic language arts tool - Especially when you school inside a heavily right-brained creative oriented family who was thrilled to get a chance to review the
Linguistic Development Through Poetry Memorization
from
Institute for Excellence in Writing
, often referred to as IEW.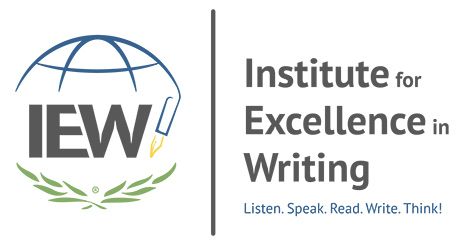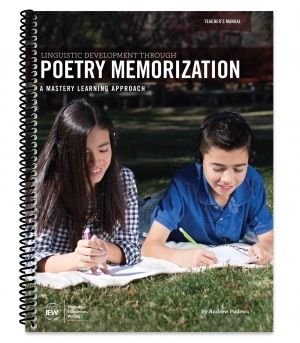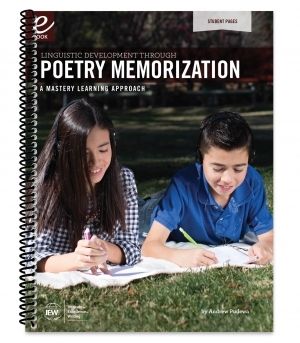 What is Linguistic Development Through Poetry Memorization from IEW?
The idea behind the program is to use sophisticated English language patterns found in classic poetry and speeches, to introduce these to students and have them memorize them to recite back.
The kit that I received came with:
a teacher book
a leather packet of CDs
a DVD that presented Andrew Pudewa in a lengthy seminar style presentation explaining how memorization and poetry work.
There are also 7 mp3s to listen to that are available to download via the IEW site:

Nurturing Competent Communicators
Mastery Learning, Ability Development, and Individualized Education
Ten Thousand Times and Then Begins Understanding
On Listening
On Speaking
On Reading
On Writing

.
I also received a spiral-bound student book for the review - BUT PLEASE NOTE that even though I received a spiral-bound version as part of the review, this poetry set actually comes with an e-book format PDF download of the student book which can be printed from a home printer as needed. The spiral-bound book, however, is sold separately from the IEW site.
The book contains 96 poems and speeches that start with very simple, short poems complete with coloring page images and then it progresses through 5 levels of content that gradually presents lengthy historic speeches to learn and recite.
How Did We Use It?
As with all IEW programs, the first step is always to educate the instructor as to how to use it with students as well as why it's important. So, the first step was to watch the DVD,
Nurturing Competent Communicators,
where Andrew Pudewa explained the theory of memorization. Set aside an afternoon for this, as it's a very in-depth seminar style speech and not a quick start guide. He explains the importance of memorization and how the neuro-memorization connection helps to grow the brain.
The next step was to read the Teacher's Manual introduction which gave me an overview of the methodology used in this program and how to use it with my students. I discovered that it suggested to start everyone at Level 1 and that the Teacher's Manual also provides 3 Appendix which have author biographies and extended study suggestions that take the poetry and turn them into science and history lessons as well.
Finally, it was time to get started with helping my children memorize. I announced to my 3rd grader and my 8th grader that this program was for them. While there were variant levels provided that ranged from very simple poems to the more complex higher level learning, it is suggested that everyone start at the beginning /Level 1. My youngest was ok with this, but my almost high-schooler avid reader wasn't fond of starting with a short poem called Ooey-Gooey complete with a coloring page.
The books provide you with a checklist to highlight and check off as each poem is memorized.
I was very happy that the audio CDs and mp3s could be transferred to an iPod or other electronics for ease of listening.
My one daughter has always been incredibly amazing at memorization. Starting with AWANAs Cubbies, moving into scripture memory, and now onto theatrical lines - She has an incredible knack for being able to remember. I think this is largely due to exposing her to dance at an early age as her instructor would simply have the students copy her moves starting at the age of 2. This poetry program is set up with a similar mindset of that imitate-to-learn concept.
What Did We Think?
The Linguistic Development Through Poetry Memorization from IEW packet couldn't have arrived at a more fitting time. We received it to use during the month of April, which is National Poetry Month. I used to be a firm believer in memorization, and some days I waiver back and forth as to whether or not it is important. Still, I do believe that a lot of what I know today stems from information I had memorized when I was younger. I also realized the other day that even though my husband is a professional musician, and all of my children seem to just wallow in the love of music, that music isn't my first love. It dawned on me that any music I have ever loved has usually been because of the lyrics it contains, and the more poetic and mentally deep the lyrics are in a song, the more it speaks to me. Though, classic poems don't always pique my interest, nor the interest of my children. So, I went into using this product with that in mind.
I like that it is intended to be used for a multiple age and grade level of student which means I could use it with my youngest as well as my oldest, and even I could benefit from the poetry memorization. Though, the toughest things was convincing my 14-year-old to start from Level 1. I love that it provides an audio version of the poems and speeches so that we could hear the infliction and proper cadence of speech intended for each, individual piece. Overall, I think it's an intriguing way to grow our brains by being exposed to this program. Also, even though my teen wasn't fond of starting with a short, easy childish poem, I like that the program grows with the student providing first simplistic poems and gradually moving into more complicated ones.
Find IEW on Social Media @
Read what other members of the TOS Review Crew thought by clicking on the picture below: