I have a child who is learning multiplication and division, so I have been quick to jump at any and every opportunity that helps to teach these area of mathematics. Needless to say, I was thrilled to get a chance to review Sunya -
The Magic and Wonder of Math and Science Multiplying & Dividing
, for ages 9+ from
Sunya Publishing
.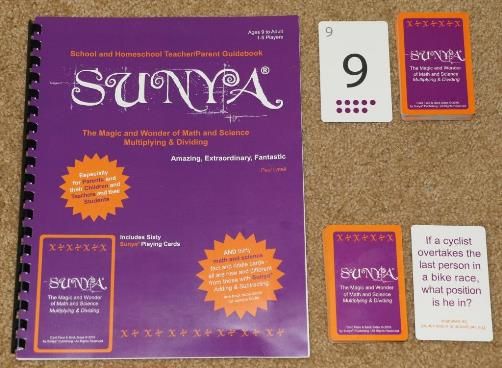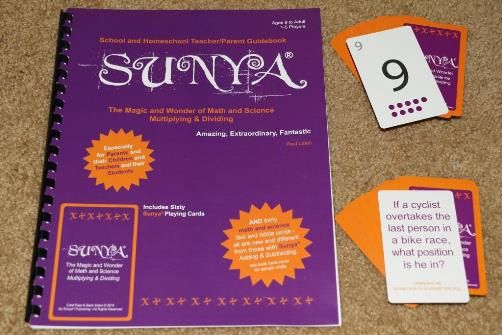 What is Sunya - The Magic and Wonder of Math and Science Multiplying & Dividing?
First - I was excited to discover why it is named, "Sunya". The term Sunya comes from a Sanskrit (a language of India from where our number system began). The word Sunya means, "empty, without quantity". Hence, when a player runs out of cards to win the game, he or she shouts - SUNYA!.
TWO SETS OF PLAYING CARDS:
I received a spiral-bound paperback instruction booklet and two sets of playing cards. The cards have numbers and dots representing the numerical quantity, or a Multiplication, Division or Equal Signs. There are also Wild Cards.
The main idea behind the game is to use the set of number and mathematical signs cards to form multiplication and division mathematical sentences in a card game. Whoever runs out of cards first is the winner.
The instruction book explains variations of the game, for instance playing without using 0 or 1, and game play using 1, solitaire v. team play, Sunya 400 which is played for points where the lowest number of points wins.
The other set of cards had math-related riddles and their answers that are used to get the child thinking to problem solve.
The riddle cards were our favorite:
It also included a handy-dandy number line with instructions on how to use it to help in figuring multiplication and division problems:
The instruction booklet also has a page of Famous Math Quotes which were fun to read through.One of my favorites was from Jacques Salomon Hadamard (1865-1963):
To parents who despair because their children are unable to master the first problems in arithmetic I can dedicate my examples. For, in arithmetic, until the seventh grade I was last or nearly last.
and from Albert Einstein:
Do not worry about your difficulties in mathematics; I assure you that mine are greater.
The card game is intended for those ages 9+, so I knew it was a bit of a stretch to use it with my 9-year-old who is new to multiplying and dividing and has really struggled with the concepts, but I wanted to give it a try. I read through the instruction booklet and set up the playing area and soon discovered how challenging it really was for a child who was still learning multiplication and division. So, I changed my game plan and focused on the riddle cards, which we had a lot of fun with. I then decided that it would better serve us to simply use the cards to make number sentences and not in a competitive play until she is able to get really good at multiplying and dividing and able to keep up in the intended game.
What Did We Think?
The instruction booklet was sent to me with some pages printed in black and white and some in color. This was done for the purpose of finding out what I, as a reviewer, preferred. As odd as it may sound, I'm really not sure. While I typically prefer color, and the color pages were certainly pleasant to the eyes, I thought the black and white printed pages were sufficient in explaining the rules, especially since you would be able to see a variation in shades of gray when necessary such as when showing pictures of cards in play.

It is appropriately labeled for ages 9+. I found it to be a game of skill that honestly even challenged me a bit to think through the game play, which is a fun competition for those of us who already know the times tables and how to divide. Since my youngest is struggling with these concepts, the game play was a bit of a struggle for us. My daughter is not yet adept in this level of math, though it would probably make a great card game for teens and adults as I found it to be more of a game of skill than an educational learning game. Maybe if we would try the Addition and Subtraction version, it would have felt more like something we could tackle to give her a boost of confidence at this phase in learning.

Still, we did have fun with the riddle cards as we experienced each and every one with me reading them aloud and her trying to figure out the answer, and I found the number line sheet to be a useful learning tool. I also thoroughly enjoyed reading about the history of the term, "mathematics" and how the number system we use today came about.


Read what other members of the TOS Review Crew thought by clicking on the picture below: