Giving my child a solid foundation of phonics and grammar is vitally important to me. Making it child-directed, multi-sensory and fun is a bonus since I have a child who, if she isn't moving, she isn't learning. So, I was thrilled to get a chance to review Jolly Phonics and Jolly Grammar from
jollyliteracy.com
, and their parent company, just2ducks LLC.
What is Jolly Phonics and Jolly Grammar?

Jolly Phonics consists of 3 levels that cover 3 years of learning along with workbooks and a teacher guide. Jolly Songs is a CD and lyric book filled with fun songs to accompany letter sounds, making them easy to remember. Jolly Grammar is designed to pick up where Jolly Phonics Level 3 leaves off.

The program is so much more than just a set of workbooks. The teacher guide explains how to present each lesson, and there are hand motions and fun involved in this child-directed learning system.

Jolly Phonics is a phonics-based program that is intended to keep children engaged with multi-sensory learning. It presents 42 letter sounds of the English language, divided into 7 groups that are presented in a systematic order to help students build words and confidence.
It uses what is called the synthetic phonics method, which uses sounds and teaches children the 5 key skills they need to learn to read and write English:
Learn letter sounds
Learn letter formation
Blending
Segmenting and identifying sounds in words
"Tricky Words" that have irregular spellings
These skills are presented in 3 levels of workbooks with a teacher guide that walks you through teaching your children.
I received a package of paperback books. Included was:
Jolly Phonics Teacher's Book in print letters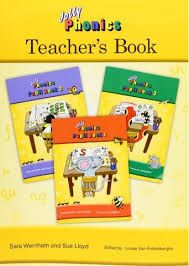 Jolly Phonics Student Book 1, 2 and 3
Book 1 presents 42 letter sounds with actions, stresses listening and blending and introduces tricky words.
Book 2 builds on what was learned in Book 1 and introduces more tricky words while teaching how to build sentence structure and encourages independent writing.
Book 3 builds on Books 1 and 2, introduces more tricky words as well as short and long vowel sounds.
Jolly Songs in print letters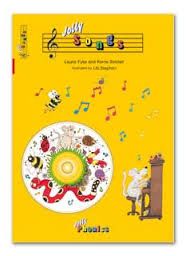 Jolly Songs is a CD with song book and lyrics that introduce letter sounds by using the tunes of popular songs.
Jolly Grammar 1 Teacher's book in print letters
Jolly Grammar 1 Student Book
Jolly Grammar 1 is designed to teach children in Grade 1 and presents:
Vowel diagraphs
Alternative spellings of vowel sounds
plural endings
short vowels and consonant doubling
tricky words
consonant blends
nouns
pronouns
verbs
adjectives
adverbs
Proper use of a/an/the
Sentence structure and capital letters
Parts of speech
Alphabetical order
The Jolly Grammar curriculum builds upon the phonics sounds that the children have learned and now allows them to improve their writing and spelling as they master the English language. It uses colors, such as red verbs and black nouns, and actions to teach:
Rules of grammar
Rules of spelling
Punctuation
Improving reading comprehension
Parts of speech
Plurals
Past, present and future tenses
There is a Jolly Grammar 1, 2, 3 and 4, but for the purpose of this review, I only received Jolly Grammar 1.
I was happy to present this to my daughter. She is already a reader and writes well, though since I believe that being exposed to a solid phonics foundation is essential, I figured it wouldn't hurt to let her try out the early levels and then settle into the Level 3 and Grammar where she should be.
I received, for a separate review, which will post on August 24, the
Can Do Cubes
that I loved having to use with these phonics books as a hands-on supplemental complement.
What Did We Think?
Love, love love the Jolly Phonics and the Jolly Grammar. First of all, how can you go wrong with such a happy name! Second, the books are so brightly colorful and fun to use. The lessons are nice in that they get the point across in fairly short daily lessons. For instance, many of the lessons include one workbook page.
FIND Jolly Phonics and Jolly Grammar just2ducks LLC Jolly Literacy ON SOCIAL MEDIA @:
Read what other members of the TOS Review Crew thought by clicking on the picture below: