When my kids were small, science experiments in the kitchen was always a winning favorite activity. However, as they grew, science at the high school level somehow holds some form of awe when it comes to logging it for an official high school transcript. In our state, we are required to provide at least one lab with a science in high school, which is not easy to do at higher learning levels. So, I was thrilled to get a chance to review
Chemistry 101
from
The 101 Series
.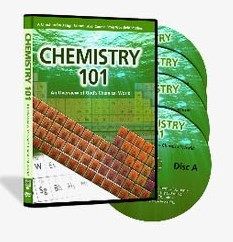 Other members of the Homeschool Review Crew got a chance to review:
Physics 101
and
Biology 101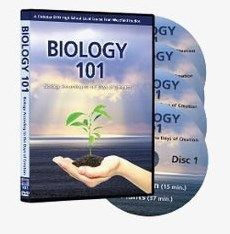 What is Chemistry 101 and The 101 Series?
I received a 4-DVD set of Chemistry 101 that contains 19 individual, 20-45 minute segments examining the world of chemistry along with the periodic table of the elements. The 4th disc contains a printable PDF guidebook and quizzes that cover the material presented in each of the DVD segments and a full one-year high school course booklet. Each section is expected to take two weeks to complete.
The course presents an overview of God's chemical world by taking the viewer on a captivating visual tour with instructor fully engaging the student. The way it is presented makes it easy to understand even though it's at a high school level, intended for students 15 years and older.
The topics covered include:
Part 1 - Periodic Table
Intro and The Last Alchemist
Birth of Modern Chemistry
The Bold Russian
Lots of Mystery Rays
The Like-able Rutherford
The Periodic Table at Last!
The Periodic Table - Main Group
The Periodic Table - Quantum Mechanics
Part 2 - Chemistry Essentials
Neutrons, Isotopes and Ions
Compounds and Molecules Part 1 and 2
Balancing Equations
Essentials Wrap-up
Part 3 - Meet The Elements
The Four Main Columns
Non-Metals and Poor Metals
Transition Metals
Rare Earth and Radioactive Metals
Part 4 - The Future
The Future of Chemistry Part 1 and 2
Chemistry 101 is hosted by Wes Olson, who is a Bible college graduate and has been a filmmaker for a couple of decades. He is also a homeschooling dad. It's not just visual presentations with narration. The 4th disc also includes a 128-page Guidebook and a 20+ page explaining how to apply accreditation to the course, intended to cover a full year of high school chemistry.
Also included on the final disc are a few pictures - One is a periodic chart which is large and presented in 3 sections to piece together. The other is a chart of scientists. Each Guidebook section includes a quiz and discussion questions.
How Did We Use It?
I was so excited to share this with my two high school students. I was especially excited when I began watching the lessons, because they are presented in a very engaging way. Instead of an instructor simply lecturing on the topic and then testing or sending the student to a lab, these segments present it in more of a documentary style with various settings and an instructor who is interesting to listen to. First, I introduced it to my Freshman. Ultimately, I decided to wait for her to dive fully into this course and am so excited to use it with my High School Junior as his full science course this year.
What Did We Think?
This is an amazingly wonderful solution to teaching high school level science, and I absolutely love that it is biblical based. We have always presented Science as a physical demonstration and a form of an explanation and even complement to our faith. So, seeing higher level science presented in this biblical worldview light was refreshing.
I was so happy to see the accreditation information on the last disc, and the 128-page student guide book was a squealing kind of surprise!
FIND THE 101 SERIES ON SOCIAL MEDIA @:
Read what other members of the Homeschool Review Crew thought by clicking on the picture below: