Halloween/Harvest Fest is over, and Thanksgiving is well on it's way - So, it's officially the perfect time to begin thinking about Christmas. The timing couldn't have been more perfect when I was asked to review
Once-a-Week Unit Study Christmas Comes to America
from
Homeschool Legacy
.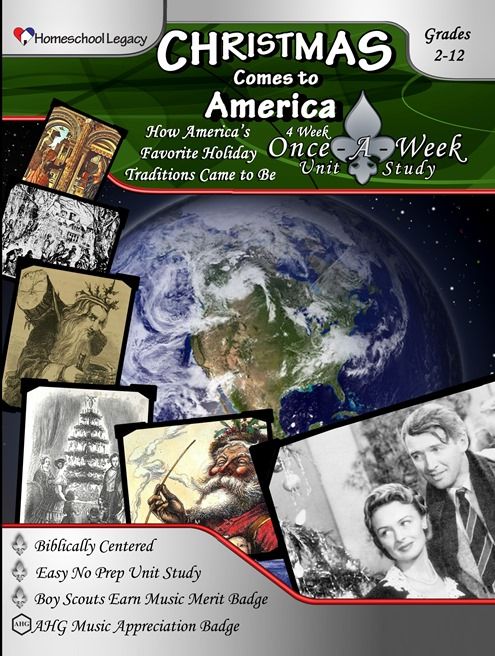 The rest of the Homeschool Review Crew had a chance to review other Homeschool Legacy titles, such as:
Once-a-Week Micro-Studies:
Pirates or Privateers: You Decide
Cooking up History with the Founding Presidents
Victoria and Her World
Thanksgiving with the Pilgrims
Many Nations
What is the Once-a-Week Unit Study Christmas Comes to America from Homeschool Legacy?
The study is written by Sharon Gibson. She chose to focus on quality rather than quantity, so the weekly unit studies are designed to cover a week of learning activities and reading. I received a 45-page pdf download digital copy of the unit study. It consists of 4 weeks of in-depth learning instruction about Christmas, and specifically, Santa Claus and other holy days (holiday) traditions from:
Week 1: The Dutch
Week 2: The English
Week 3: The Germans
Week 4: An American Christmas
Each week begins with a list of books to find at the library that relate to the topic of that week. You then, either have the child read alone or do a family read-aloud time. You then, take time to complete the suggested activities and go on a recommended field trip. Every unit study is followed up with the suggestion to watch a classic Christmas movie. There are also many scripture references to read.
The suggested weekly use is set up to be modified as your family needs or to follow exactly, whichever works best for you:
There are also tips on how to use the study for Boy Scout Merit badge in Music and American Heritage Girls badge as well. There are even Christmas family devotional suggestions.
I presented it to my girls - One is in 4th Grade, the other a Freshman in High School. They were very excited about using "real" books and they were very excited about the topic of Christmas. The recipes and hands-on crafts most interested my youngest. I couldn't wait to see the reaction of my oldest when I announced that each unit study finishes with a suggestion to watch a classic Christmas movie. This was perfect timing to follow along with my daughter's drama troupe, since she is performing A Christmas Carole Old-time 1940's radio presentation this year. We also loved playing the Christmas Trivia.

The lessons are set up onscreen, but can be printed off. Because we are always running low on ink cartridges at our house, I opted to use it online where the student is able to link out directly from the pdf and fill in the blanks using the pdf tools.



What Did We Think?
I loved this unit study. I learned so much more about the history of Christmas than I ever thought I would. I had no idea about how some of our customs came about, even though I thought I knew a great deal.
I loved how each new week began with a trip to the library to get living books about the history of Christmas and how it made its way to America. I also love the hands-on recipes and crafts and how this is a well-rounded unit study that covers every major subject and a bit of art. I also absolutely loved that each unit finished off by suggesting we watch a classic Christmas movie.
FIND HOMESCHOOL LEGACY ON SOCIAL MEDIA @:
Read what other members of the Homeschool Review Crew thought by clicking on the picture below: