My youngest is a little artist, or at least I think she has great potential to go somewhere with her art, so needless to say, I was thrilled to get a chance to review the
Entire Level IV
from
ArtAchieve
.
Other members of the Homeschool Review Crew had the opportunity to review:
Entire Level I
Entire Level II
Entire Level III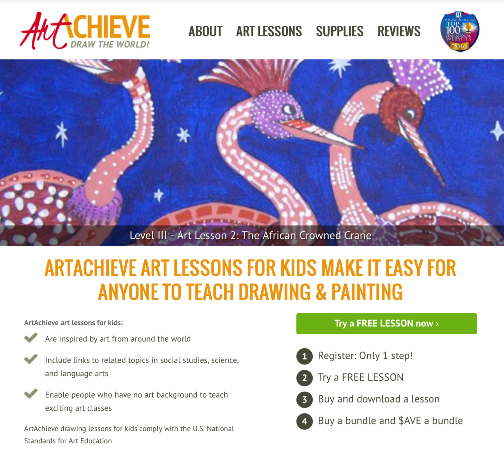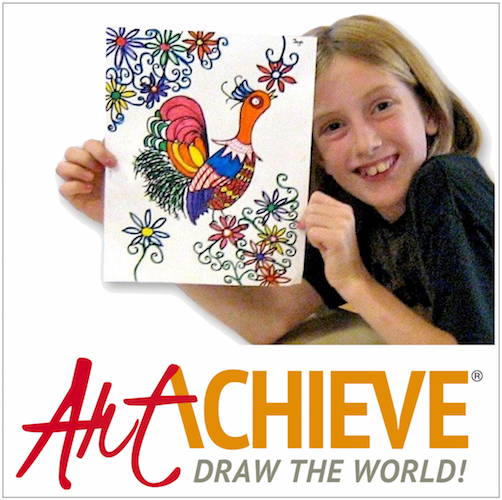 What is ArtAchieve Level IV?
ArtAchieve is an online subscription art class that offers several levels of art instruction combined with historical background information and links to explore cross-curricula studies into each lesson. Sometimes, there's a touch of science information (the Albatross drawing) or even a bit of math (grid drawing of Egyptian art). An example of the
cross-curricula from this Level IV
's first lesson includes Social Studies, Science, Music, and more.
Generally speaking:
Level I is intended for approximate ages 5 and up
Level II for ages 7 and up
Level III for ages 9 and up
Level IV for 10 and up.
However, this is somewhat flexible and can be adjusted to your individual level of art ability. All you need is a way to access the online lessons and a few art supplies. I received access to the entire Level IV online lessons that include 10 lessons:
The lessons are basically all set up in the same format, so when you log on and click on one of the lessons, you see something like this:
Each lesson includes a warm-up exercise for you to download and print to use. It then starts with an explanation of what the student will derive from completing the lessons, explains what supplies you will need for each lesson and takes you through relaxation exercises to prepare to draw. There is also usually a printout to download that shows the project's drawing to use as a guide.
One of the Warm-Up Excercise printouts completed
You have the option of conducting the lesson through the use of PowerPoint onscreen instructions or by watching the video, or both. For the most part, we chose the video option which we could pause and see first-hand how the instructor was creating the art work.
One thing that makes ArtAchieve unique is how it presents the work of art with a brief history lesson behind it.
Following is a glimpse into each lesson (PLEASE NOTE: These are screenshots and not the complete video, so don't try to hit play on the pictures below)!
How Did We Use It?
Awhile back, as part of the TOS Review Crew, we had the privilege of reviewing Level II, so we were so excited to get to try out Level IV as part of the Homeschool Review Crew. So, we were very familiar with the format of these wonderful lessons.

I sat down with my 10-year-old, gathered the supplies we needed, and we did the lessons together. We completed a couple lessons together, and then I set her free to complete lessons by herself. I was amazed at the results.
What Did We Think?
My daughter, the little artist child, absolutely thrives on any and every art lesson she can get. We have enjoyed doing these lessons together and are pleased with most of our results. What makes ArtAchieve stand out above most other art instruction is that it combines art history and elements of art with each lesson. You don't just learn to create a stained glass replica, for instance, but you also learn about the history of telling a story through this form of art and what chemicals were originally mixed together to create various colors. We have found that ArtAchieve is a comprehensive course that encompasses bits of history and other tidbits of interesting knowledge behind the work of art you create.

FIND ARTACHIEVE ON SOCIAL MEDIA @:
Facebook:
https://www.facebook.com/Artachieve
@ArtAchieve
Instagram:
https://www.instagram.com/johnahofland
@johnahofland
Twitter:
https://twitter.com/ArtAchieve
@ArtAchieve
Pinterest:
https://www.pinterest.com/artachieve
artachieve
Google+:
https://plus.google.com/+JohnHoflandartachieve
ArtAchieve
Read what other members of the Homeschool Review Crew thought by clicking on the picture below: