After homeschooling since my 17 year old began Kindergarten, weeding through three children's learning needs, including an unschooled high schooler, our homeschool was in need of a refresh, so I was thrilled to get a chance to review
Homeschool Rescue
from
Only Passionate Curiosity
, a homeschooling blog owned by Heather Aliano. Heather has put together a Homeschool Rescue program that discusses everything from creating a homeschool mission to time management to teaching teens to learning styles to how to survivor school through chronic illness or special needs kids.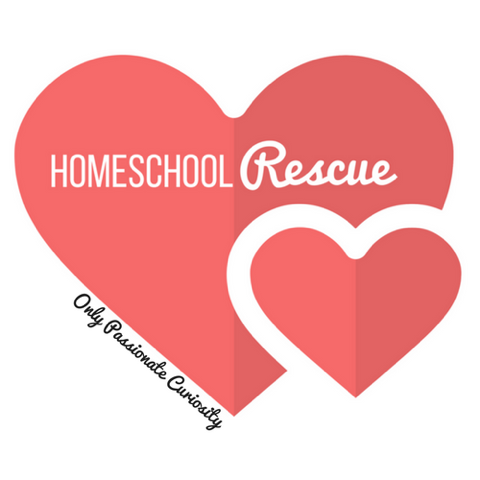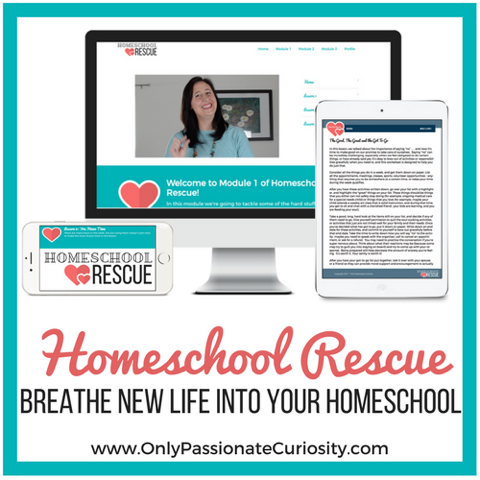 What is Homeschool Rescue?
Homeschool Rescue is an online course for homeschooling parents. The course consists of 5 modules available which each contains between 3 to 5 lessons each, and then there is a Bonus section that has some wonderful resources like the link to a special Facebook support group, an Ultimate Planner with the choice of several styles and an Accountability Pack for the kids daily to-do schedules.
The lessons contain videos that are packed with information but not super lengthy, most seem to be less than 20 minutes. If you watch the entire program, watching every module and the lessons contained within those modules from start to finish, the video portion lasts 5 hours and 28 minutes. Following each lesson, there is homework to print out and complete as well as resource links and additional helpful information that pertains to the lesson. There is a 6-week course planning schedule you can download and print out that keeps you on track to finish the entire course in bite-sized segments each day.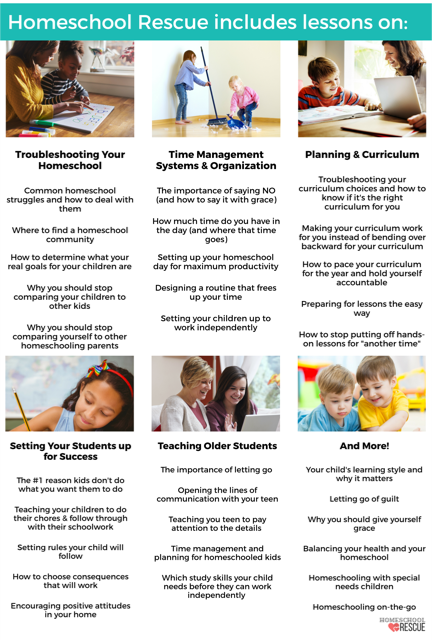 *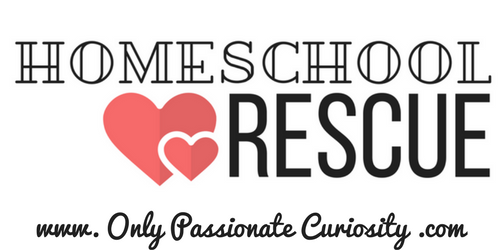 Homeschool Rescue is a brand new course, on sale now. The course will cost $97 for lifetime access and access to the Facebook group. There will also be a VIP option that provides you with one-on-one coaching and support.
Soon to be released will be a live class that will run June through July.
Accompanying each lesson video, there are downloads, homework and resources. There are also downloads for the audio transcript, which is fun to read along with if you like as well as notebooking printouts to take notes.
How Did We Use It?
One of the lessons included taking a test to see what learning style your child falls into. I was surprised to see that all of mine came up as visual learners.
I have been homeschooling since my newly turned 17-year-old was a baby and officially began record keeping when he was 4 or 5. I now homeschool 3 and 2 of them are in high school which means developing transcripts and tracking hours a bit differently than the elementary years. I have a high school junior who really has no plans for college even though he is very gifted in computer science and could have a lucrative career, and a daughter who had planned on early college who just decided not only does she no longer want to do early college but probably no college at all. Needless to say, I have been asking a lot of questions and doing a lot of praying lately about our homeschooling approach wondering if what I thought was something God wanted us to do for our children was really the right path after all. Needless to say, I felt like my homeschool could use a huge refresh!
So, I sat down with my cup of coffee to see what Homeschool Rescue was all about. I
was asked to view at least one lesson per
week,
but ended up doing more in one setting.
What Did We Think?
Even though I needed a refresh, my background and college degree in human services with a huge counseling bent had me thinking I knew all there is to know about stepping back and evaluating my homeschool. Well, I didn't even make it past the first module of lessons before Heather piqued my curiosity to hear more. The videos are easy to listen to with creative word art overlay to the voice of Heather, the instructor. On a few rare treats, she makes an appearance and talks through the video face to face. The homework that she assigned was not fluff. The questions make you think. The links she provided were so rich in content and right on the mark. I appreciated her honesty that made me feel like I wish she were sitting across the table from me so I could join in and share my heart with her as well. But, she thought of that too. At the end of the modules, there is a survey to fill out and a chance to give your insights. I think there is something here for every homeschool to glean helpful information from to enrich their homeschool. Heather will encourage you and challenge you to be the best you are able to be.
FIND VENDOR ON SOCIAL MEDIA @:
Facebook:
https://www.facebook.com/OnlyPassionateCuriosity/
Twitter:
https://twitter.com/opchomeschool
Pinterest:
https://www.pinterest.com/OPChomeschool/
Instagram:
https://www.instagram.com/onlypassionatecuriosity/
Goggle+:
https://plus.google.com/b/110290451358830656260/+OnlypassionatecuriosityHomeschool
Read what other members of the Homeschool Review Crew thought by clicking on the picture below: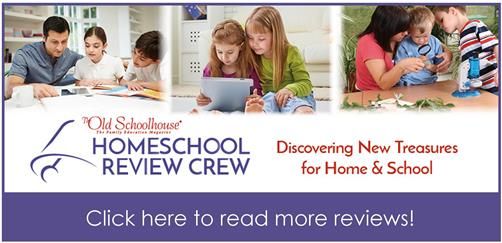 **