I am always looking for ways to bridge what seems to be an increasing learning gap in my child, so I was thrilled to get a chance to review the
online program
from
K5 Learning
with six months of access to K5 Reading, K5 Math, and K5 Spelling.
What is K5 Learning?
K5 Learning is an online program designed for elementary level students to supplement their learning focusing on reading, spelling, vocabulary, and math. The program logs the student's progress along the way and provides worksheets which you can print out following the lessons. It is perfect for any student, public, private, homeschooled, or those looking to bridge the gaps during the summer. You may add up to 4 students per account. Subscriptions are sold on monthly or annual plans.
Once your student completes a lesson, the worksheet suggestions begin to appear on the home screen for you to save as a pdf and print for hands-on use off line.
K5 Learning Online is a supplemental program, not a full curriculum. It is geared toward both homeschoolers or public schooled children for after school and summer programs with up to 4 students per account. The program offers subscriptions on a monthly or on an annual basis.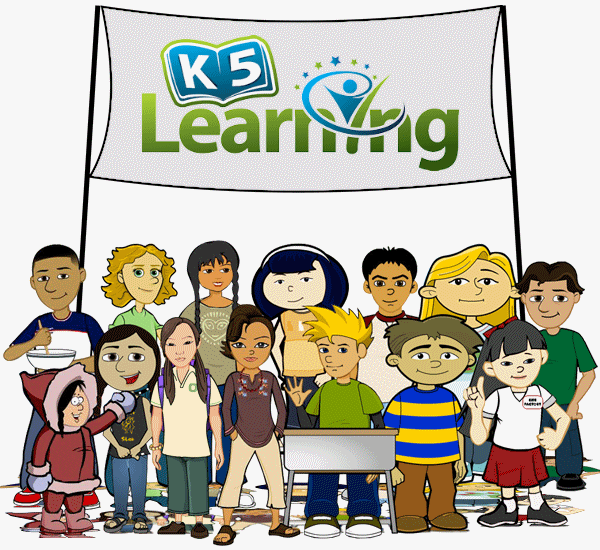 I received online access which included a parent account and a child account log in.
It began with an assessment, I am assuming so the program could determine where to start my child. Then, the lessons begin and are easy to access with one click of the mouse. The student begins either Reading, Math, or chooses a spelling or vocabulary drill.
The Reading and Math sections take the student through colorful animated screens with audio instruction.
The vocabulary and spelling sections are set up in more of a fill-in-the-blank style but presents it in a multi-learning style fashion, using audio, visual, and hands-on typing. The vocabulary gives the definition of a word for the child to figure out and type into the large box. The spelling gives an audio spelling word that the child then types into the box. When the answer is correct, there are sound effects and encouragement to go on by hitting the Next button. You may also choose the camera icon which will bring up a picture of how the word looks or click on example that will present a sentence using the word.
When the student completes a lesson, they will see recommended worksheets show up on the main screen. These are in the form of a pdf and can be printed to work for further practice.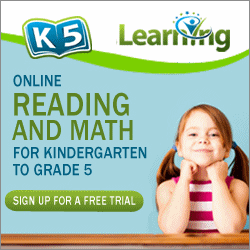 *
How Did We Use It?

Please watch the very short video of part of a math lesson with my child below:
I began by having my daughter take the assessments for reading and for math. She got through the reading but part way through the math, she really struggled, but once she was presented with the actual lessons, she did not freak out. The girl just panics when it comes to tests of any kind.
I received an email with her results and was pleased to see her ranking was right on target for math and in the 5th grade level for reading and spelling, which is a year ahead of where she is, so I was happy.
The lessons were easy to use. My student logged on and was presented with Reading and Math or Spelling. The spelling offered quizzes that were encouraging with sound effects when the answers were right. The Math and Reading were animated programs with audio that was lively and colorful and super simple to use while learning solid core facts.
What Did We Think?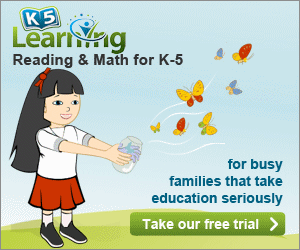 I liked that the program seemed to place my child based upon how she did on the assessments at the beginning, so we didn't waste any time re-learning things we already knew or struggling to grasp concepts over her head. My daughter really thrives on worksheets or hands-on learning, so she was excited to find out that the program provided worksheet suggestions once you completed a lesson. Overall, K5 Learning is very encouraging, easy to use, and provides solid instruction at the right level for the student.
Facebook:
https://www.facebook.com/k5learning
Tag: @k5learning
Twitter:
https://twitter.com/K5Learning
Tag: @K5Learning
Pinterest:
https://www.pinterest.com/k5learning/
Tag: @k5learning
Google+:
https://plus.google.com/+K5learning
Sign up today at:
Read what other members of the Homeschool Review Crew thought by clicking on the picture below: