Some topics are just awkward as a parent to discuss with your kids, and other general topics of health and hygiene are just listened to better when it is coming from a third-party source but still through the filter of mom or dad. Enter
MarshMedia
with their health information videos which I was thrilled to get a chance to review and their brand new
Homeschool Special
.
If you wish to take advantage of the opportunity to introduce the MarshMedia curriculum to your home schooler(s) click on the link below for more information:
https://marshmedia.com/pages/homeschool-offer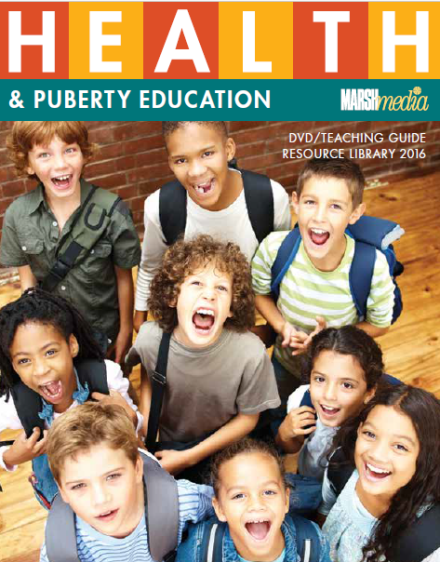 What is MarshMedia Health Education?
MarshMedia produces video health education for students in Grades K-8. The company is accustomed to presenting health education for public schools but is extending their reach into the homeschool community. Please contact them to find out the details of this special offer. The videos cover topics from general hygiene, health, safety, head lice, and nutrition to puberty education and immune system disorders. They offer their videos on a subscription basis, and their pricing is now available for homeschoolers as well. They currently have about 54 videos available. For the purpose of this review, I had access to the online subscription where I could watch any or all of the videos available.
How Did We Use It?
When you visit the site, this is what you see. Once you are logged into your account, you can choose from several categories that each have a drop-down menu. There are currently 54 videos available to stream online, and each run approximately 15 minutes in length:
Puberty DVDs:
A Baby is Born - Meet The New You for Girls Grades 3-5 - Meet The New You For Boys Grades 3-5 - Puberty A Girls Journey Grades 4-6 - Puberty A Boys Journey Grades 4-6 - Just Around the Corner for Girls Grades 4-6 - Just Around the Corner for Boys Grades 4-6 - Growing up for boys Grades 5-7 - Growing up for girls Grades 5-7 - Straight Talk About Puberty For Girls Grades 5-8 - Straight Talk ABout Puberty For Boys Grades 5-8 - Just Around The Corner Grades 5-8 - We're Growing Up Grades 5-8 - Let's Just Talk for Girls Grades 5-8 - Let's Just Talk for Boys Grades 5-8 - We're Just Talking For Boys and Girls Grades 5-8
Hygiene
Head Lice: An Itchy Problem - Keep It Clean - Take Care of your Ears - Take Care of your Teeth - Take Care of your Skin, Hair, and Nails - Take Care of Your Eyes - Wash Those Hands - What's A Hygiene - You're Not A Little Kid Anymore - Personal Hygiene
Children With Special Needs - Puberty and Social Skills
Guidance - Bullying - Character Education
Health And Safety
Nutrition - Go Slow Whoa! Nutrition - Good Things First! Nutrition Education - The Way To Wellness - Stanley's This Is The Life!
Alcohol - What About It? - Sun Sense - Scoliosis - Tobacco - What About It? -
Safety - If You Feel Danger - Out of the Danger Zone How Will You React? A Staff's Guide Being Prepared for a School Shooting
AIDS: Facts for Kids - Blood Borne Pathogens and Other Germs - Blood Vs. Germs News You Can Use - The Immune System: Doing Its Part - The Immune System: Our Internal Defender -
They even have some videos available in Spanish!
Here is a glimpse of some of what I saw. As you can see, the videos cover a wide array of health-related topics and even has one about unwelcomed teasing:
I logged onto the site and went through the process of choosing a movie to watch. I decided that it would be best if I pre-viewed anything before showing it to my child. I readily called my 10-year-old over to watch the apple with the eyes on nutrition, but when I started watching the one on puberty, I allowed my daughter to watch over my shoulder and to "overhear" the video instead of insisting that she sit and watch with me or on her own. It was a lot less awkward that way, but honestly, the video did a great job of explaining puberty.
What Did We Think?
The videos are high quality with catchy songs that help the child remember key points of taking care of their body. I was told before agreeing to review this product that the company was accustomed to creating and presenting these videos to public schools, but I found that they were very adaptable and appropriate to use in homeschooling as well. As a homeschooler, I am concerned that my child not be exposed to any of the "agenda" that sometimes infiltrates public schools on the topic of puberty. I was pleased that what I saw seemed to be presented in a fact-based method with no overt opinions either way on the topics. It certainly is a load off to have a short video explain certain things to your child that as a parent I can chime in on whenever necessary.
FIND MarshMedia ON SOCIAL MEDIA @:
Read what other members of the Homeschool Review Crew thought by clicking on the picture below: