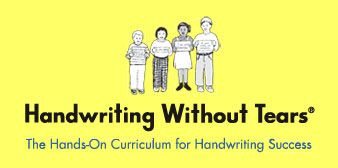 My daughter and I recently had the privilege of reviewing
My Printing Book 1st Grade
from
Handwriting Without Tears
.

I received a paperback student book for my daughter to use along with a thick paperback teacher's guide. The books looked exciting to use on their own, but I soon discovered that to really get the most out of Handwriting Without Tears I needed to spend a little bit of time getting acquainted with the teaching method.
I was delighted and enthused to learn that Handwriting Without Tears would mean so much more than merely plopping down a workbook in front of my child.
I also discovered that it is also about more than merely learning proper posture and pencil-holding sills, all of which is integrated into the well-rounded and carefully thought-out lessons. This program literally got my child up on her feet and experiencing handwriting with all of her five senses.
And, I'll share a little secret: It got me right in there with her finding myself wanting to sing, dance and re-learn my own handwriting skills as each lesson felt like a party that invited fresh active learning ideas as the guest of honor and not a boring chore.
It is excellent for wiggly students like my daughter who has to be in constant movement to learn.
The workbook is divided into four sections:
Capital review
Lowercase letters
Language arts activities
Numbers
Inside the teacher's manual, there are also tips on how to use the program with visual, tactile, auditory and kinesthetic learners. In addition to the teacher's guide, their site provides
videos and teaching tips
. When you watch these videos, you will catch the enthusiasm of the teachers and the students:
There were years of research that went into developing the Handwriting Without Tears method, and it shows. The developers discovered that children learn best when they are actively involved with an approach that speaks to their individual learning style. The Handwriting Without Tears curriculum teaches the following concepts in handwriting:
Left to right motion (which also prepares a child to read English) - My two older children have also been introduced to Hebrew reading and writing, but not till after their left to right motion for English reading and writing was well established. So, I liked that this handwriting program stressed the proper English motion since English is our main language of choice.
Leftie (and Rightie) friendly - Because I'm married to a frustrated leftie turned rightie due to classroom teaching that wouldn't allow otherwise, hand preference is something I have always left up to my children. From the time they were each a baby, I would set a toy, food or a spoon in front of them in between both hands and allow each child to reach for it with the hand he or she felt most comfortable using. Two of my children showed strong traits in the ability to use both hands, but all now seem to favor their right hand. Still, I wanted to always give them the option and not force one hand upon them as being the only correct hand to use. From all indication, my daughter is selecting her right hand to be dominant, but I appreciate that the program is designed with both handed-dominance in mind.
Clean and simple black & white workbook with recognizable black & white pictures - The less cluttered, the better as far as I'm concerned especially since I have one child who shows traits of ADD. These workbooks present a clear picture of the main focal points in each lesson so as to allow very little distractions.
Their curriculum claims to be designed to make it easy to teach and learn handwriting in 15 minutes a day. This is probably true, but when we came to the end of one lesson - which probably took about 15 minutes -my daughter didn't want to stop. If your child is like mine you will find that after the 15-minute lesson is over you will be asked again and again to do it again. Not even a minute after finishing a lesson, my little girl said:
I want to do that again, mommy!
The workbooks seem to be very reasonably priced:
My Printing Book 1st Grade
- $8.25
First Grade Printing Teacher's Guide
- $9.25
Handwriting Without Tears also offers a musical CD which can be purchased separately as well as learning apps and handwriting hands-on manipulatives for younger children.
The books I received are intended for 1st grade learners. However, the company has books available for level Pre-K through 5th Grade. They also provide educator workshops and online videos and other teaching tools to help you teach handwriting to your students.
I really like the learning/teaching concept behind the curriculum. I think it works. It's perfect for my little active learner.
It is a complete activity style learning curriculum that works best when the teacher has become acquainted with how to use it. However, their teacher's guide is easy to understand and they provide tons of resources for help. It took me just a few hours in the beginning to read enough to understand how to present it for my child. Once acquainted, it's fun and not difficult to present each lesson to your child. You might even get a fun workout for the day while teaching or find yourself carried away giving voice to your Magic C Bunny Puppet (more on this later).
Following is an example of how their teacher guide pages are presented and then how it looked when we did the lesson ourselves:
These sample pages can be found on the Handwriting Without Tears website where you can download these and more sample pages to see for yourself.
We used a chalkboard, chalk and a wet wipe, instead of a sponge for this lesson, that we already had on hand. However, if you prefer, you can pick these items up at their website as well:
.
Now, onto the Magic C Bunny Puppet:
We found instructions to make our own Magic C Bunny Puppet at the back of the teacher's manual, but you can buy a more durable classroom puppet on the Handwriting Without Tears website if you prefer. We had fun making our own. It's really fun to start with the letter C and then magically change the letter to form new letters:
These sample pages can be found on the Handwriting Without Tears website where you can download these and more sample pages to see for yourself.
And, I really liked how they included number writing and 1st grade math concepts along with the letters as part of learning to write. My little girl is also learning 1st Grade math skills, so this flows perfectly with her other core subject of math to give even deeper meaning to her handwriting skills and would have warded off those "why do I have to learn this?" questions I still get from my logically minded older child.
These sample pages can be found on the Handwriting Without Tears website where you can download these and more sample pages to see for yourself.
Read more reviews on this curriculum from
The Old Schoolhouse Review Crew here
, or click on the picture below:

Disclaimer:
I received a free copy of this product through the Schoolhouse Review Crew in exchange for my honest review. I was not required to write a positive review nor was I compensated in any other way. All opinions I have expressed are my own or those of my family. I am disclosing this in accordance with the FTC Regulations.