We have recently uncovered a gem among Bible curriculum options.
God's Great Covenant Old Testament Book 1
from
Classical Academic Press
has become our new-found friend in understanding the Bible.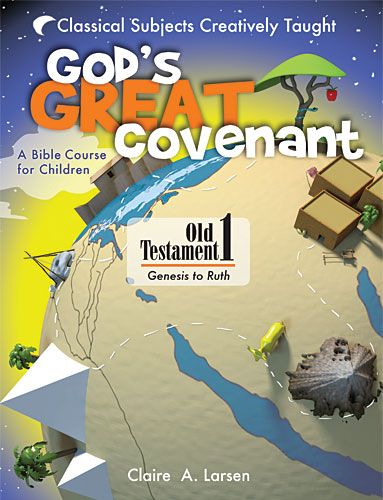 I received a thick paperback student worktext, a paperback teacher's guide and an mp3 audio download for review. This is everything you need to use the curriculum and more. The
mp3 audio
really enhances the experience as the reader has an amazingly soothing voice that is easy to listen to and allows you and your student to sit back and soak in the words without having to read it yourself. However, my daughter did choose to read many lessons on her own without even my help.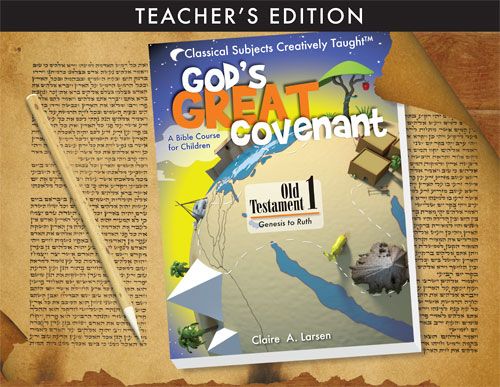 I used the book with my daughter, who is in the 5th grade. She went to town with it, as she absolutely thrives on workbook style learning. We both found it extremely easy to jump in and learn from the format of the curriculum because it is very easy to use. The worktext presents the story and questions in an easy-to-read manner with a summary, a story and puzzles, worksheets, maps and vocabulary words all in one convenient location, between the covers of the student book.
I started off reading it to her and gave her the option to listen to it being read off of the mp3 download. She chose mostly to read it herself, answer the questions herself and then I stepped in with explaining the Catechism questions and answers.
As the name implies, Classical Academic Press provides curriculum that works well with those following the
Classical education style
or teaching the Trivium model. We use a modified Classical education style, and it worked out perfectly for us. If you don't currently teach in a Classical teaching/learning method, don't worry.
God's Great Covenant Old Testament 1
can easily be integrated into any homeschooling day.
The work text is designed with 32 chapters that covers the first sections of Genesis to Ruth and is intended to be used one chapter per week. It is further divided into five themed units of:
Unit I – In the Beginning (God's Power)
Unit II – By the Patriarchs (God's Promises)
Unit III – Out of Egypt (God's Redemption)
Unit IV – Through the Wilderness (God's Provision)
Unit V – In the Promised Land (God's Faithfulness)
At the start of each new chapter, there is a Memory Page that provides a memory verse for the week, key learning facts and vocabulary words. Each chapter presents a worksheet and a quiz. Additionally, there are questions to cause the child to think about how God is real is his or her life, and at the end of each unit there is a summary along with more activities and puzzles to complete and enjoy.
A typical week with
God's Great Covenant
looks like this:
Discover it for yourself at the
Classical Academic Press website
where you can find the curriculum as follows:
Student workbook
- $22.95
Teacher Edition
- $24.95
mp3 Audio Download
- $9.95
God's Great Covenant Old Testament 1
is intended for use with children in grades 3 through 6. Since the book addresses not only Bible stories but also how to apply it to your life, including an introduction to Catechism questions and answers, I think they have it appropriately aimed at this grade range. Though, older children and adults could very well find fun in learning things they might have missed in their study of the Old Testament along the way.
We are absolutely loving this curriculum. We not only learned from this curriculum, but have discovered that
Classical Academic Press
has been added to our new-found love list of publishers. The way they present lesson materials is right up our alley. In fact, we're thirsty for more and can't wait to use their curriculum in the future.
Read more reviews from The Old Schoolhouse Review team here
, or click on the picture below:

Disclaimer:
I received a free copy of this product through the Schoolhouse Review Crew in exchange for my honest review. I was not required to write a positive review nor was I compensated in any other way. All opinions I have expressed are my own or those of my family. I am disclosing this in accordance with the FTC Regulations.