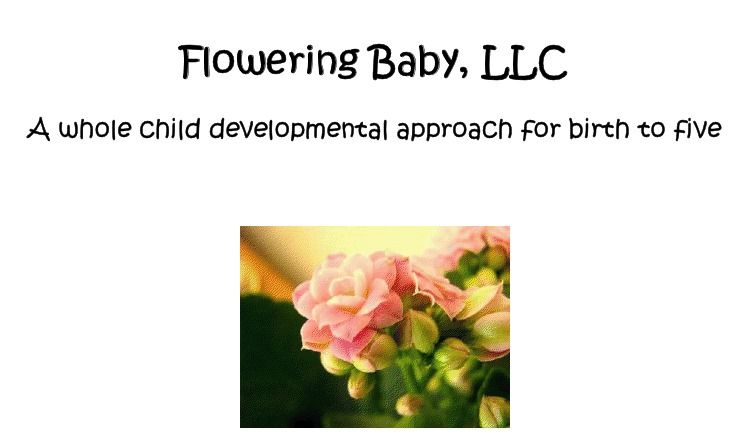 There's a baby screaming, a toddler affixed to your leg and an older child just trying to learn how to read. You've begun to ask yourself why you thought it was a good idea to homeschool and need something to "entertain" the younger ones so your older child can learn. Or, maybe you are looking to enrich the learning experience and focus on one preschool-aged child at a time. Take a deep breath and grab a glass of water! Your preschooler's constant movement is about to take root and bloom into a beautiful teaching flower that opens petal by petal with
Flowering Baby LLC
.
This unique learning experience is developed by a mother and daughter duo of Carolyn Schulte and Martha Saunders. The curriculum is developed with a "whole child developmental approach for birth to five" and has deep roots in the Charlotte Mason concept of learning. The authors have a well-rounded background that includes budding pastry chef skills, housewife expertise, first-hand adoption knowledge, homeschooling mom and a Master's degree with an emphasis in special needs learning.
I had the privilege of reviewing
Vol. 5: Four to Five Years curriculum CD
. Here's what I thought: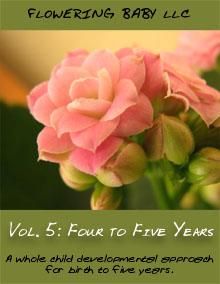 I loved
Flowering Baby LLC
which comes in learning packages for Birth through Age Five. The Flowering Baby curriculum CD I received came with a disc that contained everything I needed in a pdf file format guideline list and explanation of how to use the curriculum. I opened the disc using a PC that operates a Windows 7 program, but I'm sure the files would open on any computer that is able to access Adobe pdf formatted files.
The files contained a curriculum guide for each month as well as a thematic curriculum guide. As part of the guideline, there was a list of recommended books to use. I sent the pdf file to my iPhone and had the list of books on hand when we made our journey to the library. Another option would be to print off the book list before heading to the library. The library had almost all of the books on the list, and others I already had at home. Most of the books had a title I was familiar with and were easy to get my hands on.
There are two parts to the curriculum:
A monthly curriculum and a thematic curriculum
In the monthly curriculum, there are approximately 10 to 15 days worth of lesson plan ideas that cover the core subjects as well as music, art and Spanish. In the thematic section, there are about 6 days worth of lesson plan ideas. There is a theme unit section for each month where you can choose from what is listed. The theme choices for January were aquarium, dinosaurs or arctic life. You are encouraged to select two themes each month and then incorporate this learning into your monthly curriculum.
The curriculum package CD that I reviewed is intended for children age four to five and is meant to prepare children for Kindergarten and beyond. I used the curriculum with my daughter who is already in Kindergarten and just turned 6. She absolutely loved it as it provided a launching pad from which I could work to introduce to her many books she had not yet read and concepts she had not yet explored. It also was a fun review of other concepts that she has already mastered but enjoyed revisiting, such as the color blue, blueberries, alphabet letters and the triangle shape.
We made a masking tape triangle that my child enjoyed walking (and dancing) around.
This curriculum is written in a format that is extremely easy to follow. It does not spell out every minute of every day, but it offers a solid guideline to cover each subject sufficiently leaving room for you to integrate your own style and family needs. I began with having fun with the alphabet letters and even added my own twist to it by having my daughter say a new letter of the alphabet with each step she walked down to get to the learning room in our house. My older kids were audibly jealous as they saw how much fun my youngest was having with her new curriculum. They wanted to join in too. So, I had my older daughter read some of the recommended books to my youngest. I absolutely love the format of this curriculum. It is completely up my alley as it presents enough suggestions to use as an idea and then to run with them, but not too much to overwhelm. It leaves it wide open to be creative and bring in your own teaching style, which I love. If you prefer a curriculum that does not spell out your every move and instruction, but are looking for a framework or a guideline that you can use to customize and adapt to each child, then you will absolutely love Flowering Baby too.
What Does a Typical Day with Flowering Baby Look Like?
This was our "blue" collage. We turned it into a giant blue box!
Flowering Baby is extremely easy to use. All it requires is a little time each day, some days as little as twenty minutes, devoted to your preschooler. Using the curriculum is so easy because you'll end up having so much fun you'll forget you're following a teaching guide. For the four to five year old curriculum, there are two parts:
A daily guide for general education that covers the core plus foreign language, art and PE
24 theme studies in the form of short, miniature, unit studies. Select two themes each month to add to your daily studies, and you're good to go.
The idea behind the theme studies is so you can choose topics that interest your child most, such as animals or sports. Each lesson plan guide contains suggestions for several days of learning but leaves the teacher free to customize the lessons to fit individual needs. It does this by listing about 10 to 15 lesson plan guides for each month, plus about six days within each theme unit which you combine with your daily lessons as you see fit. It allows the teacher the freedom to explore and add to the lessons as it does not make you feel confined to a box curriculum that would spell out every last detail for each day of the month. The four to five year old CD is filled with activities that will enrich your child's learning and prepare him or her for Kindergarten. You will cover:
Math skills of counting to 50, counting by two's and number writing
Alphabet recognition
Letter writing
Concepts of Social Studies and safety
Science
Art
Music
Physical Education
Foreign language
We found our own triangles and colored them blue.
My daughter loved the masking tape triangle so much she created the entire alphabet with masking tape on a giant pillow.
I wrote out the months with a blue crayon and then dotted them for her to trace!
We stayed "entertained" while learning at her older sister's dance class. I brought along a book from the Flowering Baby curriculum, and she went to town reading it while we waited.
You and your child will find yourselves putting together puzzles, painting, walking around a triangle, playing board games and many other hands-on activities that will keep your preschooler moving while learning. All of the supplies and books are listed before each group of lessons, and are mostly items you already have around the house.
Following are samples from the Flowering Baby Vol. 5: Four to Five Years CD:
A typical day in January:


Day 5:
Spanish: count to ten in Spanish.
ABC's
: Practice writing E, e. Look for items that start with the letter 'e'.
Math: Find some stairs, walk up/down and count how many stairs there are. Try to find stairs with at least ten steps.
Cold days: Read The Snowman and complete Learning Through Stories page. Using dolls you have dress them for the cold weather. If you don't have dolls dress yourself. Discuss the clothing we wear on cold days and why.
Healthy foods: Read book. Discuss some healthy food choices. Look in your kitchen for some healthy food choices and identify what type of food they are (fruit, grain, etc).
Following directions: Give your child three commands and ask him to follow them. The commands need to be related and reasonable. For example, "Go in your room and get your red sweatshirt and tennis shoes." Or, if you would like a slightly more difficult command, "Get a pair of white socks out of the top drawer and jeans out of the third drawer."
Physical: Using a large soft ball (at least six inches in diameter) toss it to each other. Work on your child's ability to catch today. He should be catching the ball using both arms and hands. Then bounce the ball to him and see if he can catch it as it comes up toward him. Enjoy this activity but observe his skills and work on improving them.



A few days of activities from Bugs and Birds Theme Unit:
Day 1:
Read a book on bugs and birds.
Make a butterfly. Using a coffee filter (round style); have your child paint with different color watercolors. Let it dry and then squeeze the middle together with a clothespin. Add google eyes to the clothespin and pipe cleaners for antennas.
Write bug words. We write: bug, butterfly, bee, insect, worm, fly and ant. You may choose to spread this task out over a few days. Since we do this in the summer we write it outside with sidewalk chalk or in our sand table using our fingers.
Day 2:
Read a book on bugs and birds.
Discuss being kind to animals.
Using an empty egg carton cut it in half long ways. Turn the carton over and have your child paint and decorate it as a caterpillar. Add google eyes and pipe cleaners as desired.
Day 3:
Read a book on bugs and birds.
Go outside and hunt for bugs. It is best to have something to catch them in and a magnifying glass so you can examine them for a few minutes. Keep a list of the bugs that you find.
Using celery, peanut butter and raisins make "ants on a log". Spread the peanut butter on the celery then place the raisins on top for the ants.
View sample pages of the monthly curriculum here
.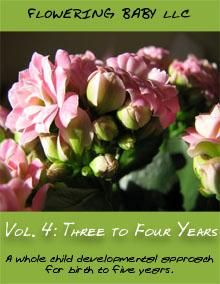 I also received the
Vol. 4: Three to Four Years
disc which contains exciting curriculum for pre-schoolers presented in a very similar manner as the Vol. 5: Four to Five Years disc described above. The main difference seemed to be that the younger version was more focused on introducing basic skills, such as comparing two objects or listening to and discovering aspects of a story. Whereas, the Four to Five Years curriculum brought in more advanced skills that actually prepare the child for school-level work like writing letters or counting and understanding one-to-one association of numbers.
There were several similarities in the two that allows a parent to begin from birth and move onward without starting from scratch each year. For instance, some of the recommended books between the two levels even overlapped from the younger to older version, which I really liked because the children become familiar with the books as they move forward to pull even more out of what they are already familiar with. In my opinion, this allows for deeper learning. I quickly realized that since my daughter had actually recently turned six that Vol. 5: Four to Five Years would fit her needs best.
What Does It Cost?
Now that you're pumped about using Flowering Baby, I know you're asking how much a program like this costs. The price of the Vol. 5: Four to Five Years Flowering Baby curriculum CD is $38, and you can purchase a full five years of curriculum, from birth to age five, for $132. Their curriculum packages, however, begin at Birth and are available in:
Birth to One Year - $30
One to Two Years - $30
Two to Three Years - $30
Three to Four Years - $38
Four to Five Years - $38
All Five Years - $132
The best part is that Flowering Baby is offering a 10% discount to my readers. Just enter the code: Blog10 when you place your
order on their website
.
Flowering Baby curriculum is available for your baby from birth through age five, so
click here to read more Schoolhouse Review Crew Flowering Baby reviews
.

Disclaimer:
I received a free copy of this product through the Schoolhouse Review Crew in exchange for my honest review. I was not required to write a positive review nor was I compensated in any other way. All opinions I have expressed are my own or those of my family. I am disclosing this in accordance with the FTC Regulations.