My elephant-loving daughter and I have enjoyed having the opportunity to review
Math Mammoth
Grade 1 Complete Curriculum from the Light Blue Series
which I was asked to review as part of the TOS Review Crew.
This is my daughter on a mission to find and rescue all of the elephants in the world, living and toy! Needless to say, she was excited about a math program with a mammoth on the cover.
I realize that ordinarily math has absolutely nothing to do with elephants, but the name of the program is Math "Mammoth". A mammoth is the name of a prehistoric elephant. I was curious as to why the curriculum is named Math Mammoth, and after searching the site to find out, I'm still not absolutely sure. Though, I could speculate and come up with many clever reasons why it's named after a mammoth. Regardless, any elephant, prehistoric or modern, makes my daughter smile and jump up and down, so she couldn't wait to get started studying math.
The name of the curriculum and the picture of the cover was enough to get my little one interested and overly excited. My daughter noticed the mammoth elephant on the cover of the worktext right away, and got so very excited every time I would say it was time for Math Mammoth.
It also helped that the curriculum even has a mascot plush mammoth for sale on Amazon to sit next to your child and help encourage math learning. His name is Mathy. We didn't buy Mathy because she already had her own Mathy look-alike.
There were also free coloring pages and dot-to-dot activities that featured Mathy, the Math Mammoth mascot!
After plunging past the cover art and curriculum name, the meat of the Math Mammoth program was more than complete. The lessons included student worktext/worksheets and teacher guides that also included guidelines and suggestions for games to make math fun, as well as several links to online games and sources for further learning adventures. I also liked how they integrated word problems and a puzzle corner throughout the lessons.
See sample pages here
.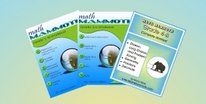 Of course, it didn't hurt that there were even an occasional elephant within the actual math problems:
I received the curriculum in the form of a pdf downloadable to my laptop that runs Windows 7. While it is not necessarily intended to be used on a mobile device, I used an iZip app with a pdf reader and Evernote to also send it to my iPhone. I did this because my computer was having technical issues, and I wanted to make sure I had access to the materials, and also so I could view it on the go.
The creator of Math Mammoth, Maria Miller, wrote the books because she saw something lacking in homeschool math curriculum.
The math program I have been accustomed to using presents material in what is referred to as a continual spiral, or step-by-step, where each new concept is introduced with tons of review questions from previous lessons. Math Mammoth differs from this approach by presenting the lessons in a way that focuses on a few major topics at one time to study each one in detail and to conquer them before moving on. In other words, students actually learn the concepts.
Math Mammoth:
Presents the material in an easy-to-understand manner, with lots of colorful pictures and visuals, so the student understands mathematical concepts.
Is oriented toward mastery of learning topics as the goal.
Stresses the importance of mental math with a sense for numbers.
Makes teacher prep time minimal.
Both worktexts are written by Maria Miller and are part of the Light Blue Series, which is a complete curriculum composed of several topic units. The package includes:
An answer key for each worktext
Tests
Cumulative Reviews
The curriculum also comes with links to tons of helpful online math games and a Soft-Pak, Worksheet Maker to generate extra practice, as needed. An internet connection is required for this feature.
They offer placement and year-end tests as well.
The first grade curriculum focuses on:
Addition and subtraction
Whole numbers and place values through Number 100
Measuring units
Geometric shapes
Clock and time Money
The Grade 1 curriculum includes:
Two student worktexts: Worktext A is 145 pages, of which 129 are lesson pages, including 8 pages of Kindergarten level review.
Worktext B is 144 pages, of which 125 are lesson pages.
I looked over the materials and printed off only the pages as we needed them. Though, the pdfs are apparently interactive with a function called a "Typewriter" setting that allows you or your student to type answers directly onto the pdf from a computer keyboard.
The full Math Mammoth Grade 1 Complete Curriculum Light Blue Series costs $34 for a download version, or $39 on a CD.
You have the option of buying just Set A or Set B, each of which include the student worktexts, answer keys, tests, cumulative reviews, worksheet maker, and Soft-Pak, as follows:
-Set A only - $16.50
-Set B only - $17.50
-Supportive materials only - $7.95. This option does not include the worktext, only includes answer keys, tests, cumulative reviews, worksheet maker, and Soft-Pak.
Please note: If you buy the full curriculum, or individual sets, these supportive materials are included.
If you prefer, you can buy printed copies of the full curriculum, or individual worktexts, that are spiralbound:
-1-A worktext - $17.95 spiralbound
-1-B worktext-$17.95 spiralbound
-Answer Keys - $13.95
-Tests & Cumulative Reviews - $15.95
In addition to the curriculum, Math Mammoth recommends a few manipulatives for Grade 1:
-A 100 bead abacus
-An old fashioned alarm clock or analog clock with hands the child can turn
-A ruler that measures inches
-A ruler that measures in centimeters
Please read reviews on this and other Math Mammoth products from the Old Schoolhouse Review Crew,
here
, or click on the picture below: