I had the pleasure of reviewing two e-books from
Christianity Cove
, "
Make & Take Bible Crafts
" ($29.00), and "
100 Simple Service Projects
" ($29.95).
I received both books as a pdf download, which I downloaded to my computer operating on a Windows 7 system. I also sent the documents to my iPhone for easy access.
Both books seem to be written at an adult level for teachers and parents to use with children of various ages. The "Make & Take Bible Crafts" book lists crafts and stories for preschool through primary age. The service book can be read by a parent or teacher and then implemented for any age of child, but is written with Kindergarten through Sixth Graders in mind.
I read through both books to see what I wanted to pull from each one to share with my children.

"Make & Take Bible Crafts"
This book provides everything you need for teaching Bible lessons. The 144 pages are written for Sunday School teachers to use with their classes. I found it to be a helpful resource to use for teaching Bible story accounts to homeschoolers, like my family, as well.
It provides detailed instructions for how to make the crafts, supply lists, and pictures of crafts that correspond with Bible Stories. Also included are the scriptural references and story segments that are simple to read and are word-for-word from scripture.
I really like that the "story" section is straight from the Bible. It is not a narrative, but the actual verses with their reference books and corresponding verse numbers. An adult could even hand off the story section to a child to read aloud, or give the child a chapter and verse to look up and read.
The book is designed in a way that makes it easy to use as an all-in-one manual that even a substitute (or daddy, when mommy is sick) could pick up and follow at a moment's notice. Each craft is intended to take 20 minutes or less to complete.
It is laid out by presenting Old Testament story accounts in one section and New Testament accounts in another.
There are 47 crafts and story combos:
20 Old Testament crafts and stories
20 New Testament crafts and stories, and
7 lessons to teach Christian values, such as:
"Blessed Are" - Sermon on the Mount
Fruits of the Spirit
Love (Corinthians 13)
The Ten Commandments
Sower & the Seeds
Names for Christ
Armor of God
Jacob's Ladder craft
"100 Simple Service Projects"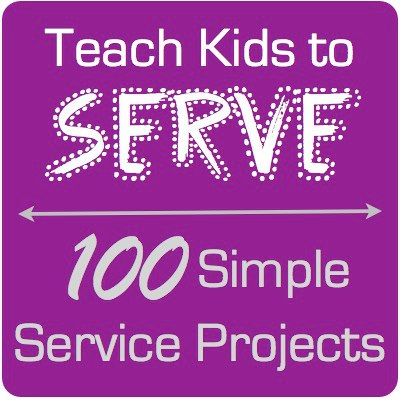 This "100 Simple Service Projects" book is a great place to start if you're wanting to know how to get your children involved in a service project. I have been searching for a way to get my kids involved, and I found this book to be extremely encouraging in my pursuit.

I like how it walks you through the steps, even suggesting that you start small. It also provides a list of service project ideas.

I love how it starts small, right where we are, and then builds as follows:

1. Service to Family
2. Service to those in the Neighborhood
3. Service to the Community
4. Service to Large Charities in America and Overseas
5. Service of a child's own design


Note: Sadly, we are still working on #1 with much struggling, by the way. I hope to move on one day to bigger and more selfless pursuits. Once we finally arrive to serving the community, I can't wait to follow one of the numerous links that the book provides to organizations who need our help.
The book has chore coupons to print out and use, starting with ideas like sibling day and helping grandfather. When you have a family of children who struggle with the basics of getting along with their own sibling, these coupons are a helpful way to begin.
There are tons of ideas for helping, from every walk of life and interest:
Elderly
Children
Animals
Military
Environment
Wildlife
Community Shelters
A few of the ones that I really liked were a recipe for home-made dog biscuits and helpful tips, that many don't consider when working with the military; and the suggestion to watch the news for children in need of help due to a recent tragedy. That last suggestion ranks right up there with what my husband has always said about watching the news for the pure purpose of praying for those who make the headlines.
Read what other Schoolhouse Review
Crew members thought
of these and other books from Christianity Cove. Or, click on the picture below: