My kids and I got to review "
Let's Make a Web Page
" tutorial e-book by Computer Lady, Phyllis Wheeler, from
Motherboard Books
.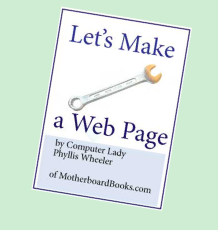 The instructional book is intended for children age 8 to 12, but I used it also with my 6-year-old. I received the tutorial book in the form of a PDF download.
The download is $19.95.
The PDF book includes 10 lessons:
Lesson 1 – An Interview
Lesson 2 – Download and Set Up the Program
Lesson 3 – Add Text
Lesson 4 – Make a Table
Lesson 5 – Add Photo
Lesson 6 – From the Internet, Add Animations
Lesson 7 – Browser Check, Backgrounds, Photos
Lesson 8 – Sound
Lesson 9 – Links
Lesson 10 – Post Your Work
Appendix – How to Upload to Internet
Each lesson only took a short time to read through, less than a half-hour each , though my children chose to explore more. My son even was excited about downloading the Coffee Cup program on his own computer to play with even more.
What I Liked:
I really liked the layout of the e-book. It presented everything in an easy-to-understand format. I liked that the lessons were broken down into bite-sized information, one step at a time. I really liked that the author covered internet safety issues as well, which is so important when children use the internet. In one chapter, she explains how to determine whether or not a website is useful or dangerous. It also gave suggestions of websites to use to find animations, sound files and background wallpaper for web pages. I also liked how the material was presented in an encouraging manner, and that it presented enough information that the student who wants more of a challenge can easily explore further. While it largely walked us through learning to use the Coffee Cup program, the instructions also explained the details and layout of the notepad page after it is coded in html. It's a great book for introducing web-page building concepts and programs, and is an encouraging launching pad for students who want to further explore detailed html coding on their own.
I downloaded the PDF tutorial, and decided that I would sit down with all three of my children, ages 12, 11 and 6, to use it. I knew my 12-year-old is extremely familiar with web-page building and html coding, so I wasn't worried whether or not he could handle it. What I was curious about was whether or not my 11-year-old could catch on. While I was at it, I figured I might as well see how my 6-year-old would do. She actually picked up on it and understood everything fairly well.
The book walked us through using a program called Visual Site Designer from Coffee Cup . It requires that you download this program, which is a free 30-day trial and works on Windows 8, 7, Vista and XP. Coffee Cup is not compatible with Mac, but the e-book gives tips on how to use the tutorial for Mac users.
Because I had the program on the XP, and had already downloaded the PDF tutorial book, "Let's Make a Web Page", I just lined up the two laptops side-by-side so we could walk through the book on one laptop, while using the Coffee Cup program on the other laptop. However, you can choose to view the two windows open on your computer, on one screen, or print out the PDF e-book for reference.
Here was my 11-year-old's group effort final project:
I got everything set up for the kids, and allowed my son to take over as the instructor. He read and presented the information from the e-book for his sisters. After my 11-year-old built her web page, I let my 6-year-old go to town with the supervision of my 12-year-old. We, then, let her work on it on her own. After watching her brother and sister use the tutorial, all she needed help with was sending it to her browser to view. This is how her page looked when she was done:
Pictures were taken from screenshots found online, including a Google Doodle contest submission and a picture from the Elephant Sanctuary, and were used purely for educational purposes only.
Read more reviews about this product, from the
Schoolhouse Review Crew, here
.