Several weeks ago, my family and I were offered the opportunity to review
"Life Principles of the Happiest and Most Successful Among Us: 25 Truths"
by
Ed Douglas Publications
. I was asked to read the book and to discuss the truths in the book with my children. The following is a review of what we thought: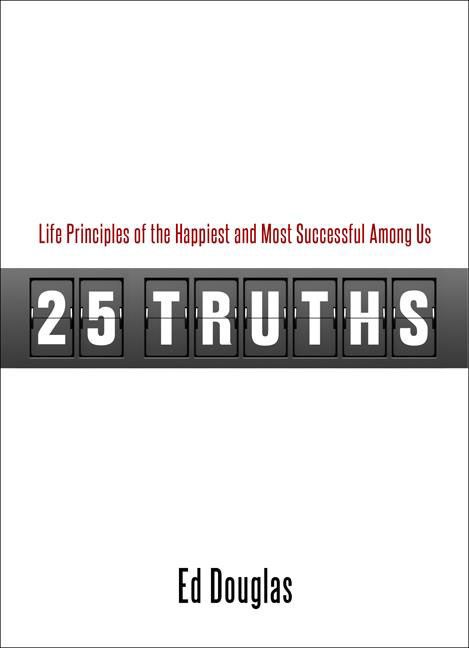 I received the 150 page book in a 5" X 7" paperback format. The book is sold for $12.50.
25 Truths
was written by Ed Douglas, who is a retired financial banking officer in my home state of Missouri. He started with three truths to having a happy life, which he shared with others. These three truths quickly grew to 25 Biblical concepts of character and life-enriching tidbits that he penned for the book.
Since I love the scripture in Deuteronomy, that talks about teaching God's word to our children by talking about them as we go about life, I was anxious to share these 25 truths with my children. It is Deuteronomy 11:19 that reads:
Teach them to your children, talking about them when you sit at home and when you walk along the road, when you lie down and when you get up.
25 Truths
is written at a level that is appropriate to be used with children in grades 6-12, and for college level students as well as adults. I started reading it to see what it was all about, and then I started discussions with my children one-on-one.
I didn't approach my children with a formal requirement of completing every written exercise, but with more of an informal discussion starter style. I read a truth and then first asked if they agreed or disagreed that this truth was important.
It was very interesting how each child responded. My 11 year old actually put the lessons to the most thought, while my six-year-old struggled to understand concepts that I had to explain, such as, "Is the glass half full or half empty?" I assume many of the concepts require more abstract thinking than what she has mastered.
My favorite of the 25 Truths that I discussed with my 11-year old was Truth #13 – Make Every Day Your Best Day. At the end of the summary about this truth, one of the discussion questions asked if she knew anyone with a sunny outlook. I loved her response. She immediately retorted: "Grandma". She went on to explain that her grandma must know how to make the best of each day because she is always happy.
This made my heart go, "Awwwwww! How sweet is that?"
I'm actually a bit surprised that I didn't rush to the phone, or Facebook, to let grandma know what her adorable granddaughter had said about her.
My 11-year-old tends to be my perfectionist child who wants to get everything perfect the first time around. We share many tears when something comes along that doesn't come natural for her. Oh, she'll work at it till she gets it, but with much frustration and tears. So, I wasn't a bit surprised when she was reluctant to agree with the truths that talk about taking one step at a time, or that practice makes perfect.
I really like that the book was easy to read, and ended each short chapter with a series of questions that were easy for my older children to understand. I also loved how the author integrated scriptures throughout the entire book.
Some of my personal favorite truths that he presented are:
Truth #3 – Watch What you Say, Do and Write
Of course, this truth rings true to me as a writer, author and blogger; but it is the way I have always tried to live my live even before the internet or before anyone besides a high school or college instructor ever read a word of my writings. I think it's very important to live a life of purity so Christ can shine without blemish.
Truth #8 – Be Quick to Apologize
This one I love in theory, but it is often extremely difficult to put into action. Since I try to live my life by Truth #3, above, this one should not be necessary very often. Sadly, it is necessary from time to time. This is, however, one thing I have always done with my children. When I lose all parenting skills and have my own little meltdowns because no one is listening to me, or someone spilled milk on the carpet or forgot to shut the door, or you name it – I apologize and explain to my children how important they are to me and that I love them and they deserve to be spoken to and treated in a kind manner. I am not afraid to apologize to my children. I think it models good behavior, and opens the door to make it natural for them to apologize when necessary as well.
Truth#11 – Take it One Step at a Time
I tend to bite off more than I can chew, but when it is broken down into small bite-sized segments, it magically gets done without a lot of stress. I love following step by step instructions that get me to my end goals, however, I often am too hurried or panicked to slow it down as needed.
Truth #12 – Learn What Brings True Happiness
This is pretty much the heart of the matter of it all. I remember a pastor I once heard talk about how we waste our time wishing it away for a better day or better stuff that we think will make us happy. When I look around, my happiness is already in front of me.
Truth #13 – Make Every Day Your Best Day
When I was working full time and expecting my first child, my boss told me to cherish every moment of the new baby's life. I heard that the days of a new mother, or a mother of toddlers, are so long, but the years fly by so fast that you'll wish you can go back and recoup them. That is so true. From the start of motherhood and homeschooling, I have made a concerted effort to make the most of every milestone and every day. Somehow, I still feel like these days have flown by without my full engagement in the things that are important to my children. But, this truth is my very favorite of them all!
Truth #25 – Spend Time with your Family
Of course, as a stay-at-home, full-time homeschooling mom who has been with her children almost every 24/7 for 13 years now, this truth is important to me. But, it also rings true every year for me with my extended family. Starting in 2006, my family began a yearly tradition of renting out a huge beach house one week in the summer where we all gather – all of us, cousins, grandparents, aunts and uncles. There are usually more than 20 of us in the house, and it is the best bonding time you can imagine.
Bonus:
I also love the bonus truth that summarizes them all, but I'll let you read the book to discover what that one is.
Please read what other Schoolhouse Review Crew members thought of this book,
here
; or click on the picture below: