A few weeks ago, I received and was asked to review
Global Art: Activities, Projects, and Inventions from Around the World
by MaryAnn F. Kohl, Jean Potter and
Gryphon House
Publishers.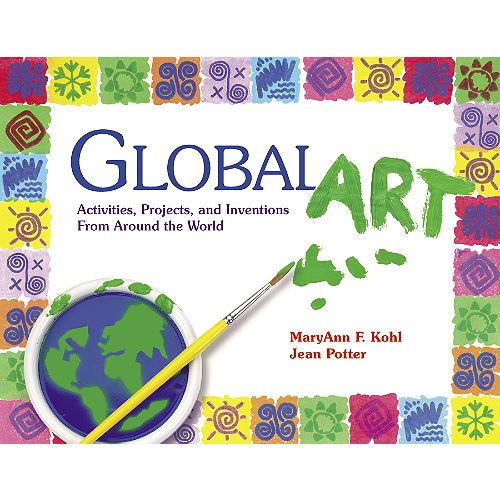 The book is a paperback version, 190 pages, and is printed in a landscape format. It is intended to be used with children in Grades K-5.
The book sells for $16.95
I was really excited to review this book because I was already familiar with it. I had checked out a copy from our local library awhile back because it had been recommended as a great book to use to learn geography. However, I was not able to finish the book during the course of time allowed by my library check out, so I was thrilled to get a copy of my own to review and then explore in greater detail.
As the name implies, Global Art is a really fun book to use to learn geography through art. There are tons and tons of art projects categorized by countries. Each project has an explanation and a short history about the region the art represents.
There is a huge variety of art projects in the book, so if one of them suits your preference and another does not, you can choose to do only the ones you like:
Painting
Sculpture
Paper Mache'
Coloring
At the top of each new project, there are blocks that show how easy or difficult the project and the preparation is and includes any cautionary reminders, such as using a hot stove. There are also recommended additional books to read. Most of these were available at my library to check out, and they really expand the learning process of each lesson.
I felt like we traveled part way around the globe. As we worked several projects, I read the brief history behind what we were making.
Some things I didn't know. For instance, we learned about the history behind eye glasses and then decorated a pair ourselves.
My six-year-old absolutely lives, breathes and thrives on anything having to do with elephants. So, of course, we chose to sculpt with Ivory soap (instead of real ivory tusks). Unfortunately, I thought I had Ivory soap in my closet, but when I went to use it, it was Dove. So, we opted for Dove, and it worked out fine. I don't know if it's disturbing or poetic justice, but she chose to sculpt elephants out of the "ivory" that became moldable after sitting in water and becoming warm.
I really liked how many of the projects required supplies that I already had around the house, so nothing additional was needed to purchase. Some things I was able to substitute for something I already had on hand, and the things that I did need to buy were not overly expensive.
Read what other members of the Schoolhouse Review Crew thought of this and other products from this publisher,
here
, or click on the picture below: