According to The Family Hope Center, there is hope even in the most dire situations. The Family Hope Center has a different, refreshing, approach to helping families of special needs kids. They want to empower parents to help their own children reach their full potential. The following is my review about a DVD and CD I received.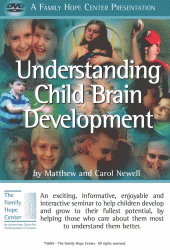 I received a DVD from
Family Hope Center
that included a full length, just over 2 hour, seminar about brain development, along with a CD containing Stories of Family Hope to review. To order this DVD for your own viewing, please call 610-397-1737, or order Understanding Child Brain Development
online from IEW
for $19. The DVD is intended for parents to view to gain insight into how to help their children heal.
The Family Hope Center is operated by a husband and wife team, Matthew and Carol Newell, who are experts in child brain development. The center in Norristown, Pennsylvania conducts therapy and helps children who suffer from a wide spectrum of issues involving brain development. Some of the kids who come into the center are mildly autistic or have ADHD issues. Others have severe brain damage from an accident or other physical condition like cerebral palsy. Many suffer seizures daily. Many have made huge strides toward recovery or functioning with daily tasks. Their improvement rate, through the Family Hope Center, far exceeds that of other therapy centers across the nation.
You don't have to live in Pennsylvania to reap the benefits of this amazing center. Though, after you watch the DVD, you may want to pursue more intense therapy with the help of the center. This full-length seminar DVD offers hope to parents with suggestions that are intended to empower the parents to help their children.
The approach of the DVD seminar is that to understand what's happening with the child, we need to understand wellness. In other words, to understand your child's potential in learning and brain development, you first have to understand what your child should be or is cable of doing.
I put the DVD into my laptop and watched. I immediately felt as if I was there, in the seminar room, with the speakers and the audience.
I love how the main speaker has an open wide spectrum experience approach to brain development. Not only does he have the psychological studies background, but one from medical and an advanced chiropractic degree. These influences don't always come together in such a fluent manner as this man expresses them. Though highly controversial in other circles, as a mother of a child who had a severe reaction to a vaccine, I appreciated how the speaker was open-minded about the real possibility that vaccines can cause an interruption to brain activity.
I love this unique approach to helping. They work out of the Family Hope Center based in Philadelphia. The center is centrally located near several hospitals, so they can work with kids in traumatic situations, such as those having multiple seizures or coming out of a coma, or newly paralyzed. Dr. Newell's idea of a coma reveals his unique approach, in that he refers to a coma as the body's last ditch effort not to die, not as the problem in and of itself. He gives high regard to parents, and he strives to give parents the tools they need to help their children's brains develop and attain their utmost potential.
He does not approach this as a collection of symptoms, behaviors, syndromes or a specific disability. Instead, he teaches parents how to look at their children through the eyes of what the child is capable of doing, or their abilities. If there is a way to restore the brain, there is hope. He wants to offer hope to families, hence the name: Family Hope Center.
In the seminar, he covers everything from reflexes babies are born with and how the under development of these reflexes affect their neurologic health. Following are some of the highlights that stood out to me:
Prone position v. babies lying on their backs and how it affects their movement and their digestions, including colic.
How a newborn connects to his or her mother is very important.
Front part of the brain affects social interaction learning.
The sense of small is important - Smelling relaxes the limbic area. Empathy, chewing, eating, swallowing, snuggling, eating, and sleeping all come from the sense of smell. Alzheimer patients have lost their sense of smell. Cranial Nerve #1 roots through the sense of smell. It is like a headbone connected to the knee bone process flow chart, but it connects back to the sense of smell. He gave suggestions as to how to stimulate with various scents.
A proper diet is important - Large intestine has 50% of the neurotransmitters for your brain.
Dendrites are connections, you can create more - Function/stimulation determines structure. The more you stimulate the brain, the more it grows but you have to know what you're stimulating.
I Immediately Began Applying What He Said:
I do not have a child with a severe brain development issue. I do, however, have a son who suffered from a vaccine reaction as an infant. He has displayed many signs of slight autism throughout his life, though when I mentioned it to his pediatrician, the doctor laughed. See, my son was speaking hundreds of words at a very young age, so the traditional physician did not see there was a problem. Still, I have constantly been aware there is something different about the way my son interacts with his surroundings. When this man began to speak on the DVD from The Family Hope Center, I was fascinated with the concept connected to the sense of smell, because my son's issues are all involved in these issues, and this child swore that he could not smell until he was 6 or 7 years old when he was watching a science experiment and they used vinegar. More recently, this same child said that when I mentioned the word "birthday" casually in conversation, he actually tasted the flavor of birthday cake. I also remember tummy time was rough moments for my son.
I learned that it's all about neurological disorganization - I was fascinated to discover things that could possibly help my son. I'm starting with drinking water and eating healthy. He said, in the DVD seminar, not to feed your kid anything that has a label on it, so I'm working on that. Fresh fruit, veggies, etc. The other thing is creeping. I think it would help my son to creep, though getting a 13 year old to creep is tricky. I did share what I learned from the DVD with my son, and he was surprisingly interested with it all. So, even though we don't have an extreme case by any stretch of the imagination, maybe there is hope even for me and my family.
Please read what other members of the Schoolhouse Review Crew thought of this product,
here
, or click on the picture below: