I was asked to review the
Online Math Membership
for Pre-K through Grade 12 and the
Online Language Arts Membership
for Grades 2-4 from
IXL.com
.
The memberships I received were both for up to three children. All three of my children fit into the grade range for the math, but only one of my children was within the recommended grade range to be able to use the Language Arts membership portion.
Here's what was available for the grade level of my children:
The second grade Language Arts provide 57 second grade skills, such as sentence structure, adverbs, nouns, tenses, homophones, contractions, etc.
The second grade Math skills provide 218 second grade skills, such as counting patterns, subtraction, addition, money, time, and more.
The sixth grade Math skills provide 284 sixth grade skills, such as multiplication, division, integers, graph coordinates, algebra, and geometry concepts.
The eighth grade Math skills provide 271 eighth grade skills, such as consumer math, nonlinear and linear functions, scientific notation, statistics, monomials and polynomials.

All we needed was a computer. We used computers that ran either Windows XP or Windows 7. IXL recently made available their
6th Grade math app for the iPad
, so we tried that out as well. Every version we tried worked well.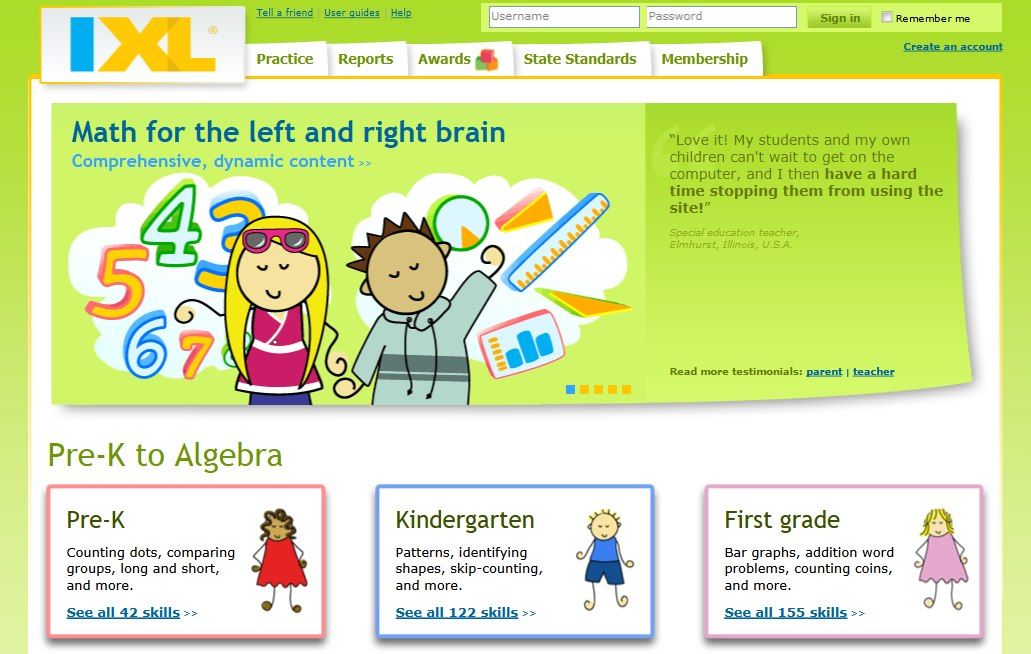 The site is really easy to use. Basically, you just log in and select either child or parent (if there are more than one children on the account, your child will choose their child number). Once you're logged on, you select the grade level, subject and specific skills you want to work on.
It then provides you with interactive questions to answer, focusing on specific skills. The questions are presented in a quiz or interactive test format. If the child answers correctly, the screen displays encouragement to continue. If the child answers incorrectly, the screen shows the correct answer and how it was figured. I liked how it changed the exclamation of encouragement and didn't just stick with the same "Good Job" time after time again.
I really like the site and how it is designed, and it is especially helpful if your child is needing extra practice review. For us, this site is a fantastic resource that, in essence, provides a teaching guideline skills checklist and a huge data bank of interactive, hands-on tests that provide immediate feedback. I found it to be most useful to me to use as a refresher or a test after the material was covered elsewhere and not an all-in-one, sit your kid down in front of the computer to use it as a teacher kind of site.
Even though Common Core is not something I'm fond of, I like how the site showed me the standards that they incorporated into their interactive learning that meets common core or each state's standards. It put my mind at ease that the site was at least on par, and probably more advanced, at providing material at a level they would receive if they were in the public school system. Plus, we were free to move around to the grade level above or below, if necessary.
After the child completes a session, the homeschool parent receives a progress report through email. The teacher can also log on at any time and view progress reports. I like the variety of reports available. One of my favorites was the "Report Card" which shows the percentage of how many questions were answered correctly in each skill area and where the child needs to improve:
There is also a tab on the site called, "Awards", where the child unlocks squares to reveal a surprise.
You can pay for the membership in one of two ways:
-Either $9.95 monthly for each subject, $15.95 for both Math and Language Arts.
The monthly rates are for one child, but you can add additional children for $2 each.
Or
-$79 yearly for each subject, or $129 for both Math and Language Arts.
The yearly rates are for one child, but you can add additional children for $20 each.
Please read what
other members of the Schoohouse Review Crew
thought, or click on the picture below: