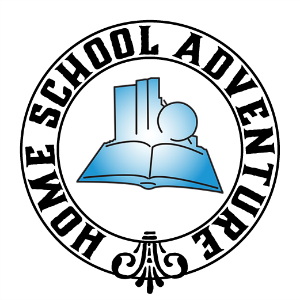 I was asked to review the
Philosophy Adventure
from
Home School Adventure Co.
These lessons included studies in philosophers and their philosophies, geography, worldview study, writing assignments and have enough information to use as the main curriculum in a unit study style that encompasses:
History

Philosophy

Religious Studies

Writing

Speech

Geography
A SUMMARY OF THE PROGRAM, IN MY OWN WORDS:
Philosophy Adventure is homeschool philosophy curriculum from a biblical worldview! The homeschool philosophy program provides middle and high school students an opportunity to learn the reasons behind the hope that is within them as a Christian. It also allows them to polish advanced speech, creative writing, and critical thinking skills, while introducing them to an impressive overview of philosophers, "walk the map" where these philosophers walked and relate varied philosophies to biblical teaching.
The lessons are intended for students in Grades 6-12, with more intensive teacher help expected to be needed for Middle Schoolers, while High Schoolers should be able to do the lessons individually.
The lessons I received were in a pdf downloadable format which sell for $39.95 on the site. The same lessons are also available in other formats:
Complete print set with Resources CD - $89.95
Extra student book - $24.95
Printed Reader with Resources CD - $69.95
Digital Edition on CD - $49.95
As a reader of this blog: Receive 10% off of your order, through May 15, 2014 - When you use code:
CREW-10
at checkout.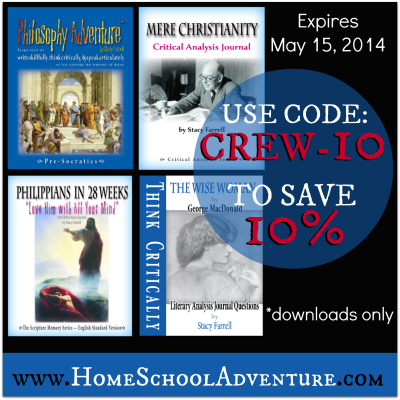 Included were three separate digital download books: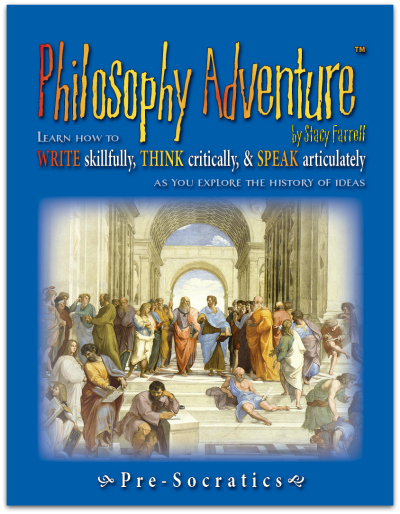 1. Reader Digital Download
- This is a comprehensive text. It contains plenty of colorful and relevant pictures, stories relating to the philosopher, writing, public speaking, history, geography, and critical thinking lessons from a biblical worldview. The book also provides the reader with writing prompts and checklists.
The Reader covers the following eight philosophers in light of how they compare to a biblical worldview:
Thales
Pythagoras
Xenophanes
Heraclitus
Parmenides
Empedocles
Protagoras
Democritus
The checklists walk the student through the process that includes a seven-step process:
Start
Substance
Structure
Style
Polish
Peer Critique
Evaluation
2. Student Workbook Digital Download - The workbook corresponds with the lessons in the reader, and includes notebook pages, assignments for geographical mapping, tests and quizzes.
The Student Workbooks include:
Notebook pages
Maps
Creative Free Writings
Write & Think Journal
Checklists
Glossary of vocabulary terms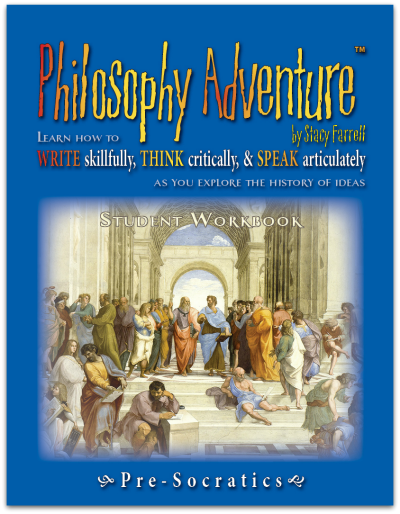 3. Teacher's Resources Digital Download - Provides the instructor with all the tools needed to guide students through the reader and student workbook with an "at-a-glance" style of instruction meant to make your job easier. Included are memory and Think cards, timelines, Answer Keys for the mapping assignments, quizzes and test keys.
HOW WE USED IT:
I began using it with my eighth-grade son who will be my first homeschooled high schooler, next year. Over the years, as I have taught history to this particular child, he has often displayed a bit of upset in learning about parts of history that seem to contradict his Christian upbringing. So, I was very excited to present him with a detailed study of different philosophers using materials that focus on the biblical worldview.
Printable Notebooking Page
Each new philosopher that is introduced is presented in a lesson, and then has writing prompts and other activities of learning that accompany the lesson.
There are Memory Flash Cards for each philosopher, and a timeline to fill in when each philosopher lived to influence the world. I especially loved how, once it is filled out, you can easily glance to see how some of the philosophers and their ideas overlapped and from what point in history they drew their conclusions.
To my amazement, this child who usually scoffs at anything in the form of traditional school book learning, especially writing, seemed to be excited as well. The first lesson, he finished in one sitting. Though, I chose to present him with the next lesson at more bite-sized segments. I was thrilled to hear him get excited about the philosopher and use creativity in his explanations.
Find Home School Adventure Co. and their products on Facebook, Twitter @HomeSchoolAdven, Pinterest, Google+, and Instagram.