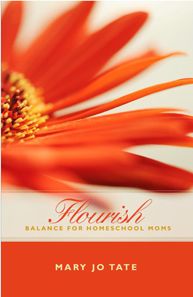 I was so happy to get a chance to review the new book,
Flourish: Balance for Homeschool Moms
from
Apologia Educational Ministries
. I was especially excited because this book was a treat for me, written for homeschooling moms of all ages to read. Though, it's truly beneficial to any adult trying to juggle all of life's demands, with a special chapter for the single mom trying to make it all come together for her family while left with no help from a spouse; and there is also a special chapter directed toward those with a home business.
It sells for $15.
This is not just another ordinary life planning book. After each chapter, you will put the book down, complete the exercises in an easy step-by-step manner,
AND NOT FEEL JUDGED OR COMPARED TO SOME ELSE'S UNATTAINABLE SUCCESS!
It takes into account personalities and life choices to make it easy to adapt its content to your own unique place in life - TO HELP YOU MAKE THE MOST OUT OF YOUR OWN AMAZING LIFE.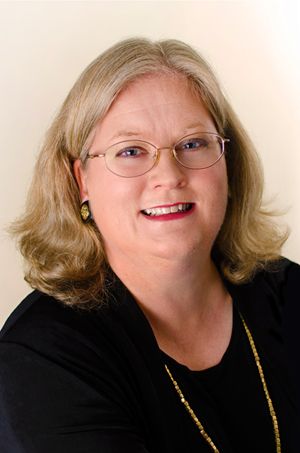 Mary Jo Tate is the author. She is a professional author and editor. She has been homeschooling her four sons since 1997, much of that time as a single mom with an at-home business. She blogs at
FlourishAtHome.com
.
I was inspired immediately when I read the life occurrences of the author, Mary Jo Tate, which led up to her writing the book. It made me realize that when we look at other families and think they have it all together, the truly may be just one decision, one step, away from losing it all. This was the case with Mary Jo Tate's life when she found herself a single, divorced, homeschooling mom at her lowest point in life - Waiting in line at a food pantry. It was at rock bottom, she knew she had to make things change if she were to provide the kind of life she wanted for her children and for herself.
But, the book is not just about the author's life story. It mostly uses her experience as a vantage point and then draws from the life experiences of many others offering amazingly helpful and fresh advice. Reading the book did not make me feel as if I was being lectured or told to adhere to yet another impossible scheduling mold.
THE BOOK WILL MAKE YOU FEEL AS IF YOU HAVE JUST SAT TO CHAT WITH A DEAR FRIEND WHO WANTS MORE FOR YOU THAN TO JUST MERELY "GET BY" -- LEARN TO FLOURISH!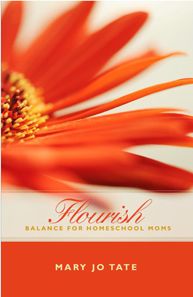 The book's approximate 290 pages are an easy read, and quite inspiring.
I was very excited to work my way through the chapters which contained "Take Action" exercises and activities at the end of each chapter. These questions, self-checks and suggestions really made me dig deep. I felt like I had my own personal high-quality workshop conference right in the privacy of my own living room, workout room, local coffee house, in the van waiting on children, and wherever else I chose to dive into the book to read more.
I was happy to take the Pre-Book self evaluation.
I was interested when I read through a description of triage or juggling too many balls, and I realized that's how I'm living my life. I was not surprised, but was enlightened to embrace the truth that I tend to live in a survival, battlefield, triage mode. This will be my most challenging change - To begin, instead, creating balance out of my daily events.
I was happy to learn an acronym for FREEDOM
I was thrilled to learn about how to honestly assess how I'm spending my time, using a time log, and then how to recapture that time through re-scheduling (or, rather, reorganizing and creating a routine) to optimize my days.
I was more than excited to learn how to begin setting clear and realistic goals.
Since it seems like my life as a mom is nothing but constant interruptions, I was really, really, really happy to see the issue of interruptions be addressed from a real work-at-home/educate-at-home mom's point of view.
I love how the book talked about making memories with your family.
I love how there was a chapter specifically dedicated to single moms and one to home businesses.
There are charts in the back of the book that go along with the exercises at the end of each chapter. The author suggests that you use a 3-ring binder and customize each exercise for your personal journey.
Throughout the entire book, I found myself on the edge of my seat waiting to read what the author recommended as my next step to flourish in my life, home business, and home schooling. I am attempting to put the suggestions into practice and have a renewed hope about my family's future in continuing to learn at home while my husband and I build an even stronger home-based business together.
Find Flourish on
Facebook
and
Twitter
.