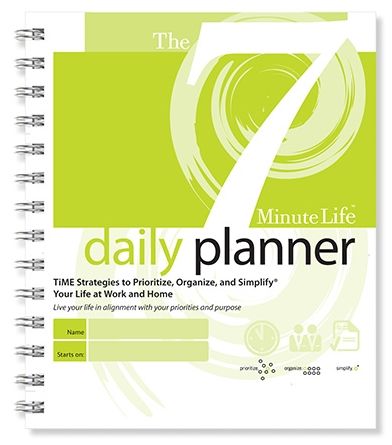 I was happy to get the opportunity to review
The 7 Minute Life Daily Planner
from
The 7 Minute Life
.
The planner is intended for moms (or dads) and is a 7.3" by 8.5" physical planner with a wide spiral binding that I could hold in my hands. It sells for $24.95 with a portion of the proceeds going to a charitable organization called ShareHope7 which provides water, food, and education to animals and people in need.
With the planner, you also have access to more than 20 additional planning and management tools online when you register through the site for free. I chose to do this as well.
This
12-minute video
explains how The 7 Minute Life Daily Planner works. The video summarizes the typical daily planned scheduled, and right about the 7 minute mark on the video, it begins to dig into how the 7 Minute Life Daily Planner is different.
The idea is that major life changing events happen one little step at a time in short increments. Also, studies have shown that the average adult attention span is 7 minutes long. Since attention and focus is one of the key elements in achieving successful time management, the 7 Minute Life Daily Planner was created. Through it all, it boils down to three basic steps: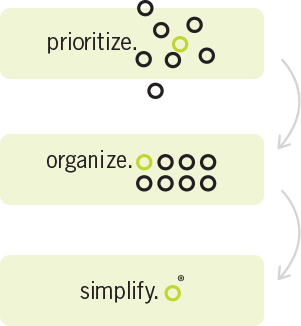 SO, HOW DID I USE IT?
When I first read through how to use the planner, I thought the planner seemed to be focused toward a business person than a stay-at-home homeschooling mom. However, since I am actually a self-employed work-at-home homeschooling mom married to a self-employed musician; I figured, I could apply all of the concepts toward bettering our businesses while enhancing the school time I spend with my children.
I also realized that everyone's planner becomes very personalized, because it first walks you through outlining your personal goals. If you are not a work-at-home, self-employed parent; this planner is still very useful in time management goals. You just might not need to focus so much on parts of it like the voicemail log and instead, focus on the 5 before 11, the reading, and other aspects of the planner to attain your individual goals. I know that even though I work from home, I rarely have to tend to voicemail. Though, I do cover a ton of emails in one day.
I'M ALREADY ALWAYS IN SUPER PLANNER MODE - WILL THE 7 MINUTE LIFE DAILY PLANNER REALLY CHANGE MY DAYS?
I am a super planner. It's in my DNA to plan. I actually enjoy sitting and looking at a calendar to fill up properly. And, I take great pride in my ability to plan. I have my own little scheduling and planning system that works for me. So, when my planner arrived, I wasn't sure how well it would fit into my planning.
Did I have 7 minutes a day to give it a try?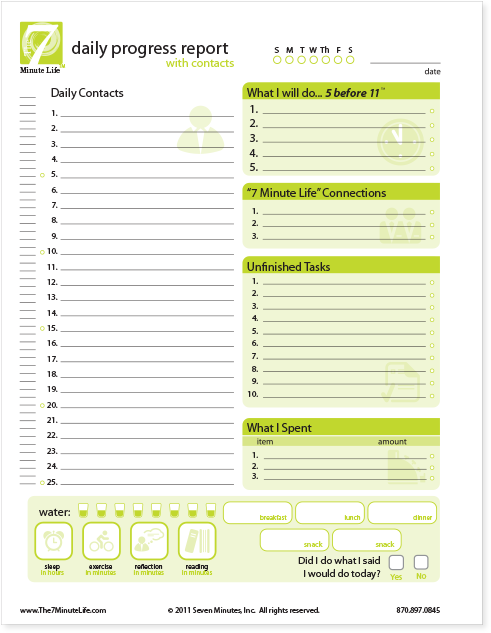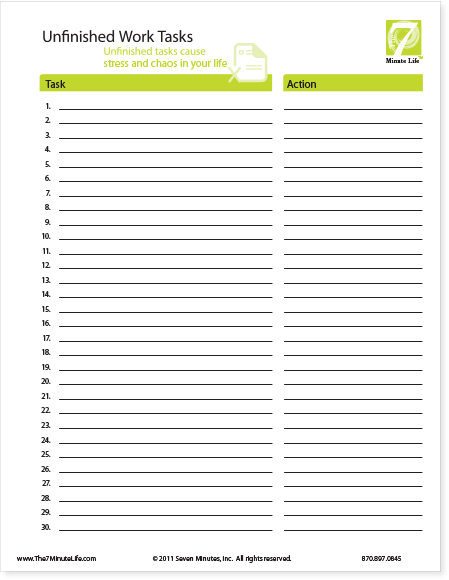 The nice thing for me is that I received the planner for review just two days before leaving on a 4-week tour with my husband who is a musician. The kids and I joined him as a working vacation where he performed several jobs out most days, and we enjoyed the beaches of Lake Michigan and Lake Superior. This time was perfect to learn about the 7 Minute Life because I had time to really reflect.
Here's how it looked when I was using it:
DOES IT GET ANY BETTER THAN THIS?
Each planner is set up to cover 90 days and has a file pocket in the inside back cover to hold additional notes and such. After the 90 days, just file the planner away and begin a new one. I thought this was a really nice idea. Not only is 90 days a doable increment of time, thought of in the business world and college world as a quarter, but the planners also become a ready-made diary/scrapbook kind of keepsake that is easy to find and refer to whenever necessary.
HOW TO BEGIN
It's very important to read the first several pages of the planner before you dig in to use it, because it walks you through several exercises where you determine your purpose and your goals. When I began writing what I love to do and what my talents are, I wasn't surprised to discover what popped up. I was, however, surprised to see the order they came to my mind. It was really interesting to have them right there in front of me in writing.
After I read through the entire introduction explanations of how to use the planner, I realized that part of the online tools include short videos explaining how to use each aspect of the planner. So, I watched those as well.
REACHING OUT AND MAKING CONNECTIONS
The one aspect I found the most difficult was committing to connecting with 3 people each day. I am very much an introvert, which doesn't mean I'm shy. It means I derive my energy by being alone and having time to introspectively reflect. People connections drain me. So, I almost skimmed over this part to dismiss it thinking, "Well, this is the true reason I'm never as successful as I want to be. I just can't make these connections. There are very few people I want to connect with every day, and the ones I do enjoy spending time with are already under my roof." But, I bit the bullet and decided to give it a try.
My favorite part of the planner is the 5 before 11 concept. Just 5 things a day add up quickly toward achieving my purpose in life. And, think about it - 5 things a day all before 11 a.m.
What I discovered is that this is not just another daily planner. It's more of a mini time and life management course. Another part of the "7 Minute" idea is that planning the most important tasks for each day, referred to as the 5 before 11 (5 tasks to accomplish before 11 a.m. each day), should take only about 7 minutes each day to plan.
Find The 7 Minute Life on
Facebook
,
Twitter
,
YouTube
,
Google +
, and
Pinterest
.