I was thrilled to get a chance to review
Orphs of the Woodlands
online educational resource and game from
Star Toaster
.
What is Orphs of the Woodlands?


Orphs of the Woodlands is probably best described as a live-action e-book that is supplemented with learning games that teach a variety of core subject matter as well as real-life skills. The book my children read through Star Toaster's Orphs of the Woodlands online educational resource and game is called "The Treasure of HighTower". Currently, this book is offered to students with a 2-month subscription and the ability to add up to 3 students and add a one-month extension to the subscription if desired.
The reader is not only reading about these orphaned animals in the woodlands, but is on an active adventure to try to save them. It's as if the reader steps into the story and becomes a part of the story he or she is reading. All the while, the parent receives progress reports of the student's activity and accomplishments.
The student begins by reading the story. After each chapter, he or she chooses from a list of "jobs" (learning games) where they undergo training instruction and then complete the task. If they succeed, they receive points and even are granted pay raises of extra points if they do well.
The points arrive via an on-screen animation of a toaster shooting out a gold star (hence the name of the creator - Star Toaster) with a nice chiming, "ding" sound. If the student gets the answers wrong, the toaster blows up with quite an alarming, "boom" sound that really encourages him or her to fully train (learn) the skill for the task at hand so as to avoid the booming toaster sound.
T
here is so much to this fun online reading adventure, that the best way to describe it is in the creators' own words. This short video gives an excellent overview of what the program is all about:
So, how does this reading adventure actually look on screen? The first thing the student does is personalize his or her story by giving his main character a name. After everything is set up, the story begins with on-screen reading.
The bottom of each page indicates how many pages are left in that chapter.
While the student is reading, there is a lot of interactive learning. Vocabulary words are highlighted to be scrolled over for a definition, and there are even pop-out screens that show more information on items like, a recipe for nut bread or green forest tea.
Star Toaster recommends using a monitor of 1024 X 768 or higher screen resolution and a modem version browser of either Firefox, Google Chrome, Apple Safari, or Internet Explorer 8 or higher. We could access it from several devices. My older daughter used her laptop, I was able to access the reports from my iPhone, and my younger daughter used her Kurio Droid Tablet.
At the end of the reading chapters, more fun begins in the form of "applying for jobs" that earn points in the form of stars that serve as wages earned. If the student does well, he or she may even receive a raise in the number of points received for the same task. Students can use their money to build and plant their own home and plat of land.
How Did We Use It?
We received a full year subscription for up to 3 students. The subscriptions are normally for about 2 months. I set up the log-ins for my children, and then had them work at their own pace as a bit of a curriculum supplemental reward.

My 7th grade, 13 year-old lover of reading finished it rather quickly. I'd say within the first two weeks. My 8-year-old, on the other hand, took longer and tired faster from the lengthy reading involved before getting to the chapter breaks of the games (jobs) to earn points. Once she arrived at the end of the first chapter, she was so excited but then took quite awhile on Chapter 2 which reflects more of her reading ability than it does her interest in the online learning games.
What Did We Think?
My older daughter was beyond thrilled at the concept of Orphs of the Woodlands. She loves to read, and loves adventure. I think she has rave reviews and nothing but good things to say about it. She is at the perfect reading level for this program, in my opinion. While, my older daughter was thriving at the reading and all the other learning involved, my younger daughter was a bit more challenged by all of the actual reading. I'd love to see an offering for her level of reading as well, with slightly shorter amount of pages to read in between the learning games. But, she still really liked it and strove to finish strong.
Star Toaster is offering a FREE TRIAL to readers of this blog. Read the first chapter, and get a feel for how it all works. See for yourself through this
FREE TRIAL!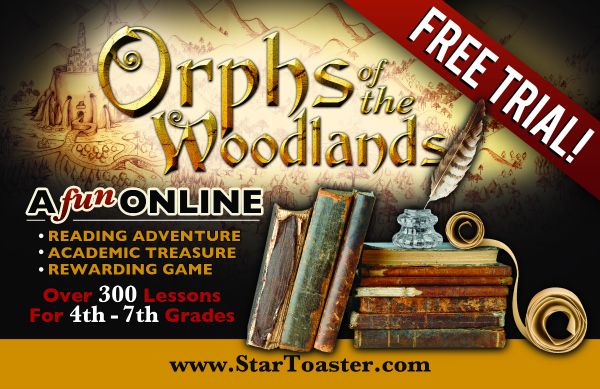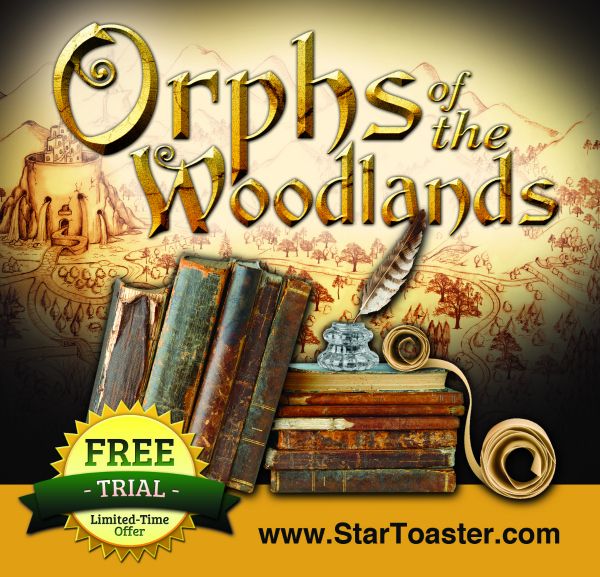 Find Star Toaster and Orphs of the Woodlands on
Pinterest
,
Facebook
, and
Twitter
. Read what other members of the TOS Review Crew thought by clicking on the picture below: