*
I was more than thrilled to get a chance to review
New American Cursive: Penmanship Program Workbook 1
from
Memoria Press
.
We have used a few other Memoria Press books over the years, and they have never failed to deliver. This course is no exception.
New American Cursive, NAC, is a form of cursive that was developed by 35-year expert, Iris Hatfield. NAC is a form of cursive that offers more than 25 fewer strokes, eliminating unnecessary awkward strokes, to help make learning cursive easier and more legible.
It's a unique, fresh and simple approach to teaching cursive to kids as young as First Grade. The idea is not to force a high-level skill upon little hands, but rather to introduce the child to all the benefits of cursive as soon as possible. The earlier a child learns how to write cursive, the earlier he or she will benefit from all cursive has to offer; including, gaining competence from the start. And, the thing is - The New American Cursive: Penmanship Program Workbook 1 presents learning cursive in a way that makes it easy, artistic, encouraging, and fun.
Some benefits to learning cursive are said to include:
hand-eye coordination
ability to read cursive (by the way: Our founding fathers wrote documents in handwriting of cursive)
self confidence
improved reading and spelling
increased writing speed with legible results
improved brain neural connections
ability to develop a personal signature
It only took us about 15 to 20 minutes a day to cover each lesson. The book starts with demonstrating and teaching proper paper, hand, and pencil position for left or right handers; and, it ends with the student writing sentences in a short letter, the Pledge of Allegiance, and it even covers writing numbers.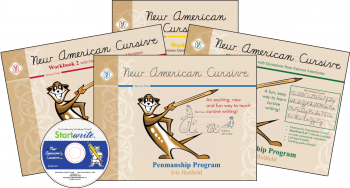 There are three workbooks in this series that start with Workbook 1 geared toward First Graders. Memoria Press also offers a supplemental software with customizable worksheets.


What is New American Cursive: Penmanship Program Workbook 1?
This is a workbook style paperback that introduces students to cursive using "Mr. Meerkat" as the instructor guide throughout the book. It is intended to introduce children in First Grade to New American Cursive, NAC, which is a form of cursive that was developed by Iris Hatfield. The 35-year cursive expert, Iris Hatfield, developed NAC as a form of cursive that offers more than 25 fewer strokes, eliminating unnecessary awkward strokes. By breaking down the process to its simplest form, it helps to make learning cursive easier and produce more legible work.
Throughout the book, Mr. Meerkat is pictured demonstrating how the child is to form each letter using the traditional handwriting lined writing sections of a dotted middle line between an upper and lower solid line on sections throughout the worksheet pages and arrows that direct the child's pencil to copy the letters and words.
The book is not bound at the left like most books, but it is bound at the top to give equal access to left and right-handed kids.
How Did We Use It?
I sat down with my 8-year-old daughter who, according to our public school system and her late September birthday, puts her officially in the 2nd Grade. Though, she does some 3rd Grade work. Even so, she had not yet been taught to write cursive because my other children really didn't cover it till closer to 4th Grade.
What Did We Think?
I was looking forward to her learning cursive, and I was not disappointed.
When I told her she was going to learn cursive, she was a bit overwhelmed until I opened the book and began to work through it with her. It only took her to about the 2nd lesson before she was flowing along with Mr. Meerkat and laughing while she worked. It took us a few confusing turns to become used to the top-binding which means you sort of flip and turn the book when ready to go on to the next page rather than just turning page after page. But, once we got used to this format, it was easier.
I really like this particular form of cursive. All of the letters flow from one to another with ease and are not choppy or unnatural. I'm so excited that my child has been exposed to a solid cursive handwriting program at her early age.
Find Memoria Press on
Facebook
,
Instagram
,
Google+
,
Pinterest
, and
Twitter
.
Read what other members of the TOS Review Crew thought of this cursive program, and see what reviewers thought of another Memoria Press product,
First Start Reading
, that some other members of the Review Crew received by clicking on the picture below.
ALSO, STAY TUNED FOR SOME UPCOMING TOS CREW REVIEWS OF MORE FROM MEMORIA PRESS!