*
I was thrilled to get a chance to review
Adaptive Placement Test and Individualized Lesson Plan
from
A+ Interactive Math
. I received a 3-month subscription for up to 10 students.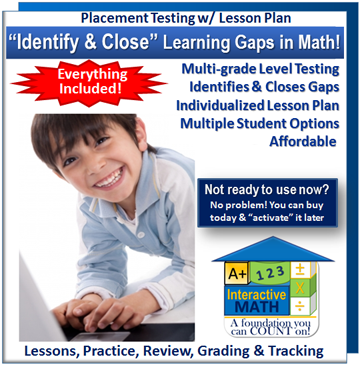 What is Adaptive Placement Test and Individualized Lesson Plan?
A+ is an online math curriculum that uses engaging graphics and short interactive lessons to teach. What makes the Adaptive Placement Test and Individualized Lesson Plans unique is that before the child begins his or her first lesson, they first complete a placement test. The results of the test then generates a personalized lesson plan at the level recommended for the child to begin based upon the placement test results. Essentially, the tests reveal where there are learning gaps, if any, and then creates a recommended set of lessons to get the child up to where he or she needs to be to continue on with further math skills.
Read the
Top 12 reasons to do Adaptive Placement Test with Lessons
.
Easy-to-launch individualized lesson plans.
Fantastic graphics on reports!
List of placement tests, skills, and progress.
Lesson plans are easy to access by clicking on drop-down menu and then updating progress bar when complete.
How Did We Use It?
I sat next to my 8-year-old as she completed the placement test. She progressed through each test until she hit a spot in her math skills where she struggled. At that point, A+ generated an individualized lesson plan for her, and she began the lessons as recommended.
In her case - She is an 8-year-old, who according to her birthday should have her in second grade. But, she is reading at a high school level, so we have done partially second grade and partially third grade work with her this year. Because of her half and half grade level, some of her curriculum has presented learning gaps. I was excited to attempt to fill these gaps and was thrilled to find an online assessment test that would generate a lesson plan she needed, tailored just for her specific learning needs. When all was said and done, she began learning division facts, which I was happy to have her learn and felt this was an appropriate place for her to start.
The placement tests are done online and are set up with multiple choice or fill-in-the-blank answers that the student completes using the keyboard and computer mouse. So, some amount of computer use knowledge is necessary, but this was no problem for us. Once the placement tests are completed, the program is very easy to use and begins with interactive short lessons that have colorful and engaging graphics. There are also online worksheets available to use that are very similar to the tests, so the child can get more practice as needed before moving onto the next skill level.
What Did We Think?
After the testing portion was complete, I thought the program was very easy to use and presented math in an interesting and fun onscreen manner. If your child has testing anxieties like mine does, I would recommend allowing more than one setting to complete the test-taking placement tests so the child is fresh and able to give an honest assessment. My daughter tends to become extremely nervous when presented with tests, so I sat with her to encourage her and make sure she understood what was being asked. Rest assured - When the testing is done and the lesson plans are generated, the actual lessons are much more fun with colorful audio-visual teaching.
I was somewhat surprised, at first, to see that she didn't make it far in the assessment before a learning gap was discovered, and she was not at grade level. Though I found it reassuring to see where my child had gaps in learning and that those gaps would be filled by following the lesson plans that were generated based upon her results.
Find A+ Interactive Math on
Facebook
,
Twitter
, and
Pinterest
.
A+ Interactive Math is offering a 2-week 40% to 50% off sale on the Family Math Packages and Adaptive Placement Testing with Lessons programs starting Monday, May 4-18.
They offer tons of freebies for homeschool families to try to make sure the program is a good fit before making the purchase. Here's some of the most popular freebies they offer:
Free Math Placement Test
Free Family Math Package
Free Software Download
Free Single Grade Level
Free eBook

/