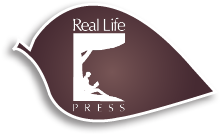 *
I was thrilled to get a chance to review "
The Busy Homeschool Mom's Guide to Romance
" nurturing your marriage through the homeschool years from
Real Life Press
, written by Heidi St. John.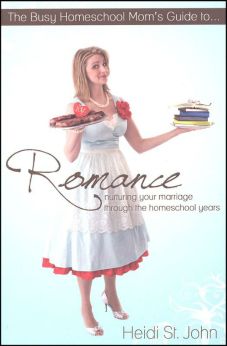 What is "The Busy Homeschool Mom's Guide to Romance"?
TRUTH IS - MANY OF US (And, I speak from full head-on experience and out of complete and utter exhaustion) HAVE BECOME SO WRAPPED UP IN BEING A MOM AND HOME EDUCATOR THAT OUR HUSBANDS HAVE TAKEN THE BACK SEAT. IN MY CASE - ADD WORK-AT-HOME MOM AND WIFE TO A SOLO SELF-EMPLOYED MUSICIAN, AND WELL, YOU GET THE PICTURE!
MARRIAGES ARE FALLING APART - AND NO ONE IS IMMUNED TO THE POSSIBILITY!


The author of this book is Heidi St. John, who speaks at homeschool conventions, blogs at The Busy Mom blog, and is married to a worship pastor who left a steady-income church position to begin their own paraministry mission to families. They have a heart and desire to help nurture and build families in the homeschool community.
The book is written for those of us who are married and want to spend more special time showing our husbands how much we still love and respect them, but have found ourselves pulled between trying to educate children, be a good parent, and still be that wife we dream of (or he dreams of us) being for our hubby at the end of the day.
It is written with references homeschooling moms can relate to, along with scriptures, song lyrics, and quotes from famous authors like C. S. Lewis interjected throughout. The author is very open to share real-life experiences of her own. She writes in a way that will make you feel like you're having a conversation with a close friend.
I received an e-pub and pdf
digital version
of this 176-page book containing 10 chapters. Real Life Press also has physical
paperback copies
available for $12.95.
I cannot fully summarize the book without giving away key segments that will really mean more to you and your marriage if you read them in context for yourself. But, I can give you a few key points takeaways that I enjoyed about the book:
Your marriage matters.
Don't let the title, Romance, scare you into thinking it's just a book about what happens in the bedroom. It's so much more! In fact, the author doesn't even really cover that topic until Chapter 5, and there is really only a few pages dedicated specifically to it entirely. The whole of the book is so much more intertwined to discuss.
You are busy and you have children whom you homeschool - Otherwise, you probably wouldn't have turned up one eyebrow to consider a book by this title. But, if you don't have an entire afternoon or morning to devote to reading the entire book in one setting - Set aside little chunks of 20 to 30 minute coffee or tea dates with yourself and the book...Even if it means making sure your children are in a safe place and then locking yourself in the bathroom for a few minutes to read a page or two.
How Did I Use It?
In my case, I have not only pooled most of my energy into being a mom and homeschooler, but also into being a work-at-home mom and administrative assistant to my hubby's self-employed musician business. THERE SIMPLY IS NO ENERGY LEFT AT THE END OF THE DAY! So, I was more than thrilled to get a chance to read this book and see where I could apply any tidbits of wisdom in my own marriage.
I sent the book to my iPhone so I could read a little bit here and a little bit there while out and about and waiting on children to get done with dance class or enrichment classes and such.
I ended up reading it mostly on my laptop, alone with my coffee in the quiet of the sleeping children moments of the day and after hubby had already left for work.
What Did I Think?
Heidi St. John writes in a way that is easy to read. She is transparent in her real-life stories that apply to the book, and her words are filled with grace and love. If you had an afternoon, or a few hours free in the early quietness of the morning, you could sit and read this from start to finish in one morning or afternoon. If you are a fast reader, maybe even in just a couple hours. I began reading it, and I didn't want to put it down.
One of my favorite references was the connection to the Ecclesiastes passage in the Bible that talks about a cord of three strands being not easily broken and then seeing how she compared two parallel lines (using a diagram from what looked to be from a homeschool geometry book...Ironic!) followed by her own diagram of how the 3-strand cord looks within a marriage.
It really hit me where I needed to be nudged, and I have already begun applying the words of wisdom to my marriage by trying to focus more on what my husband is interested in, giving him priority in my scheduling, and transforming the bedroom to a place of respite. So, we shall see where it goes from here.
Find Heidi St. John on
Facebook
,
Twitter
, and
Pinterest
.
Read what other members of the TOS Review Crew thought of this book and a few other books that the Crew reviewed from Real Life Press by clicking on the picture below: