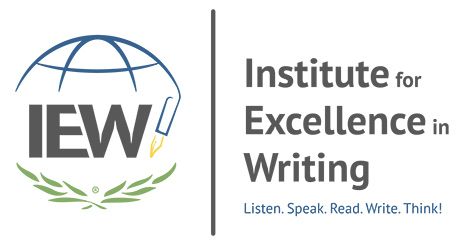 I was thrilled to get a chance to review the
Deluxe Combo Teacher/Student Writing Package Level A [FIX-1 & 2]
(Fix It! Grammar 1 and 2) plus
A Word Write Now
and
Portable Walls
from
Institute for Excellence in Writing (IEW)
.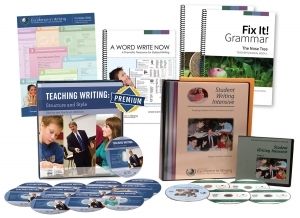 What is IEW and their
Deluxe Combo writing packages
?
IEW offers a unique way of teaching writing that is effective. It's not so much an "out-of-the-box" kind of curriculum as it is an extensive training course for the parent/teacher and students, along with physical books and downloads that accompany and follow this more than 18 hours of seminar teacher instruction on DVD and 4-disc Student Writing Intensive Level A DVD set.
I was beyond jumping up and down when I opened up this package.
There is a lot of information tucked away inside these books, downloads, and DVDs - Let me break it down:
What Is Included and How Did We Use It?
SEMINAR 12 DVD PACK AND PRACTICUM WORKBOOK:
This one is for the adult. It comes with a leather case filled with DVDs, a notebook and 3-hole-punched practicum sheets.
I started by viewing the video seminars, which to be honest, was very difficult for me only because I had to find the time where it was just me with no interruptions. It seemed that just hitting "Play" on the video was enough to draw every member of my family to me to ask unrelated questions about things I needed to tend to right now.
The Deluxe Premium Program came complete with both the physical DVDs and an online code to view the video seminars streaming online. I ended up viewing it by the live stream while I worked out and on my laptop early in the morning hours before anyone else in the household was awake.
There were also downloadable files, which I downloaded. Some were audio, others were in pdf format.
I found it fascinating and was thrilled that it presents writing curriculum information in a way that I always thought it should be presented - In a way kids can understand and not so rigid!
By the end of the video seminars, you will not only be prepared to teach your child using the IEW curriculum, but you will be enthused about the open doors in writing you are handing your child.
Andrew Pudewa first explains the background of the IEW program. I had no idea that he did not create the system but has learned it to present it. In the introductory seminar video stream or DVD, he explains how the program works and how to use it within a school year, month by month for nine months. He explains first how to use it for an approximately 4th through 8th grader. He suggests that younger students take more time with the units and older high-school level students spend less time on each unit and more time on the latter units of more in-depth writing.
THINGS I LEARNED FROM WATCHING THE SEMINARS:
Andrew Pudewa didn't create this system, but there's an interesting story about how an African history course in Nova Scotia has a lot to do with the IEW courses and that Mr. Pudewa is not Canadian but the program has a Canadian influence.
Andrew Pudewa used to be a skilled violin teacher who spent time in Japan learning the Suzuki method, and he relates how the method applies to teaching writing.
The course encourages using what is called Source texts, such as Aesop's Fables, and beginning by learning by following an example/modeling, or basically what amounts to a form of copying but not plagiarizing because it is used as a learning process.
NOW, IT WAS MY CHILD'S TURN:
STUDENT WRITING INTENSIVE LEVEL A
These are the instructional DVDs for the student. It is a 4-disc pack plus an introductory Structure and Style Introductory DVD to be watched first by the parent/teacher and pdf handouts that are downloaded from the site. The Level A program is intended to be used with children in Grade 3-5. I sat down with my 3rd grader to introduce her to the IEW curriculum. I began with the Student Writing Intensive Level A Disc 1. Each disc is part of the full-length intensive seminar for kids.
Structure and Style Overview Disc
Disc 1 - Unit I and II - Outlines, Summary, Dress Ups (a term described in the parent seminar)
Disc 2 - Unit III - Story Summary, Dress-Up
Disc 3 - Unit IV - Reference Summary, Paragraph Structure
Disc 4 - Unit V - Creative Writing
Fix It! 1 and 2
I received the spiral-bound Teacher Manual Books 1 and 2. With the books, I received an online code to download the 130-page Book 1: The Nose Tree and 134-page Book 2: Robin Hood Student pdfs and a couple audio mp3 files: But, But, But What About Grammar and Mastery Learning.
A WORD WRITE NOW
This is a physical spiral-bound Thematic Thesaurus with workbook style lines to add additional words to each section.
PORTABLE WALLS
This is a really clever tool. It is a tri-fold folder that contains helpful writing models and word lists, sort of like a quick reference card with everything summed up for you in one easy, handy hand-held folder.
What Did We Think?
Starting with the seminar videos, these are jam-packed full of information. If you can set aside even just a half hour a day to complete the 12-disc seminars, you will feel as if your brain has been opened up and new information poured inside. Even if you get away for a weekend and are able to watch the entire seminar in one setting, you will most likely be thankful that it is on DVD or online streaming so you can refer back to parts of the lessons again and again. I love this teaching concept that includes ideas such as the Plus One idea of learning one easy task and then just adding only one new task to what you've learned, not overwhelming the child. I really like Mr. Pudewa's knowledgeable style of presenting the material.
This presentation style carries over into the Student Intensive. If your child is like mine, he or she will most likely not be able to sit through an entire disc in one sitting. The program suggests what segments of the Student Writing Intensive DVD to watch with each new lesson section. It's great to have it on DVD and able to pause or rewind as needed.
The Fix It! Grammar books are great for my child as it is hands-on and intended to be used in small segments of just 15 minutes a day. I would definitely recommend viewing the teacher and the student writing intensive seminars first, because they really explain the style of learning/teaching that is used in the Fix It! Grammar books. Once you finish the seminar DVDs, the books will make a lot of sense. They are a positive reinforcement method rather than tedious, endless grammar police style learning. It models proper grammar in a way that also builds editing skills.
I am in love with the A Word Write Now Thematic Thesaurus because I write for a living, so I am a huge fan of word lists for expanding writing horizons and making it come alive.
The Portable Walls folder is wonderful as well, because it summarizes all of the information into one carry-with-you tri-fold.
It is not a boxed curriculum that you open up and turn your child loose with. It does require at least an initial commitment on the part of the teacher to learn the method before sitting down with your child to teach. Maybe an older child would be able to work through the lessons in the Fix It! Grammar books without much, if any, help. But, honestly, the rewarding part of the IEW method is when you see the sparkle of excitement for writing in your child's eyes that you would miss by simply turning them loose with a workbook.
Find IEW on
Facebook
,
Pinterest
,
Vimeo
,
Twitter
,
YouTube
,
iew.com blog
and
Google+
.
IEW also has some excellent products that are specifically intended for Special Needs learners. The TOS Review Crew received a variety of Special Needs and other packages for various levels of learners. Read what other members of the TOS Review Crew thought by clicking on the picture below: