Field Trips
- One of the perks of homeschooling is that we are free to explore the world on our schedule. My husband has always thought this meant touring places like the Jelly Belly Factory in Wisconsin, which we did, or hunting down as many light houses as we can while on vacation to the coast. So, I was thrilled to get a chance to review the
Exploring Creation Field Trip Journal
from
Apologia Educational Ministries
. I thought it would be a nice way to record our field trip adventures, though I discovered it to be so much more than that.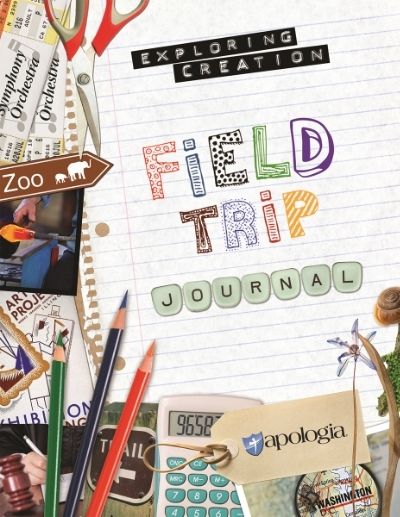 What is the Exploring Creation Field Trip Journal?
This is a spiral-bound scrapbook style record-what-you-learn kind of book. In the front covers, there is an instruction on how to use the book. It explains that a field trip is not necessarily a pre-planned huge ordeal with a group. Sometimes, it's a trip to your own backyard to watch what happens to one tucked-away corner.
The book presents itself in three basic sections:
Field Trip Pages
Special Spot Pages
As I See It Pages
There are also explanations on how to use each special section, tips for preparing for a field trip, a two-page spreadsheet of field trip ideas, and exploration maps.
BONUS:
Apologia likes to add little online extras to their books, and this book is no exception. Be careful to not miss the special code tucked away in this book that allows access to an online hidden cove of extra information to explore. Trust me - There is a plethora of website resources that relate to science and field trips to check out that you will not want to miss.
How Did We Use It?
A record of our trip to the zoo to see the elephants.
The same spot in our yard, each season
The first fruits of the garden my girls helped me plant (Planting a garden was one of the suggested field trips in the journal)
Our field trip to a theatrical performance of the Wizard of Oz
An impromptu field trip talking about clouds. I saw a bunny in these clouds. My daughter insisted it was an elephant. What do you see?
What I discovered with this journal is that a field trip is only limited by our imaginations. It can be used by the entire family. The Field Trip Journal can be used as a scrapbook, a field trip recorder, a nature journal, a family trip memory book or a Girl Scout, 4H or American Heritage Girls event reorder.
I set out to explore what this book was all about and discovered it opens up a new way of looking at field trips. We started with an impromptu "field trip" to explore a huge moth that my husband unexpectedly discovered in our bedroom one night. The girls were shocked to see it under glass, while my son was curious to learn more after the initial shock of having it presented to him inches from his eyes.
The unexpected "field trip" to discover a moth
Another opportunity for a "field trip" came when my girls were watering the garden they helped plant (which by the way is among the list of field trip ideas in the journal). They discovered that there are wild mushrooms growing in the yard.
We got to work documenting these events in the field trip journal.
Also on the list of field trip ideas are many that we have already explored in our city, but we plan to return for a new field trip. These include the zoo, the Botanical Gardens, the Science Center, and the History Museum, just to name a few.
What Did We Think?
This book provides a nice record-keeping system in a fun, scrapbook/photo album/art sketch book/diary kind of a way. It really opened up my thinking about field trips to realize that a field trip can pop up just about anywhere, or it can be a carefully planned event. Both are learning experiences in the field, so to speak, free of rote learning or boring lesson plans.
Shop for Apologia books here
. Find this and other Apologia books on
Facebook
,
Twitter
,
Pinterest
and
Google+
.
Read what other members of the TOS Review Crew thought by clicking on the picture below: