I was thrilled to get a chance to review Susan K. Marlow's
"Tales from the Circle C Ranch"
and the
Andrea Carter's Tales from the Circle C Ranch Learning Lapbook
from
Circle C Adventures
.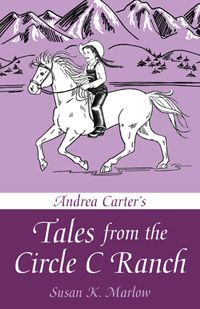 *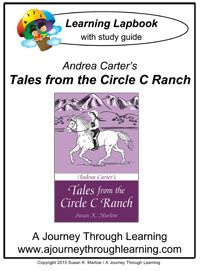 What is "Tales from the Circle C Ranch" and accompanying lapbook?
In brief, the Circle C Ranch books are about a girl who lives on a ranch during the 1800s. She is named Andrea Carter, called Andi. This author of this book series found a fun way of "living" history through the stories in these books. While the reader is turning the pages and wanting to know what happens next, he or she is also learning tidbits here and there about true-to-fact historical events and lifestyle.
The Circle C Ranch series books are separated into recommended age and reading levels:
Circle C Beginnings for Ages 6-9
Gold Town Adventures - Books written with interests of Boys, Ages 8-12, in mind
Circle C Adventures for Ages 9-14
Circle C Milestones for Ages 12+
This "Tales from Circle C Ranch" book falls within the Circle C Adventures level. It contains several stories that were created based upon actual questions from readers. The book begins with short stories from the year of 1873, and ends with a story set in 1881. It includes:
4 stories from The Early Years
7 stories from the In-Between Years
Within the pages, the reader learns about customs and lifestyles of how it would have been to be a young girl, living in the west, in the late 1800s.
The book also has an accompanying lapbook that is a hands-on method which offers additional learning about historical facts of the late 1800s. If you're not familiar with a lapbook, it is basically a hands-on, interactive workbook that the child puts together using pre-printed items that are cut out and glued onto file folders, which have been folded to form a booklet. The end result is a really nice booklet that is easily stored away to keep for record keeping purposes or to refer to for future learning.
I received a physical 151-page paperback book that is a compilation of several short stories about Circle C Ranch. I also received a 39-page lapbook in PDF digital format to be printed and assembled.
How Did We Use It?
The book arrived, and I handed it to my reading-hungry daughter who was working diligently to finish hours of reading for the library's summer reading program. She had the privilege of reviewing another book from this company earlier in the year, so she was very excited to get a chance to read this one as well.
She finished reading the book first, and then we began to put together the lapbook. I printed off the pages that were to be cut, written in, and assembled for the lapbook. And, then to save on ink and paper, I sent the pdf file of the lapbook to my iPhone and read what we needed to learn from the other pages in the lapbook from my phone's screen. All in all, I think I ended up only needing to print about 20 pages or so out of the 39.
Some of the pages had text to read. I chose to send these to my phone for access instead of printing!
Each of the printable pages in the lapbook included easy-to-follow instructions along with components to be cut out.
The front pages of the lapbook included a diagram of the layout and how to assemble.
We gathered two folders needed to assemble the lapbook, along with glue, a stapler, a pencil, and went to town.
What Did We Think?
My horse-loving daughter enjoyed the book. Though, I really appreciate that it didn't stop there. Rather than merely reading the book for enjoyment, the accompanying lapbook really enhances the learning process of the book. We absolutely love lapbooks. They fit right up there in my desire to craft with my children. Plus, they provide an easy access for record keeping by storing lapbooks away when they are done. This lapbook provided everything we needed, with instructions on each page as to where to place the pieces and what the student was to do.
Find out more on
Facebook
and
Twitter
.
Read what other members of the TOS Review Crew thought by clicking on the picture below: