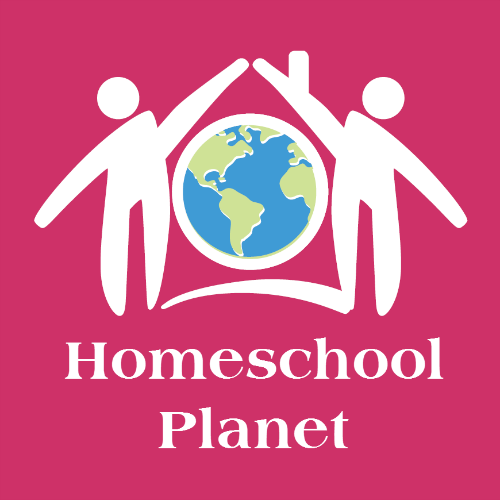 I was given a chance to review the
Homeschool Planet
, a planner from
Homeschool Buyers Co-op
.
What is Homeschool Planet?
Homeschool Planet is an online all-in-one planner. It allows you to not only create schedules of classes and extra curricular activities or appointments for your family, but it also has a bunch of extras to discover.
The planner allows you to choose various formats, day, week, month. It also has the ability to:
View in planner mode
View in calendar mode
View each individual child's schedule
View as a family
Print schedules
Send lists and reminders to you and your children's emails
Instantly see the weather
Find recipes and plan meals
Create and send shopping lists to your phone/email or print for individual stores you frequent
Create and print transcripts
Color code (yay!)
The ability to create an easy-access icon and access directly from mobile devices
There's probably so much more that I have forgotten to list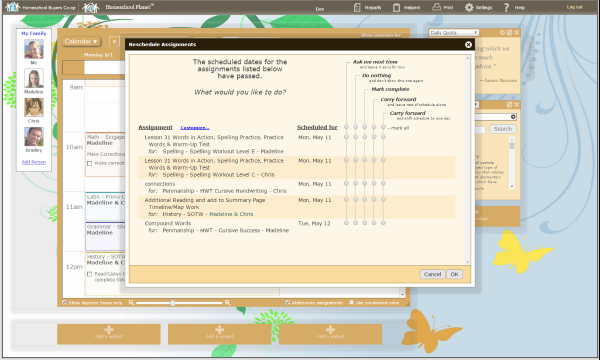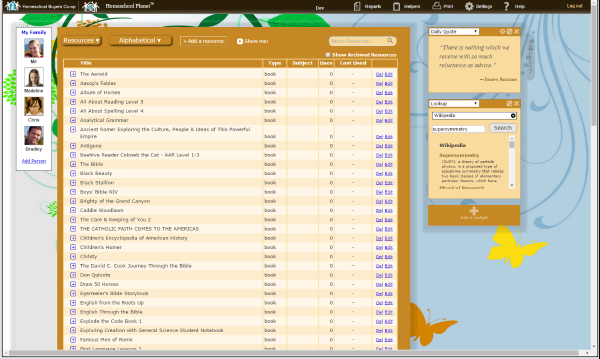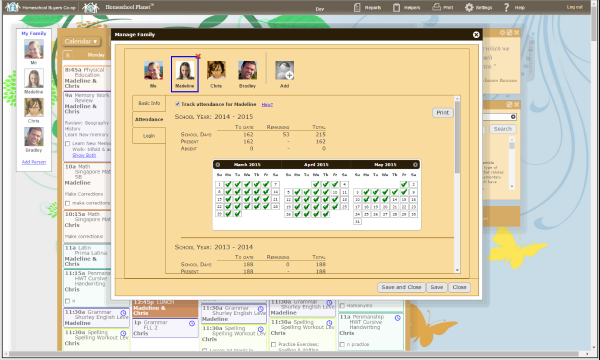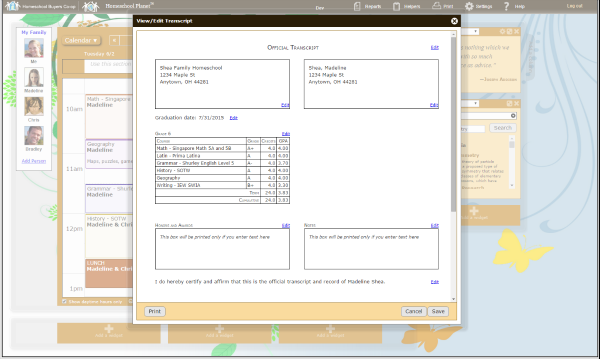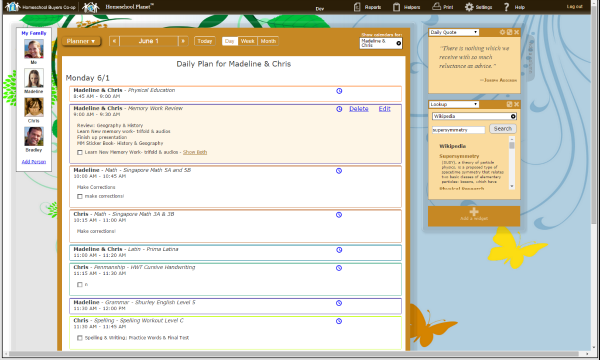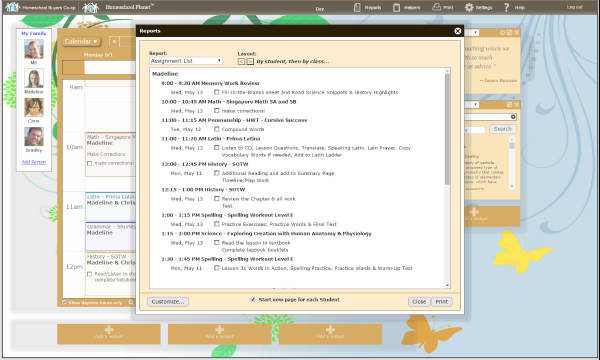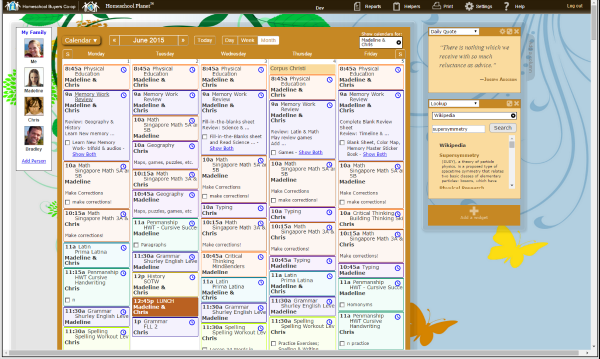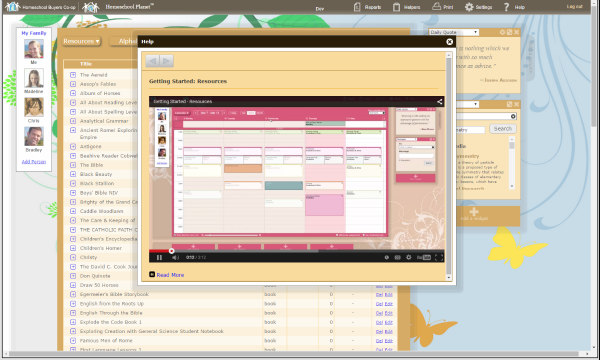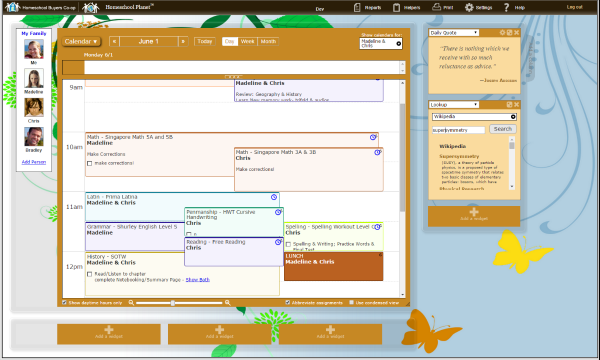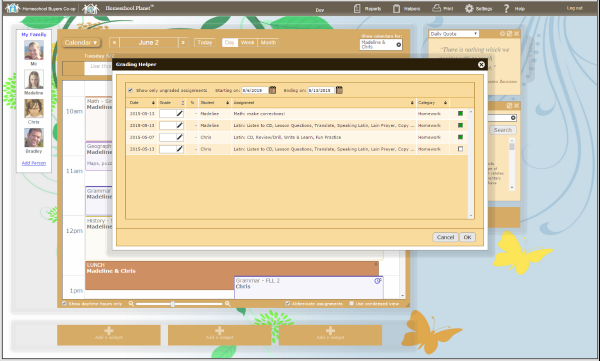 I received one full year's access to this online home and homeschool complete planner.
How Did We Use It?
I started off by spending a little bit of time each day just discovering the features and setting up all of the basic information for each child and each of their classes.
I loved that I could print out a schedule for each of my children, and then they can simply check the box as they complete each assignment. Perfect for record-keeping..
What I learned along the way was every day brought a new little gem that I learned about as one more feature that I loved. I was extremely excited when I found out that there was an instruction sheet about how to create an icon for my iPhone that takes me directly to the Homeschool Planet Planner site. I WAS THRILLED!
I also love the transcript form that I'm filling out for my high school son. It looks and is, quite official!


What Did We Think?
For starters, I am very color-focused. If I meet a new person or am trying to find a lost object around the house, my first question is always "what color?" What color was the person's shirt, hair, car? What color was the lost object, etc. So, of course, the first thing I noticed was the color-coding system. You can choose your own colors for each class and activity. This is a huge YAY! big whopping plus in my book. It makes it a quick glance easy access to discover what each child is supposed to be doing at any given moment of any given day.

The second thing that absolutely thrilled me was the day I discovered I could create an on-screen icon for my iPhone and access the planner, even modify the planner, right there from my phone. So often, online programs are just not really compatible with Apple products because they require Flash or other programming that just doesn't work well on the iOS platforms. So, I am beyond jumping up and down that this planner is now right there at my fingertips on my phone, which I almost always have by my side while teaching, and it creates a one-stop homeschooling planner that doesn't jumble up my iPhone calendar app and, for me, is far less cumbersome to use.
Read what other members of the TOS Review Crew thought by clicking on the picture below: