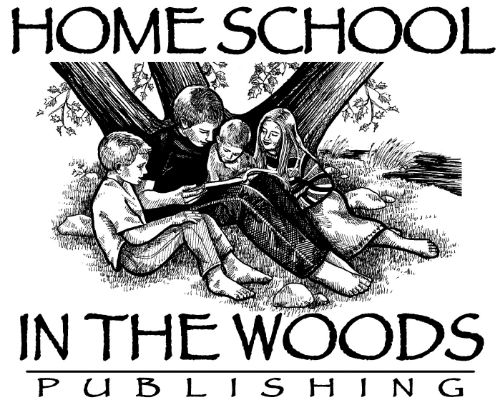 I was thrilled to get a chance to review the
Project Passport World History Study: The Middle Ages
from
Home School in the Woods
.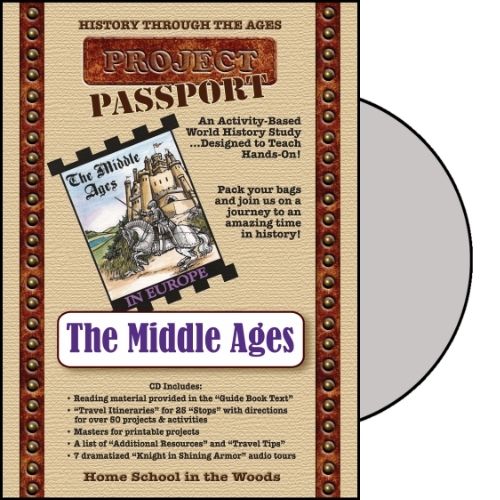 If you've ever used Home School In The Woods, you already know that they use hands-on projects along with lap book assembly style of unit studies as a launching pad for in-depth lessons on various topics.
For this review, I received a digital download of this unit study about the Middle Ages. The lessons take the student through assembling a Passport travelogue, a Medieval Times Newspaper, plus a 3-ring binder Scrapbook of Sights with a timeline of the Middle Ages, a lap book, and a Teacher's Guide book to assemble as you learn.
There are also some audio tour mp3 files included, a file-folder game called Journey Through The Middle Ages, and 3D projects, like making your own Robin Hood cap or floral wreath head piece, a board game that would have been played during the Middle Ages, stick puppets,making a viking long ship, designing your own coat of arms, a pilgrim's badge, herb salts, rose water, and stained glass as well as mosaic projects. It also has instructions for how to make a 3D castle out of sugar cubes, toothpicks, and marzipan knights.
The lessons include a series of 25 stops where the student learns facts about the Middle Ages as they put together their "passport" full of information.
Stops 1-3 - Laying the Foundation
Stops 4-7 - Everyday Life during the Middle Ages
Stops 8-9 - Business during the Middle Ages
Stop 10 - Science and Invention
Stop 11 - Education
Stop 12 - The Arts
Stop 13 - Medicine and Disease
Stops 14-16 - The Church
Stops 17-18 - The Crusades
Stop 19 - Knights and Chivalry
Stops 20-21 - The Vikings
Stop 22-24 - Battles, Wars, and Conflicts
Stop 25 - Packing Up - Final Stop and Lapbook Assembly
How Did We Use It?
I decided that the best way to do this would be to present one new stop each day. As I began to dive into the material more, I learned that some days we could easily accomplish more than one stop while other stops would end up taking us longer than one day. Since we were done with the bulk of the school year and entering the summer months, I thought it would be a great idea to use this as part of our own at-home summer camp on the Middle Ages.
I began by reading how to prepare the pages, what to print, what the guide icons mean, etc. This included preparing the teacher's guide book and reading:
Teacher Guide:
The Teacher Guide includes:
Introduction - Travel Tips - Travel Planner: Quick Stop Itinerary - Additional Resources - Acknowledgements / Bibliography / Usage
We began assembling the Scrapbook of Sights notebook, the Medieval Times newspaper and the Passport/Travelogue notes which are to then be added to as we journey through the Middle Ages.
Passport:
Medieval Times Newspaper:
Scrapbook of Sights (Including Post Card Moments):
Lapbook:
I then printed of the pages for one day at a time, as we needed them I printed them. I chose to leave the read-only pages on the PDF file and send it to my phone or access from my laptop to read instead of printing those. I also did the same thing with the Travel Itinerary sheets.
What Did We Think?
This Project Passport will make you feel as though you have actually traveled on an epic adventure to the time of the Middle Ages to catch a huge glimpse into everyday life of Medieval times. We found this to be fun, interactive and so very informative!
This is absolutely NOT a boring lesson plan system by any means. It IS definitely in-depth learning, but is presented in an interactive and interesting format that keeps the student engaged and involved in learning. We especially love the 3D projects that are included as we are truly hands-on crafts kind of learners. In the end, even without the amazing 3D projects, you have some very nice tangible pieces of scrapbook and lapbook keepsakes for the purpose of record-keeping or future reference.
It took me probably about a day or the better part of at least half of a day's worth of preparation to get my bearings, figure out the format, and prepare the printing pages so that I understood the process enough and was prepared with all of the materials ready to sit with my child to learn. But, any preparation time in the beginning is well worth it, because as you dig into each new Stop along the way, it all comes together and makes sense.
Besides The Middle Ages study that I got to review, the TOS Review Crew had the privilege of reviewing other Project Passport World History studies, including one from Ancient Egypt and one from the Renaissance and Reformation time periods. Read what other members of the TOS Review Crew thought by clicking on the picture below: