~*~

I was thrilled to get a chance to review Fascinating Chemistry from Fascinating Education. I received a full year access to this course.




What is Fascinating Education, and how does their chemistry course work?

Fascinating Education uses audio-visual instruction with step-by-step learning. The Chemistry section that we were asked to review has 19 lessons, with the 19th lesson being the Final Problems.




The creator of the course is Dr. Sheldon Margulies. He is a neurologist, so he understands first-hand how the brain works. He took this knowledge and began focusing on teaching science in a manner that would be effective.




It starts by assuming the student knows absolutely nothing about the subject at hand. Instead of using the traditional textbook, read large sections of dry, boring texts and look at a diagram or picture approach, Fascinating Education takes a right-brained/logical approach to learning. It uses real-life scenarios and follows a story line.




Each lesson contains accompanying scripted text and a quiz to test progress. The tests are provided online, or you can opt to set up a separate password and receive the quizzes as a PDF download. I requested and gained access to the pdf quizzes as well as the online version.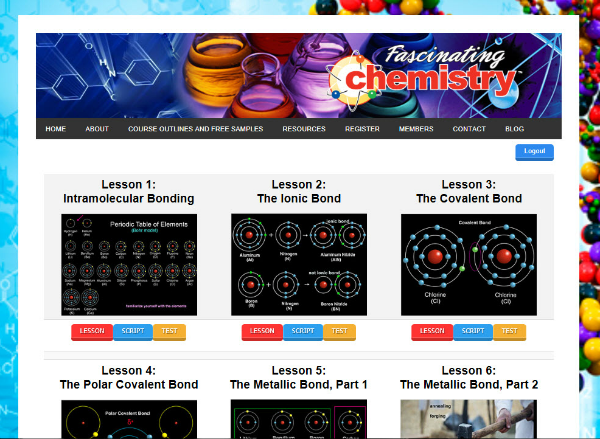 This review will focus on the Fascinating Chemistry.
How Did We Use It?
This opportunity to review the chemistry course came at a perfect time for me. My daughter had JUST asked if she could take Chemistry this school year. I was beyond excited when I found out I could tell her - Yes and provide her with Fascinating Chemistry.
It's very easy to access. Just log in under the Member tab and select the course you're registered to use. My course was Chemistry. There are also Biology and Physics. Next, there is a page that loads filled with the lessons in order. Each lesson contains several slides of pictures while the voice dialogue begins. There are Next and Previous buttons to move forward or replay information. You can also resize the screen as desired. There is a Glossary tab that shows the vocabulary words associated with the lessons. When the lesson is complete, there is a Test onscreen. Once the test is submitted, you receive immediate results and a summary of the test answers. You can print results or save as a pdf, review results or retake the test. If you prefer, you can request to receive a pdf format for the tests with an answer key. We chose to just use the online version. There are chemistry math problems and are also experiment chemistry labs available upon request. All I had to do was email to request a password for a special log on, and I had access to the labs. The whole process of receiving access to the labs took less than 24 hours.
The labs come with a printable pdf that completely explains the purpose of the lab, what lesson it correlates with, the items needed, and how to conduct each experiment. Most of the experiments ask for household items you probably have lying around.
What Did We Think?
The instructor's voice was soothing and easy to listen to, and the pictures on-screen were great. I absolutely loved how each audio-visual lesson was accompanied with the text I could also print for my child who prefers reading from a page rather than online. I also liked that at the end of each lesson, the student was tested so I could clearly see whether or not the lesson needed to be covered again, or what parts were completely understood before moving forward.
Read what other members of the TOS Review Crew thought by clicking on the picture below: