"Parlez vous Francais?" Perhaps, you should ask this question to my 13-year-old daughter now that she has been studying High School French 1 from the
Middlebury Interactive Languages
and their
French Courses
as part of this review, and we are very excited to share what we discovered with you.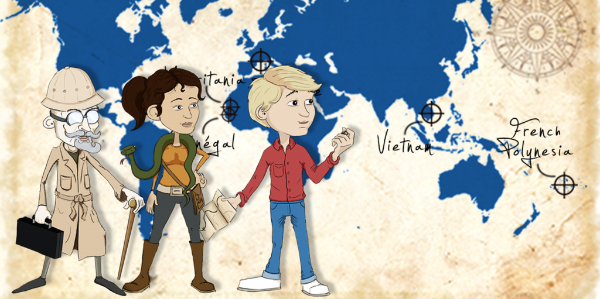 What is Middlebury Interactive Languages?
It is a site that provides online courses of various foreign languages and culture at a variety of levels starting with the elementary level and moving through High School. We received 6-months access to one semester of High School Level 1 French.
As the name implies, it is interactive allowing the user to listen and speak back into the microphone the proper pronunciations of words and phrases. The online format allows the lessons to "come alive" and make the user feel as if he or she has actually traveled to another country, at least during the class time it seems that way.
The lessons are set up on a two-semester schedule based on 36 units. There are 18 units the first semester, and 18 units (ending with #36) for the second semester. Each unit is comprised of five lessons, so perfect for one lesson a day during the week. At Unit 9 there is a mid-term, and Unit 18 there is a Final exam, which ends the first semester. The second semester provides a mid-term at Unit 27 and a Final exam at Unit 36.
For the purpose of this review, we are working only in the First Semester Units. The screenshot demonstrates nicely what is covered:
The high school course presents conversational words and phrases and then allows the student a chance to pronounce the words properly and offers online matching activities and such for learning. There is also an emphasis on reading and writing the language.
When the student logs on, a personalized drop list appears that shows what they have mastered and what is coming next.
My daughter has been asking me to take a foreign language. She chose French. While she is not yet in high school, she is in her last year of middle school and is anxious to proceed with high school level courses. She has also proven herself to be academically ready for this, so when asked to review this online course, we chose French. We were jumping up and down excited when we received access to the site. My daughter sat down at her laptop to begin, and everything from that point on was self-explanatory on-site.
What Did We Think?
My daughter is absolutely loving this course. She has told me that the way it is presented makes the information stick and easy to learn. She likes that it starts off with actual conversation and then offers on-line matching of words and phrases. She really appreciates that the teacher seems to actually be, or at least, speaks French with the proper accent and presents the French language so my daughter can clearly hear the words along with the proper pronunciations and infliction. She is speaking French every chance she gets and even wondered what would happen if we pulled up to a McDonald's and ordered speaking only French.... We didn't try it, but the point is that this has made her apply French in every aspect of her life so far.
Find Middlebury Interactive Languages on
Twitter
,
Instagram
,
Facebook
,
Pinterest
, and
Google+
.
Read what other members of the TOS Review Crew thought by clicking on the picture below: