I was thrilled to get a chance to review
The Basics of Critical Thinking
(Grades 4-9) from
The Critical Thinking Co.
written by Michael Baker who is the author and co-author of award-winning books and software on critical thinking skills.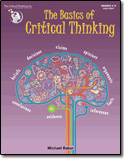 What is The Basics of Critical Thinking?
What is critical thinking? It's finding and evaluating evidence so you can make the best decision given the facts. It's like being a detective, and coming to your own conclusion after gathering information. I've watched the brains of my two older children develop into a more logical, critical thinking mode and have enjoyed adult-like conversation with them as they grow through their early and mid teens, so I was excited to give this book a try with my youngest, who is really at the very earliest recommended age and grade level for this book.
I received a physical, paperback 146-page workbook. It is intended for Grades 4-9 (The inside description says it's for upper elementary through middles school years) to build critical thinking skills. It has colorful illustrations and workbook style fill-in-the blanks throughout. The book is by Michael Baker and is intended to cut back on long-boring lecture teacher time and get to the hands-on bottom line work. It is laid out in sections of:
What is Critical Thinking?
Decisions and Conclusions
Beliefs and Claims
Finding Evidence
Evaluating Evidence
Inferring and Inferences
Facts and Opinions
Facts and Probable Truths
False and Probably False
Facts, Probably True, or Probably False
Venn Diagrams
Logical Connectives
Advertising
Agreements and Contracts
Common Errors in Reasoning
Arguments
Valid and Invalid Arguments
Fallacies
Analogy Arguments
Using Critical Thinking to Make Better Decisions
A Post-Test
Answer Section
How Did We Use It?
I was interested to see how my very logical 4th grader would receive this. I sat down with her and started doing one lesson per day, and then backed off a bit to cover one section or some days just one activity depending on what fit into our schedule. Sometimes I would read a section, and other times I would let her read it to herself, but I would always be there explaining the new topic and overseeing to make sure she was understanding it all.
What Did We Think?
I really liked the book, and so did my daughter. I love that it contains colorful pictures, and it breaks down different types of critical thinking skills into various units, so the child is learning one skill at a time. It says it's for Grades 4-9, so she is at the very early end of the recommended age and there were times, especially toward the end of the book when it covered higher-thinking topics, that I could tell she wasn't quite getting it, even though she is so very logical. But, I would just keep going until I saw the light bulb click on in her eyes. The book itself covers a wide section of critical thinking skills, and I really liked the workbook style and was happy the pictures were in color.
Social Media Links:
Find the Critical Thinking Co. on
Facebook
,
Google+
,
Twitter
, and
Pinterest
.
Read what other members of the TOS Review Crew thought by clicking on the picture below: