I am homeschooling a high schooler, and next year there will be two high schoolers in our home. When you are a homeschooler with a high schooler facing graduation one rapidly approaching day, the question often arises - What do you do about graduation, a diploma, invitations, and do homeschoolers get class rings? Well, the answer is yes, homeschoolers have the opportunity to obtain a diploma and other high school graduation accessories, and that's why I was thrilled to get a chance to review the
Exclusive High School Diploma
from
HomeschoolDiploma.com
.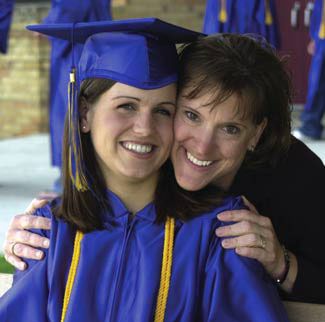 What is the Exclusive High School Diploma from HomeschoolDiploma.com?
It's an actual diploma printed on quality paper and contained inside a nice book-like cover. It is a beautiful diploma that can be used during a high school graduation as a keepsake that represents a student has accomplished the required work needed to graduate.
Some homeschoolers take part in graduation ceremonies through co-ops, while others hold a small ceremony among family and friends. Still others, simply make the event personal and officially hand the diploma to their child upon completion of high school. Regardless, it's nice to hand to your student a document that signifies one of your child's (and, as his or her teacher, your) biggest academic accomplishments.
The Exclusive High School Diploma comes to you personalized and in a nice cover.
Ordering it was half the fun. When you visit the site, you begin designing your personalized diploma using a series of about a dozen steps and drop-down menus.
When you choose the Exclusive High School Diploma option in Step 1, it then takes you to Step 2 where you enter your student's information. With each of the steps, a large, easy-to-read screen pops up with pictures and drop-down menu choices. Some of these choices are optional and/or carry an additional charge for the selection, but it is clearly noted if there is an extra fee as well as what is an optional choice:
The next step is to enter information about your school. This step includes a section about the authority to issue the diploma. You will need to know your state's requirements as to who is authorized to issue and sign a high school diploma.
Homeschoolers often struggle with the idea and question if they are delivering adequate quality of education to their children. When the high school years hit, naysayers come out of the woodwork expressing the legitimacy of graduating from a home-based learning center. But, honestly, a diploma printed for a public or private school carries the same standard of authenticity as one printed by HomeschoolDiploma.com. Both are simply a keepsake that commemorates an accomplishment. Check your state's requirements for homeschoolers in regard to graduation. Our state gives the parent the authority to issue a diploma upon completion of required credit hours.
Now, you're ready to choose the wording that will appear on the face of the diploma. There are many options to reflect your personal needs:
Select an optional verse or motto. We chose a scripture to place on the finished product.
Now, it's time to enter the graduation date. If you are graduating your child as part of a co-op or group, you will want to make sure the date coincides with the date of the ceremony, or choose the actual date your school year ended or he/she completed the necessary credits needed to graduate.
What type of paper do you want the diploma printed on? Choose ivory parchment or cream-cololored stock. I chose the ivory parchment.
If your child is graduating with honors, you have the option of designating this with an Honors Seal:
Now that the diploma has been designed, it's time to select a cover.
Personalize your cover by adding your student's name for an additional charge.
The final options include your choice to archive a copy of the diploma and to order wallet-sized copies, both for an additional cost.
Now that your diploma has been designed, it is time to place your order.
How Did We Use It?
My son is currently a sophomore, so we won't technically be handing him this diploma for a couple more years, though usually the graduation date options are not available two or more years in advance. The company was excellent to work with my needs for the purpose of the review, so I received a diploma with the proper graduating date for my son.
I told my son that I had received it, and his reaction surprised me a bit. He told me, "Don't show it to me yet, not until I've completed the work." So, I will keep it tucked away as a surprise and authorize it with my and my husband's signatures when the time comes that he has finished earning it.
But, I have to tell you - I'm EXCITED about his graduation day.
After ordering, it arrived quickly in the mail. I opened it up and was very impressed by the quality. And, it really suddenly made the process of my son's graduation seem all the more real.
Along with my son's diploma, I received some samples of other products that HomeschoolDiploma.com carries. They also have a really beautiful collection of class rings to choose from online as well as a wide selection of graduation commemorative items from Kindergarten through high school. And, look at the quality of these graduation invitations, RSVP cards and student name cards.
What Did We Think?
It's getting real! My son's graduation from high school and an end to his homeschooling years is rapidly approaching. For me, holding this diploma in my hands really authenticated his graduation.
The process was personalized and easy to order. The quality of the diploma was beyond what I had hoped.
*~*
SOCIAL MEDIA LINKS - Find HomeschoolDiploma.com online @:
*~*
Read what other members of the TOS Review Crew thought by clicking on the picture below: