I have a daughter who is not only an avid reader but loves anything to do with castles and mystery, so I was thrilled to get a chance to review
The Glass Castle by Trisha White Priebe and Jerry B. Jenkins
from
Shiloh Run Press
.
While I love my children to read as if they can't get enough words on a page, I also have very little tolerance or respect for stories aimed at stirring up adolescent immaturity just for the sake of getting a child to read. I was pleased to find that this story offered an excellent read that left childish nonsense behind and instead made the reader think and wonder at every turn of the page what would happen next.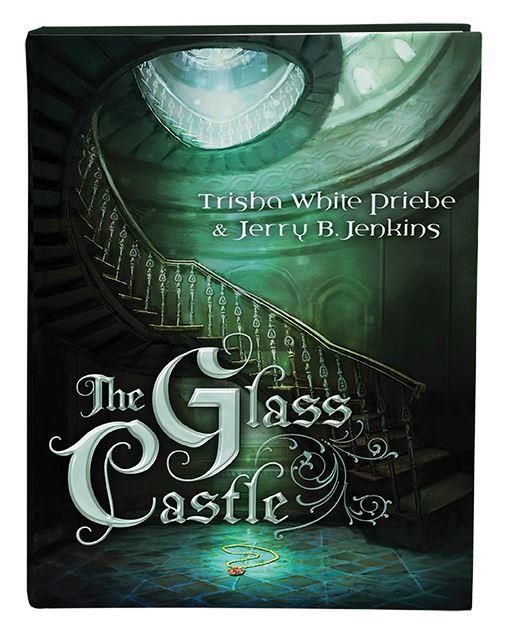 What is The Glass Castle by Shiloh Run Press?
This hardcover book is about 250 pages with 41 short chapters. It is recommended for the Middle Grades reader. The story is meant to capture and hold your interest with unexpected twists and intrigue, but it could be used for more than a reading or literature study.
The Authors:

I was interested to discover that Jerry B. Jenkins is the author of more than 175 books, including the Left Behind series, which I have still not read nor has my children, but that doesn't diminish how popular this series still is. He is also on the Board of Trustees and the former vice president of publishing for Moody Bible Institute of Chicago. His assistant is a writer in her own right, Trisha White Priebe.
The Story Summed Up In My Own Words, With a Little Help From My 14-year-old Reader:
Of course, since this is a castle-related mystery, in the story is a king, a queen, a royal heir, and some unexpected characters. The king is getting old and is very worried about who his replacement will be once he's no longer living. His new wife wants to give him an heir to the throne. Of course, if this process was to go smoothly, there'd be no basis for this story. Whenever I see the words "new wife" in front of the name of a queen, I always feel like some amount of jealousy is about to ensue. My first reaction was - Can we call her the evil queen? Whether or not Jerry B. Jenkins chose to develop her character as jealous and wicked or kindhearted, there is the premise on which the entire story will build. The only problem is that 13 years ago, the first queen, wife to the king, did produce an heir. She gave birth to a son, but no one is aware that he still exists. No one knows his whereabouts or what became of him. The new queen sees it all as a very simple issue. She thinks all she has to do is get rid of all of the thirteen-year-olds in the kingdom, and then her future child will be free to reign.
THERE IS ONE PROBLEM - A girl named Avery and her friends, Kate, Tuck, and Kendrick. They rise up from "below" and begin to inspire an underground network of kidnapped children.
The story line involves four main characters who take charge of an underground network of kidnapped children. Through the events in the book, they are inspired to rise above their past and believe that their future doesn't have to be a continuation or repeat of their past. They are not stuck if they come together and rise above. Can they do it? Are they up for this incredibly tricky task?
They pledge to do a very difficult undertaking, given that they are children/pre-early adolescents themselves. This plan they pursue is to reunite the children with the families they had been forced to leave behind. In the process, they discover that one among them may very well be the child of the king and child of the man who wants them all dead.
Who wins?
--
Expanding the Story Beyond the Book:
The story line could easily trigger unit studies or full research on other subjects as well, such as prompting:
a history study into kings, medieval or even biblical times
an art lesson of building a castle out of craft materials or sugar cubes, complete with underground tunnels of course
a study of safety/talks about the unthinkable of an actual kidnapping
a study of vocabulary words that stem around castle and royal terms used in the book
a study of family lines
How Did We Use It?

My Middle Schooler, soon to be high-schooler was the lucky one to get to read this book. After she practically tackled me to read the book when it arrived in the mail, I handed it over to her and asked her opinion. Like most fairy tale, castle-themed mysteries, my daughter loved this story line and read through it in a matter of less than 2 or 3 days.

What Did The Story Remind Us Of?

When I read and listened to her description of the story, it reminded me of a mixture of some events from real-life history as well as a hint of Chitty Chitty Bang Bang, which my oldest son watched so many times as a young boy. It also brought to mind glimpses of stories from the Bible from a couple different realms - 1) When King Herod pledged to kill of of the Hebrew babies under the age of 2, in an effort to annihilate Jesus. And, 2) When a king's heir was safely hidden away only to be made known when the time was right for him to be crowned. One I remember was King David's heir, Mephibosheth as well as a young King Joash.


What Did We Think?
When the book arrived, I handed it over to my 14-year-old avid reader who was anxious to read the story. I think I heard a squeal of excitement when she saw the book. She finished it fairly quickly, certainly less than a week, and asked when the sequel was coming out. I always like a hardcover book, so that was nice, and the pages were nice as well with words not too tiny but not too large. And, the last page of the book reveals the answer to when the sequel is expected to be released:
FIND Shiloh Run Press, which is a division of Barbour Publishing, ON SOCIAL MEDIA @:
Read what other members of the TOS Review Crew thought by clicking on the picture below: