I think my idea of a dream homeschool involves using art to teach not only creativity and art history but also to use it for teaching all of the core subjects, so I was thrilled to get a chance to review the Entire Level II from ArtAchieve.

CLICK ON THE PICTURE TO REGISTER FOR A FREE LESSON!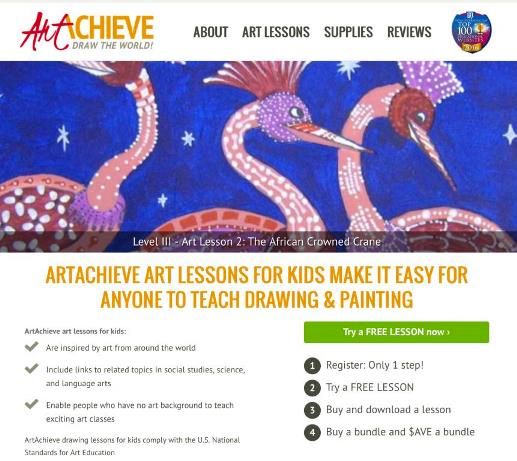 What is ArtAchieve?
ArtAchieve is online art lessons that also incorporate history and other core subjects into the art. It presents art projects while encouraging more learning and research on the subjects you are drawing. By the time you complete a lesson, you have learned so much more than just how to draw or paint. You actually know facts and tidbits of information about what you created.
We received access to Level II which consists of 14 lessons.
The lessons are presented on video and last about a half hour each. Or, if you prefer, there is also a Power Point version included. For those of us in the heart of the Midwest of America, the instructor speaks with an accent but is not difficult to understand at all. In fact, we love that he has a very soothing and gentle presentation, which we really appreciated since we have previously been frustrated when art is presented as a subject of right or wrong. My daughter and I loved that this man instilled not only a love for art, but also a quest and desire to learn more about the science or history behind each project.
Each lesson is presented in your choice of formats. You can choose the Power Point version or watch the video. There are also printable PDF files for the lesson preparation exercises and for the lesson's art work. We found that using all of the resources provided the most well-rounded form of learning because the Power Point version provides information and links to learn more about the history of what you are creating.
At the beginning of each lesson, the instructor clearly explains what age/grade level the project is appropriate for, shows what materials are needed to complete the project, and gives detailed information about the picture including a brief history of the subject you are about to draw. The Power Point presentation also provides detailed information about Art Standards for specific grade levels. He provides website information for further study and begins with a Warm-Up sheet that you print.
Before you think that the lessons incorporate silly 8-year-old boy bathroom humor, think again. There is nothing of the sort. In fact, all of the lessons were very wonderful and presented in a family friendly and mature manner. I am including these screenshots as an example of one of the lessons because my daughter is obsessed with elephants.
In this lesson, where we were drawing an elephant from Sri Lanka, we learned about how one village solved a problem that started when trees were cut down to make paper. Once the trees were gone, the elephants had to find food elsewhere, so they began eating crops, which was a problem for the villagers. Instead of hunting and killing the elephants, someone came up with the idea to use nature at its best by making paper out of what the elephants leave behind after eating. Of course, through the process of paper-making, the finished products are sanitary and safe to use. The proceeds from the sale of the paper go back into helping the village sustain itself.
Before you begin, your student is led in an exercise to relax and is reminded of the rules of art that helps to take the pressure off and allows you to just sit back, relax, and create your own work of art.
After the relaxation exercise, introduction studies, and the drawing Warm-Up page are complete, the drawing lesson begins with a clear picture of what you are about to draw, and you can pause or rewind the video as needed throughout the lesson.
How Did We Use It?
I sat down with my little artist and did the lessons alongside her. My daughter is entering the 5th Grade but completely embraces art. I actually felt that on many of the projects she was far ahead of me in my lack of art ability even though she is younger than I. Throughout the projects, the instructor used black markers to draw, but we opted to draw first in pencil so we could erase as needed before tracing it in black marker once we were happy with our drawings.
We learned about the history of the Swedish Dala horses, something my daughter and I had never heard before. In this chalk drawing, we also learned about the elephants in Sri Lanka and how innovative people came together to solve a problem caused by trees being cut down to make paper leaving the elephants to eat the people's crops.
We learned about perspectives of objects needing to be drawn larger when close up and smaller when far away, and we learned about asymmetrical and symmetrical drawings as well as camouflage of butterflies and why it's necessary.
We used colors of an African sunset to emphasize shading and accents on a unique style of elephant drawing/painting and drew on photo glossy shiny sheets to make the marker colors pop.
What Did We Think?
This program is a perfect fit for my family!
We fell in love with this the very first day. My daughter was asking when she could do another lesson, and this was on summer break and even on 4th of July weekend holiday time. She saw it as enjoyable. I absolutely love doing art with my daughter, and I really appreciated that the lessons were not just focused on the art but also included links to dig deeper into the history and/or science behind each piece of art. We both liked the instructor and his approach and appreciated that we were able to pause or rewind the video as needed and also like that we had the option of working through Power Point slides or watching the video or both. This program was a huge winner for us!
FIND ArtAchieve ON SOCIAL MEDIA @:
Facebook:
https://www.facebook.com/Artachieve
Twitter:
https://www.twitter.com/artchieve
@artachieve
Pinterest:
https://www.pinterest.com/artachieve/
Google+:
https://plus.google.com/+artachieve
Instagram:
https://www.instagram.com/johnahofland/
Read what other members of the TOS Review Crew thought by clicking on the picture below: