I have a very hands-on learner who has plenty of Language Arts learning gaps and is terrified of writing paragraphs, so I was thrilled to get a chance to review the
English Grammar Teaching Method
from
English on a Roll
.
It is rare to find a language program that is hands-on and uses the
multisensory
pathways to the brain of:
Visual
Auditory
Kinesthetic/Tactile
English on a Roll is unique and an effective teaching tool that has research behind it based on the principles of Multisensory Structured Language (MSL).
I received a paperback Instructor's Manual Book that contains 37 lessons and workbook pages that can be copied to be used with more than one student and 1 cube set that consists of a seal-tight plastic container of word/letter dice that can be used with up to 6 students.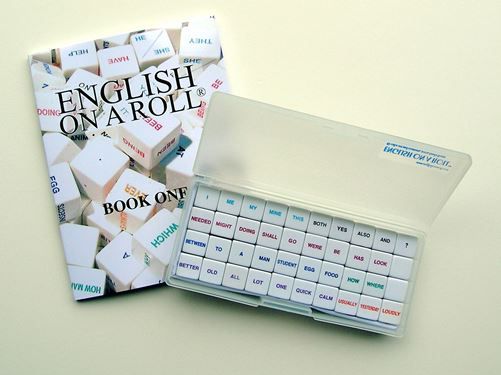 What is English on a Roll?
HOW IT ALL BEGAN:
Linda Hopkins Koran is the creator of the English on a Roll program. She came up with the idea and began teaching English as a Second Language ESL.She had a challenge in accomplishing her task of teaching these students because not only did her students not speak English, but she did not speak their native language either. So, she got creative and designed the first set of English on a Roll cubes using wooden blocks and paint and was delighted to see the response.
Since this time, English on a Roll has been used to help numerous students from five year olds learning to read through adults, some with special needs like dyslexia or autism.
Linda believes that:
"Languages are like intricate puzzles"
The idea is to create an environment for success and cut back on mistakes commonly made when learning the English language. To do this, the cubes representat the main parts of speech in color coding. The student can easily see the word choices based on color and makes it so that it is less overwhelming.
The colors are used in groups:
Pronouns -
Blue
Question Words -
Green
Nouns, Articles, and Prepositions -
Dark Blue
Verbs -
Red
Adverbs -
Orange
Adjectives -
Purple
Punctuation - Black
2 Blank Cubes with labels
The lessons include verbal repeating, game play and worksheets.
BOTTOM LINE:
The program helps students of any level and age, recommended for ages 5 and older, to gain mastery of English grammar and syntax. Students literally build sentences as they roll and turn the dice. The main successful elements to the program are:
Game-like element making it fun!
Multi-sensory learning
Encourages practice which is the key to mastery
*~*~*
Check out the Demo Video on the English on a Roll page by clicking on the picture below:
The set I received includes 40 cubes (38 engraved with color-coded related word groups and 2 blank cubes with labels for limitless vocabulary customization) and one 142-page instructor manual that includes teaching tips, lessons, games and reproducible materials with the permission to copy for use in your home or classroom and can be used with more than one student.

The book is written with the idea of it being used in a classroom or group setting of up to six children per cube set, but it's super easy to adapt for one-on-one homeschooling or to use with more than one child.
How Did We Use It?
Though the program is designed to work well with a classroom setting or with students in groups of up to six per cube box, it was just my 10-year-old and I who used this which worked really well for the most part. Some of the game play had to be adapted but nothing that was overly difficult to adapt.
I was happy to discover a typed note explaining that the easiest way to remove the dice from the container is to keep the box sealed, flip it over, and then open. I tried it, and it was so easy that way.
The instructor's manual was laid out so nicely. The lessons are easy to follow and most lessons include Prep - Notes and Vocabulary - Teaching Tips - Teach The Concepts - Conversation/Game Play - Written Exercises Instructions and Reproducible Worksheet.
The book contains a Cube Guide and then explains what English on a Roll is and how it works before diving into the lessons. There are 37 lessons:
Subject Pronouns
Be Verb
Consonant Start Nouns and the A Article
Making Statements with Be
Yes/No Questions with Be
Answering Yes/No Questions with Be
Article A and An with Nouns
Regular, Irregular, and Noncount Nouns
Noun/Pronoun Relationships
Who and What Questions to Be
This/That/These/Those
Adjectives and Adjective Phrases
Adjective Phrases with A or An
Adjectives with Be Statements
Subject Pronouns, Possessives Adjectives, and Nouns
Possessive Adjectives, Be Statements, Whose Questions
Prepositions of Location and Prepositional Phrases
Questions of Location with Where
Verb Tense Concepts
Simple Present (Every day) of Be, Statements, and Contractions
Present Progressive (Right Now) Statements
Present Progressive (Right Now)Questions and Answers
Simple Future (Tomorrow) Statements with Will
Simple Future (Tomorrow) Questions with When
Simple Present Tense (Every Day) of Have
Have, Be, and Possessive Adjectives
Simple Present, Do Verg, Yes/No Questions and Answers
Simple Present, Questions and Answers with Do and Have
Simple Present (Every Day), Regular Verbs
Simple Present (Every Day), Regular Verbs, Questions and Answers
Simple Past (Yesterday), Positive and Negative Statements with Be
Simple Past (Yesterday), Questions and Answers with Be
Simple Past (Yesterday) Regular Verbs
Simple Past (Yesterday) Have and Do Verbs
Simple Past (Yesterday) Yes/No Questions and Answers
Simple Past Questions and Answers with Have
Review: Simple Present, Past, Future and Present Progressive
The teaching book example shows a black and white simple drawing of a tree, but my little artist insisted that it be drawn with color and that the AM ARE and IS were turned into red apples on the tree. So, that's how we did ours!
What Did We Think?
When I first saw what the program was about, it intrigued me and I was interested to see how it worked, though I honestly thought that my daughter would have already developed English language skills that are beyond what she would be able to learn with the program. Still, I wanted to give it a try because my daughter is going into the 5th grade, but somehow her Language Arts studies have been all over the place with my changing curriculum many times to fit her needs. She has a good mastery of the English language, reads at a high level, but somehow has developed learning gaps in key components of vocabulary over the years and dis absolutely petrified to write anything more than simple sentences.
When the kit arrived, my daughter noticed it immediately and asked about it, so I took the time to sit down with her and figure out what it was all about. I was pleasantly surprised to discover that the program was enjoyable, and was not as far under her grade level as I had anticipated. If anything, it is a great way to reinforce her previously shaky knowledge of English to hopefully make her a more confident writer, reader, and speaker. I will even admit that I may have even learned a thing or two in the process, and I write for a living so this is always a perk for me to get excited about words.
Some of the parts of the program we thoroughly enjoyed were how the cubes color coded the words. Somehow, my daughter and I both think in color. So, grouping the parts of speech by color is BRIlLIANT! I really loved how these groupings make it so easy to build and structure a sentence properly without being overwhelmed at the thousands of words to choose from otherwise. Lastly, the game play made us actually do more in a day than originally intended. She wasn't satisfied with just one lesson, she wanted to keep doing it.
FIND ENGLISH ON A ROLL ON SOCIAL MEDIA @:
Read what other members of the Homeschool Review Crew thought by clicking on the picture below: